One standout reporter will receive the Young Journalist Award title at the end of the festival.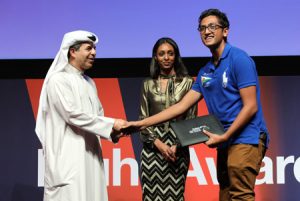 The Dubai International Film Festival (DIFF) has announced the return of the Young Journalist Award (YJA) for a 10th year. Open to promising young writers from across the UAE, the YJA provides eight handpicked, ambitious applicants the opportunity to gain first-hand industry experience working on the ground to report at the festival. One standout reporter will receive the prestigious Young Journalist Award title at the end of the festival and will also secure an internship at Gulf News, a leading newspapers in the region, to help kick-start their journalism career.
With unique access to the eight-day festival, which welcomes leading filmmakers, industry professionals and media from around the globe each year, the YJA provides real-world experience in the fast-paced realm of entertainment journalism. With the pressure of tight deadlines and mentorship from Gulf News tabloid!, the initiative opens its doors to university students and those in their final high school year.
DIFF's Chairman Abdulhamid Juma commented on the YJA's 10th instalment: "We are proud to reach a milestone tenth year of the Young Journalism Award, which thanks to the support of Gulf News, offers a unique, real-life training opportunity that results in more learning in one week than many media students will receive in a year."
"Giving aspiring young journalists the opportunity to learn with some of the best reporters, photographers and editors in the UAE is something we are proud of," Mohammed Almezel, the Managing Editor of Gulf News said. "We also take pride as a media organisation in partnering again with DIFF, which has established itself as one of the most anticipated artistic events in our region."
UAE nationals or residents from across the Emirates who are students in their final year of high school or enrolled in University in any major can enter.