The satellite provider members of the MENA Broadcast Satellite Anti-Piracy Coalition have made public commitments to remove pirate channel clients by the 4th May 2017.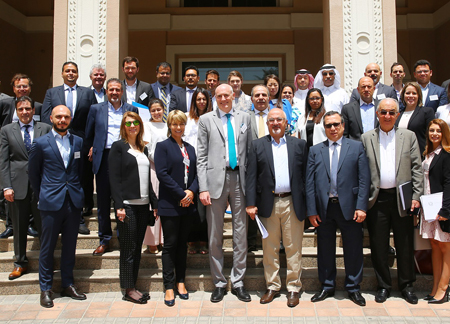 The satellite provider members of the MENA Broadcast Satellite Anti-Piracy Coalition have made public commitments to remove pirate channel clients by the 4th May 2017.
The breakthrough came at the Coalition's 10th meeting in Dubai attended by the region's major broadcasters and satellite providers.
All but one of the satellite providers reported that they had already removed channels proven to be broadcasting content that did not belong to them. The final provider, Noorsat, made a public commitment at the Coalition meeting that it would comply by 4th May provided that the other operators agreed to maintain their current position.
MBC CEO, Sam Barnett, said: "The coalition has been successful in highlighting where and how piracy happens, and the joint action to remove pirates from the region's satellites is a great step. Noorsat's commitment to take down the remaining pirate channels within days is clearly welcome."
The Coalition also reinforced its commitment to protect content against illegal satellite distribution, and agreed to widen its focus to include new threats from internet piracy.
The coalition was set up in 2014, bringing together major broadcast satellite providers, (Eutelsat, Arabsat, Gulfsat) and content production and distribution companies (MBC, OSN, Rotana, ART, CNE and the MPA) to fight pirate channel operators from infringing members' rights.
For the first time members discussed the increasing threat from illegal internet streaming and downloads and agreed to work together to lobby regional regulators.
Sophie Moloney, OSN Chief Legal Officer, presented the latest industry research showing IPTV piracy is growing at an alarming rate and fast becoming 'normalised behaviour' within the family home. According to the UK's .the industry trust, the sale of IPTV boxes has risen by 99% globally in the last 12 months and 25% of users admit watching illegal content services.
"Our industry faces a number of threats from illegal satellite distributors as well as from the emerging scourge of internet content piracy. The worrying thing is that illegal IPTV providers are openly selling their hardware and services through social media in the Middle East," commented Moloney.
The members have agreed to look at how they can widen their membership to reflect the different threats that content producers and distributors now face in the region.
In a joint communique the coalition members also agreed to collaborate on lobbying regional authorities, police, customs, legal and licencing bodies and to run joint education and awareness campaigns aimed at informing government entities and customers across the MENA.
The Broadcast Satellite Anti-Piracy Coalition members include Noorsat, Gulfsat, Viewsat, STN, JMC, Etisalat, Du, Nilesat, Arabsat, Eutelsat, Rotana, Art, OSN, MediaGates, Motion Picture Association (MPA members include Walt Disney Studios Motion Pictures; Paramount Pictures Corporation; Sony Pictures Entertainment Inc.; Twentieth Century Fox Film Corporation; Universal City Studios LLC; and Warner Bros. Entertainment Inc.), WWE, TNA, Spot2000, Cedars Art, Egyptian Media Production City, Egyptian Chamber of Cinema, Cable Network Egypt, Eagle Films, IAA, Almassa Art Production, Miser International Film, Misr for Sound and Light, and MBC.
As major stakeholders in the Middle East Satellite TV industry, the members share information and align strategies to prevent copyright infringement in the Middle East.