Comparitech's individual country statistics show that Netflix now has over 300,000 subscribers in the UAE.
Following Netflix's recent announcement that it had added 15.77m subscribers amid the start of the pandemic (pre-coronavirus estimates had been 8.2 million), Comparitech revisited its study on Netflix subscriber numbers and revenue totals.
Previously, it had taken Netflix's totals for America and the rest of the world to try and determine the company's approximate revenues in various countries around the world. But with Netflix now revealing its revenue and subscription figures for the first time in four different regions — the United States and Canada; Europe, the Middle East, and Africa; Latin America; and Asia-Pacific, Comparitech says it has been able to more accurately estimate the revenues generated in each country, while also seeing how Netflix's subscription figures and revenues have grown in each of these regions over the last two-and-a-half years.
At the end of 2019, Netflix had over 167m subscribers and had generated a total of over $20.1bn during the year. But during Q1 of 2020, its subscriptions skyrocketed due to the final month of the quarter (March) being the start of the global coronavirus pandemic in many countries. By April 2020, Netflix had almost 183m subscribers.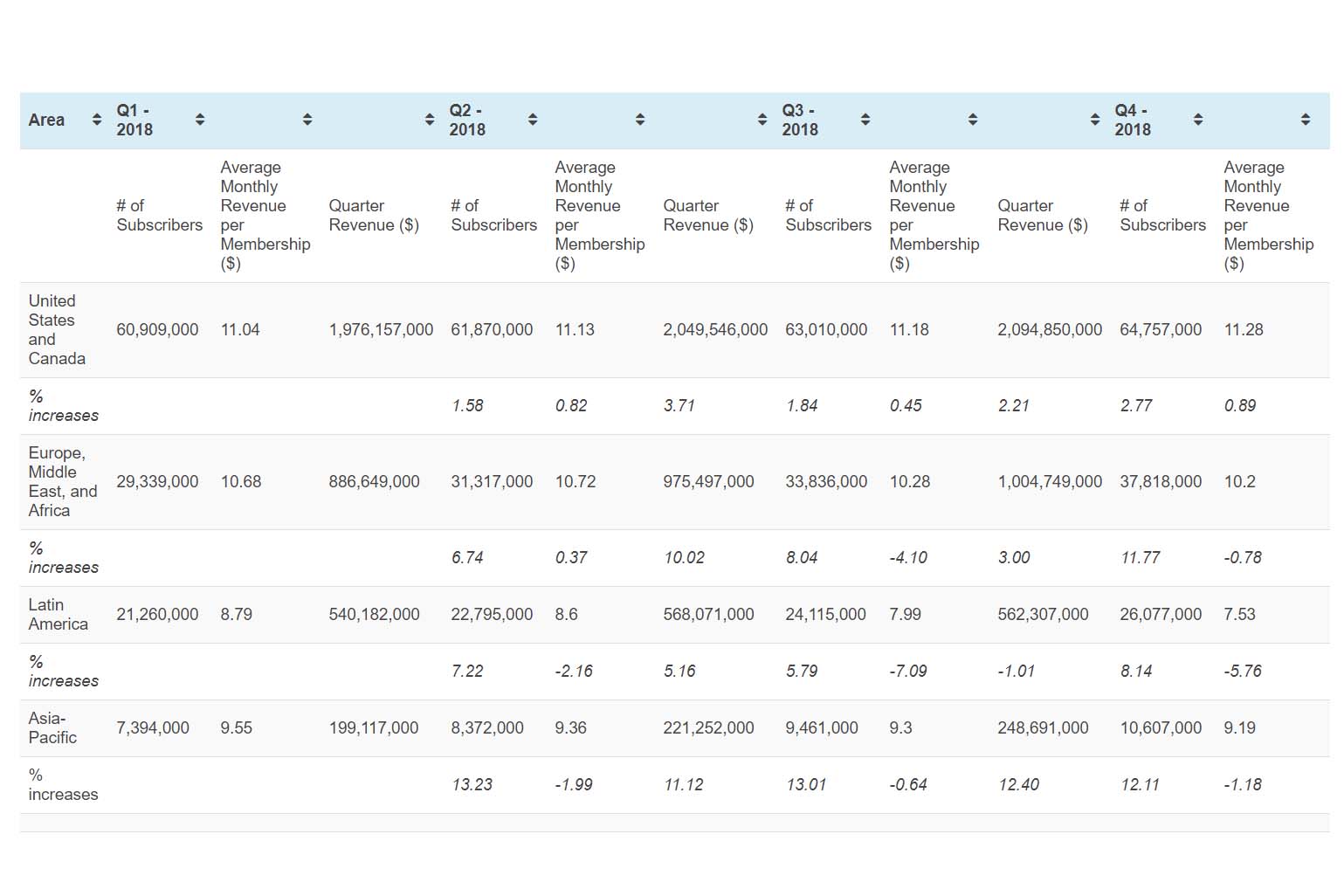 How will this affect Netflix's projections for 2020?
A look at Netflix's subscriber figures by region shows that its predominant growth has been in Europe, Middle East, and Africa, with this forming a larger and larger chunk of Netflix's subscriber base. Comparitech's individual country statistics show that Netflix now has over 300,000 subscribers in the UAE. The US and Canada now form just over a third of Netflix's subscriber base, compared to over half at the start of 2018, while subscriber figures within Latin America have remained pretty constant.
Revenue growth, however, came primarily from Asia-Pacific.
To try and ascertain how much revenue Netflix has generated in these countries, Comparitech applied the figures from Netflix's quarterly earnings report for Q1 2020. Then, to get an estimate of the current subscriber figures in these countries (for Q1 2020), it applied the percent increase seen in each region from Q4 2019 to Q1 2020.
It has then projected ongoing revenues for Q2 of 2020 based on the increases seen Q1 in each region. Netflix's own estimates for Q2 are for an additional 7.5m paid subscriptions — an increase in current figures of 4.1%. These estimates were made at the beginning of April when it was unknown how long lockdowns and other restrictions would remain in place. Therefore, as Netflix states, these figures could be much higher – or lower.
If Netflix were to continue with its success of Q1, it could have as many as 200.5m subscribers by the end of this month, generating a quarterly revenue of over $6bn. The true impact of the coronavirus on Netflix's subscriber figures and revenue won't be apparent until it releases its Q2 figures in the next month or so.