More than 250 AV professionals attended the event along with NMK's brand partners, Shure, Bose, Epson, Avid, Roland, Astera, Ayrton, Terbly, Furman, Luminex, Mersive, Neutrik, Denon DJ and Clear-Com.
UAE-based AV distributor, NMK Electronics hosted its annual kick-off party for the rental and events market at Hard Rock Café in DFC on September 3, 2019. The event brought together approximately 250 AV professionals.
The event also featured special packages tailor-made for the market to support them kick-start the season. The event showcased products from NMK's brand partners including Shure, Bose, Epson, Avid, Roland, Astera, Ayrton, Terbly, Furman, Luminex, Mersive, Neutrik, Denon DJ and Clear-Com, who were all present at the party.
The mood for the event was set with local rock/pop band Boxtones and DJ Brooklyn regaling the audience all evening.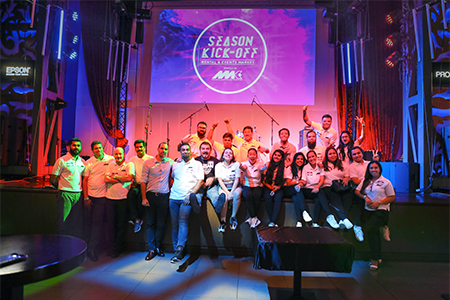 Commenting on the event, Dino Drimakis, BDM, NMK Electronics said: "This event is organised to bring together the AV rental community and to extend our support to our partners, while also providing a networking opportunity for the industry in a casual setting. Additionally, with the dawning of Expo 2020, it is crucial for us to mark our presence in the industry and to let our partners know that we are here to meet their needs and to facilitate all the events that they undertake."
One of the attendees, Damian Calderbank, Production Director at SLS remarked: "As a production director for SLS, which is one of the oldest production company in Dubai, we've been working with NMK since its inception. My boss Martin Lewis is a very good friend of Nicolas Kyvernitis and they've been doing business for over 20 years. The products that they have are perfect for our industry. They have all the leading products and we are the largest holder of the Shure Axient systems. In fact, we've just been using it today on the Tony Robbins and Alicia Keys shows and it works perfectly. It's a beautiful system.
"The event itself is great because we've all been away for the summer. We've been in Saudi Arabia doing lots of concerts and events like Mariah Carey, Sean Paul and more gigs – so it's great to have this kick-off party where everyone in the industry gets to see each other. It means having our competitors and friends in the same room discussing what's going on and what the future looks like. So, I think personally it's one of the best events along with the TPMEA Awards. This event gives everyone a great opportunity to learn more about products from the friendly NMK team out here and use the best solutions for their events.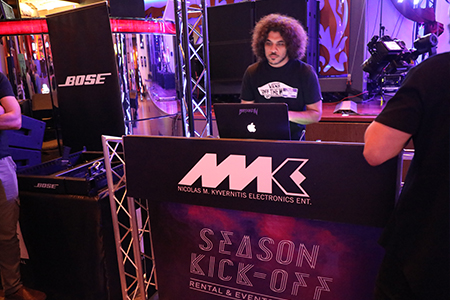 Abdulnassir Ali, Sales Manager – Visual Instruments and Professional Display at Epson Middle East noted: "The event is of great importance to us as a vendor and NMK, as a distributor, for many reasons. It helps us enhance the relationship which we started recently after we signed NMK on as a distributor. So, this event is an excellent opportunity to display what EPSON does best and showcase solutions that can open doors of possibility for the rental and events market. We look forward to a lot of growth and business in the future."
Epson's professional solutions ranging from interactive solutions on the floor to digital signage and edge blended projections were on display at the event. "Everything that is bright here on display is from Epson," added Ali.
Nithin Gopalakrishna, Account Manager for Bose UAE added: "Our relationship with NMK is in its third year. NMK has added a lot of value because they already have a lot of audio brands. So, to complete that chain, Bose has helped them and in the same way their products have helped us. We're doing good business for the last three years with the integrators thanks to this partnership. With regards to today's event which is completely into rental, Bose has been in rental for the past two years and NMK's exposure in rental has opened new doors for us in this industry. We look forward to cementing our partnership with them further in the future."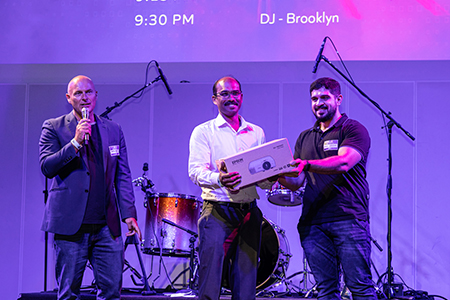 Chant Utukian, Senior Sales Manager MEA at Shure added: "Let me start off by congratulating NMK on their 32nd year anniversary. I wish the management and the complete team a continuous growth and success for years to come. I had the privilege of managing NMK four years ago when I joined Shure and as a Sales Manager, I could not have asked for a better partner that is professional and, most importantly, adapts to the ever changing market requirements while keeping the highest of standards.
"This event is the third edition of the series and has attracted a lot of people from the industry and is another great initiative from NMK. Our busy schedules rarely afford us such opportunities to interact with friends and colleagues outside of office hours. Industry nights like these give everybody the chance to meet in a more casual environment, connect and get to know each other personally, which I think is healthy. When we look around, we find daytime competitors talking, laughing and just being friends. This opens up many opportunities for us as well. As manufacturers, we want to hear honest opinions from our partners whether good or not so good. Tonight's discussions were all positive. One partner who recently invested in our High Tier Wireless system, Axient Digital, shared his experience and how pleased he was with the system. Another big rental company saw the Twinplex, our new Premium Subminiature Lavaliers & Headsets, in action on the stage recently and now is planning on investing on a number of them."