TSL Systems is presenting its project design services for modern studio builds at CABSAT.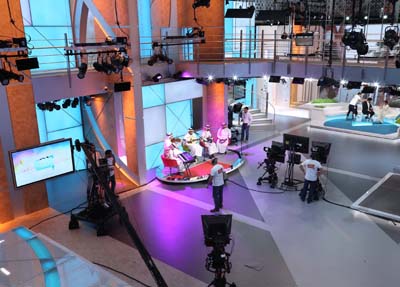 TSL Systems is presenting its project design services for modern studio builds at CABSAT. The company is showcasing its recent project for MBC, which involved the design and build of a complete new production facility for the broadcaster in Dubai Studio City.
The project involved the design and installation of three studios, two galleries, two audio control rooms, three CARs and an MCR, within a new building that was being completed simultaneously. The significant civil works element meant that the tight timeline was likely to be impacted; to minimise this risk, the TSL Systems team pre-built the system in a sterile environment close by and then deployed it within the facility once the civil works were completed – well within MBC's deadline. The system comprised approximately 30% existing technology and 70% new systems, including equipment from leading manufacturers such as Avid, Axon, Sony, Evertz, Clear-Com, Sennheiser, Vizrt and TSL Products. The MBC production facility went live on 5 March 2017.
"The timelines were very aggressive and required absolute clockwork precision to get the system and training delivery timings right," said Suhail Ahmed, Chief Technology Officer, TSL Systems Middle East.
"Of course, there were plenty of additions and changes during the build of the system, but having our own highly experienced in-house team based on site gave MBC the assurance that we would deliver the system on time."
"Our technical and commercial knowledge is second-to-none, regardless of project scale, providing our customers with truly independent advice and integrated solutions that meet their needs," added Ahmed.
"The service we offer ensures companies are kept on the air and fully operational when it matters most."