Patrick Brannelly, Divisional Vice President of customer experience, IFE and connectivity at Emirates, speaks in an exclusive interview with SatellitePro ME, about how satellite connectivity is revolutionising travel for passengers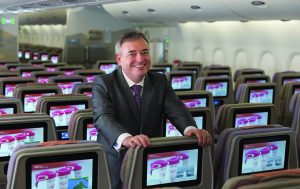 Emirates has deployed systems on-board its fleet of aircraft, that enable its passengers to use their own mobile phones to browse the Internet and make phone calls while 40,000 feet in the air. Powered by satellite, the technology has snowballed in popularity since it was introduced back in 2008. Although, not yet reaching terrestrial fibre speeds, the first step to on-board connectivity, using personal devices, certainly has travellers buzzing. Passengers are now not just connected for work, but also entertained through browsing the web and connecting with friends on social media, during long flights. It's time for BYOD to expand on-board too.
Patrick Brannelly is the Divisional Vice President of customer experience, Inflight entertainment and connectivity at Emirates. A veteran at the airline, he has seen satellite communication evolve from its humble beginnings, to its current state on-board aircraft.
"The airline's passengers have always liked to be connected," says Brannelly. " Many times over the past we've been told we're one of the biggest users of satellite communications in the world, apart from maybe the American military. What we're seeing today is an exponential growth in demand for connectivity to browse the internet, chat to your friends on Facebook and SMS etc. So this always connected person is very much the reality of the world now, and people expect to be connected on-board beyond the traditional methods of voice and SMS."
Emirates tends to deploy technology before the demand for it is noticed. When it introduced the ability to use mobile phones on planes, within a couple of years the only complaints it received was when people boarded planes that weren't equipped with connectivity for passengers.
"They couldn't use their phones in-flight. We now see this happening with the Internet. Passengers are boarding the aircraft and getting upset that their planes are not fitted with Internet connectivity. Hence, as of today, 60% of our aircraft (127 planes) are fitted with Internet connectivity. We presently have 220 passenger planes, and are adding connectivity to about three to four planes a month. If you look at 81% of our planes, you can use your mobile phones and 60% of these will allow users to connect to the Internet through GPRS data," explains Brannelly.
Emirates will be retiring some of its fleet next year, and the brand new replacements will come fitted with full connectivity on board. It takes a few weeks to fit these systems onto the planes. This is generally done when aircraft is brought in for maintenance.
"We have the biggest airline engineering facility in the world, here in Dubai, and those hangers are maxed out doing the maintenance for aircraft as well as updating the equipment. I think the chances of you getting on a plane without connectivity is reducing every month by three or four aircraft. A lot of our routes are also pure connected routes. Heathrow, for instance, has five A380s that fly to that destination in a day. On these planes, you get seamless connectivity every single time. This is where the expectation is very high. We have 100% of our A380 fleets connected, and over 70 of our 777s are already equipped with WiFi," says Brannelly.
Emirates also has up to eight channels of live television. The primary focus of these channels is for live sport and news. As for live TV serials, this is a bit more complicated. The airline cannot show these on board until the rights have been released for the airline market. Once these airborne rights for the movies and TV content are bought, Brannelly says the programmes are usually available on-board the same day.
"In addition, when we take media to an aircraft and transfer it to the screens, we can transfer a very high quality version of that media. If you transmit it over satellite, you tend to go for a lower resolution with a lower bit rate, and compression is added.
"One thing that's surprising is the offers for roaming data from the telcos in the UAE. We are charging phenomenally less now on-board the aircraft, but people are still saying they want on-board connectivity for free. In this industry, sending anything over satellite is a super-premium methodology for getting data from one place to another. Emirates chooses to give our passengers the Internet almost for free on our aircraft, but that doesn't mean it's free for us. We're spending many millions of dollars every year to subsidise this service."
There are plenty of airlines with Internet, but not so many allow the use of personal phones on-board the aircraft.
Brannelly says this is surprising in this day and age. "We were happy to be the first airline in the world to launch the service. We were surprised at how few have followed. Some of the big ones and those more focused on product have followed suit."
He explains that in the future, there will be an insatiable appetite for data. For instance, someone on-board the lounge in an A380 might want to take a picture with friends and post it on Facebook. Photographs on smartphones nowadays are a few megabytes in size, due to the very high resolution cameras on smartphones. Emirates is seeing that people generally will take a photograph, which will be a couple of megabytes, then attach it to an email and send it to someone. This picture is then uploaded to the cloud as well. Brannelly says through these seemingly nominal data transactions, nearly 6MB of data has been transferred between the aircraft and the satellite.
"Telling people to please switch off background synchronisation to your device is a bit of a pain at the moment. We need more bandwidth and to get this, we rely on the satellite community. Many operators may say they've got a satellite with bandwidth to spare, but you can't just plug any satellite into an aircraft and expect it to work seamlessly. Our planes go all over the world, and we're looking for global broadband data, and I would think most of what is out there today is not broadband, its narrowband," says Brannelly.
Speaking about the types of terminals, Brannelly elucidates that the A380s use Inmarsat's SwiftBroadband terminal, and the 777s are largely Ku-based, provided by Panasonic. Regarding the speed of uploads and downloads, Brannelly says that this is dependent on various factors.
"If you are the only passenger using the Internet on an A380, you will probably get 432Kbits/second. If there are two passengers, they'd probably get the same bandwidth because there are two channels on the aircraft. However if you have 20 people using it, you can see how that can get shared. However, this is not necessarily linear, because the systems are pretty advanced and able to effectively manage peak usage. For communications such as e-mail, SMS, Facebook and all the others, latency is unseen by the customer.
"You're not going to get a good YouTube experience. Frankly, that is going to use so much bandwidth and would upset other passengers on the plane, so those services tend to be managed. We also try to manage background synchronisation where passengers' Dropbox auto-synchronises, because that is not necessarily adding value on the flight. If you take the Ku service, it potentially uses significant data in the megabytes per user. This, however, also varies depending on the number of planes that are in the footprint of the satellite," says Brannelly.
Bandwidth and speed are two different things, and the reality is that they both have to improve, according to Emirates. He explains that the airline is at the forefront of working with satellite vendors to make this happen. It doesn't speak directly with satellite operators. Instead, it scouts for technology that is currently available, and certified for aircraft. Brannelly adds that most satellite operators are already in these conversations, and very well aware of what the future demands are – bandwidth and coverage.
"Being a global airline, we fly all over the world. When we fly over the South Atlantic, there is almost no coverage at the moment, because when satellites create their beams, they are looking at land masses where they can broadcast television channels. They need to maybe now look at where the main flight routes are, and add a little extra notch to their satellite footprint so it can cover the flight routes of the future. These routes are pretty predictable.
"On the North Atlantic, there are tonnes of bandwidth, because operators know there are hundreds of planes above it. There is a paucity of bandwidth in the South. There are planes there too, and they need connectivity. The South Indian Ocean also has coverage problems. In essence, coverage, bandwidth and redundancy are important. There is nothing worse for passengers than when an earth station is affected by the weather and they can't communicate on-board. Before you know it, we've suddenly got half of Africa uncovered," explains Brannelly.
For Emirates, the biggest challenge is managing customer expectations. "They expect to have on a plane flying at 500mph, at 40,000 feet, the exact same experience that they have using the Internet at home through fibre. I think it is phenomenal what has been achieved in terms of keeping aircraft travelling at these speeds and these altitudes connected through satellites, which by and large were designed to serve terrestrial locations," says Brannelly.
Currently, Emirates is engaged in conversation about the technology of connectivity that it will have on its planes in the future. Brannelly, however, thinks it will take another generation or two before high-speed connectivity is no longer an issue for airlines.
At the moment, Emirates gives all its passengers 10MB of data for free on-board. To chat on WhatsApp and browse Facebook, this is generally enough. The problem, however, is that when phones go into auto-synchronisation mode, they tend to use up the 10MB a little too quickly. Beyond the first 10MB, the airline charges $1 for 500MB. This is just a token charge, whilst the real cost to the airline is about 100 times more according to Brannelly.
"For the extra data allowance, you can sign up on the seatback and that guides you through a PCI-compliant tunnel, where the transaction is handled on the ground through very secure infrastructure. We may adjust the pricing in the future, because we are trying to balance out the people that are leisure users, that just chat and send a few pictures, from hard-core businessmen that really need a lot of bandwidth. We get a lot of emails from customers saying they would rather we charge $50 and give them dedicated access at higher speeds."
Since the introduction of the service price down to free, Emirates has seen a six-fold increase in usage. What is interesting is that the highest usage is on super long-haul flights. Brannelly says the number one flight last month was Seattle, with a 15-16 hour mission, where 35% of the passengers were using the on-board Internet services. Emirates is also seeing an increase of usage on short-haul flights, which are classified as sub three to four hour flights. On these, nearly 15% of the passengers are connected.
Brannelly concludes by saying: "It's becoming a more natural behaviour to get on-board and just stay connected. I think in the future people will expect free connectivity everywhere; be it in malls, on the roads, sports venues and most of all during air travel."