Rascular, is showing its latest control and monitoring technologies at IBC 2017.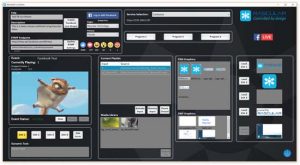 Rascular, software designers of PC-based video playout control and media management systems across SDI and IP, is showing its latest control and monitoring technologies at IBC 2017. These reportedly provide flexible and cost-effective control of third-party devices across the playout chain, including streaming encoders.
Rascular is highlighting its ability to provide direct control of streaming content to dominant social media platform Facebook Live using its control technology Helm. This can reportedly be achieved via Helm on a PC or via associated, device-independent web panels. As per the release, this allows a tight integration for broadcasters and playout providers between broadcast devices and streaming content.
Ephraim Barrett, Sales Director, stated: "We're living in an ever-more-complex playout world, as live output requirements continue to expand across both broadcast and the internet. Second screen activity is significantly increasing and alongside that there's a growing requirement for control and monitoring technologies that provide the operational flexibility and precision that live environments require."
Operators can reportedly control both the streaming encoder and Facebook Live from a single screen. Helm communicates with Facebook using the latter's Graph API.
Reportedly providing the flexibility required in modern broadcast facilities, Rascular is also showing its new web panel capabilities at IBC 2017. Alongside the flexibility that device independence provides, as per the official release, they also reportedly allow tight integration with live broadcasting to social media e.g. Facebook Live.