Mocha has become the industry standard for motion tracking and rotoscoping but does the new version live up to its reputation, investigates Alistair Rankine Mocha Pro started life as three different products – Mocha, Mokey and Monet – all of which were finally brought together into a comprehensive package. Initially, Mocha was mainly used by […]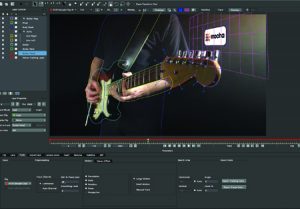 Mocha has become the industry standard for motion tracking and rotoscoping but does the new version live up to its reputation, investigates Alistair Rankine
Mocha Pro started life as three different products – Mocha, Mokey and Monet – all of which were finally brought together into a comprehensive package. Initially, Mocha was mainly used by visual effects artists working on complicated tracking and rotoscoping, but now editors, motion graphics artists and colourists benefit from it too, and the industry expects everyone to be multi-skilled.
So what can Mocha Pro do?
Mocha can handle the most complicated of tracking scenarios by use of its planar tracker. This basically analyses anything in a scene, in the form of a planar surface. Draw your spline, analyse, and Mocha will do the rest.
If there's anything in the way of the object you're tracking, draw a spline around it to exclude it from the track. From my experience, there is nothing that Mocha can't handle when it comes to tracking. It copes perfectly with motion blur, lens distortion and objects going off-screen. Unlike most point trackers, Mocha tracks images using pixel patterns.
Rotoscoping
I am not a huge fan of sitting for hours on end rotoscoping; it is something I have to do out of necessity. Rotoscoping in Mocha is considerably faster, as I generally don't need to adjust my mask keyframe by keyframe.
Mocha is by far the most accurate and user-friendly rotoscoping tool available, by way of the bezier and X-spline tools. When rotoscoping a shot, it is possible to combine your roto work with the tracking data. The shape which you are rotoscoping uses all the information from the planar tracker to allow for change in perspective and motion.
Mocha Pro also handles motion blur extremely well, not only when tracking but also when rotoscoping. Individual points can be selected along splines in order to add feathering and softness. This helps to achieve cleaner and more realistic results. It is by no means an automatic process, but Mocha fills in a lot of the gaps without too much effort.
Object Removal
One of my favourite things in Mocha is the Remove Module. This tool can save hours of time in creating clean plates for compositing. It works a little like Content Aware in Photoshop: a spline is drawn around the items that need to be removed from the scene, and the spline is tracked using the planar tracker. The remove tool is then applied, automatically detecting pixels from the area surrounding the object that needs to be removed. The object is then filled with information from surrounding frames. Obviously, the result depends on the complexity of the shot and the object being removed, but even with complex shots this can save a great deal of time.
I work on Autodesk Flame and find it very useful to combine this with my Flame toolset. I can carry out the initial removal in Mocha, which handles the majority of the work. I can then take the shot into Flame and use the Flame toolset to finish.
3D Camera Solver
The 3D Camera Solver in Mocha works very differently from other 3D camera tracker applications – with these, the tracking is usually an automatic process with user-defined parameters, creating a point cloud in 3D space. Once again, Mocha takes advantage of its planar tracking capabilities. The user defines a set of planes within the image, and Mocha uses this information to analyse the shot and create 3D camera solving data. This process is extremely accurate and also much easier to achieve than by using 3D camera tracking software. Once tracked, the information can be exported in a variety of formats to After Effects, Nuke, Flame, Smoke, Maya and Cinema 4D, to name a few.
Another extremely useful tool is the lens module. Lens distortion can occur through the use of different lenses when filming. The lens distortion tool allows you to remove or match the distortion. This info can then be exported to After Effects, Flame, Smoke, Nuke or Fusion. It is also possible to render the fixed shot directly from Mocha.
One of the most important things before compositing any problematic shot is to stabilise it to get rid of any jitter. Mocha handles this seamlessly, automatically scaling the stabilised shot to fit the frame size. Again, this information can be exported for use in any other compositing software.
Another of my favourite tools in Mocha is the insert tool. This is excellent for beauty work. You can take a non-flat surface and apply the grid warp to the item you're inserting into the scene, warp it with the grid warp tool, and then track it.
The motion and perspective from the non-flat surface is then applied to the inserted image. This allows for quick and easy compositing of what can be very tricky and time-consuming in other software.
I would love to see Imagineer build on the idea of compositing directly inside Mocha Pro. With their insight and expertise, I imagine they could most likely beat a lot of compositing software at its own game, Mocha Pro 4 is available either as a standalone product or as part of Adobe After Effects. The After Effects version has the option of upgrading to Mocha Plus 4.
What's New
Mocha has become more streamlined with the new release. There are fewer buttons on the interface, making it easier to use. As with any new release, there is increased support for different media types. New codecs are added to updates of Mocha as they come on the market.
Support for stereoscopic 3D workflow has been introduced. It is now possible to track, roto and camera solve in a stereoscopic environment, a big plus for large movie studios, which can now benefit from the Mocha toolset when creating visual effects for 3D movies. Python scripting has also been introduced, another plus for large VFX houses, who can now customise the software to fit directly into their VFX pipeline.
It is now possible to customise your keyboard and have your own set of hot keys.
Nuke users also benefit from improved support for roto and tracking nodes.
It may seem strange to use Mocha when many of the same results are achievable in Nuke. From my experience, it is easier and faster to do the work in Mocha and then send the data over to Nuke. It allows for less complicated Node Trees and simplifies workflow.
A great addition is support for Premiere CC. It is now possible to cut and paste masks from Mocha Plus 4 directly in Premiere CC.
If you are a large VFX house with Flame and Nuke, then you will most certainly go for Mocha Pro 4, which is available on OSX, Windows and Linux. Mocha Pro also has the ability to export data of some kind to just about every other product on the market.
If you are a smaller company and work with Final Cut, Hitfilm and Adobe products, and don't necessarily need the added extras or the ability to output to high-end software, then Mocha Plus 4 is probably for you. Mocha Plus 4 is available on OSX and Windows.
As standalone planar tracking software, Mocha Pro 4 doesn't really have any competition, though I will be interested to see how the new inbuilt planar tracker in Flame 2015 Ext 2 compares. I am still on Ext 1, so I can't comment on that just yet. I'm sure I will have room for both in my future workflow.
Alistair Rankine is an editor/VFX specialist and workflow consultant with more than 25 years post production and broadcast experience. He is based in Dubai.