Although there have been one-off events produced in 4K, the technology is still far from ready to be adopted for mainstream broadcast. Tim Felstead discusses some of the challenges of 4K From a broadcaster perspective, 4K (or, strictly speaking, UHD in a television context) is still nascent, with early adopters pushing ahead to use it […]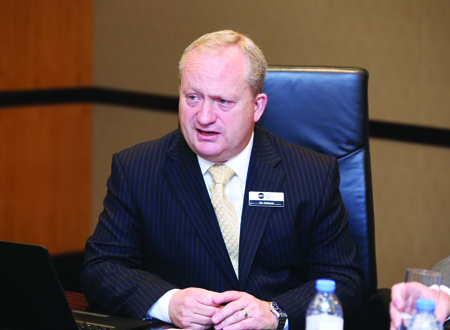 Although there have been one-off events produced in 4K, the technology is still far from ready to be adopted for mainstream broadcast. Tim Felstead discusses some of the challenges of 4K
From a broadcaster perspective, 4K (or, strictly speaking, UHD in a television context) is still nascent, with early adopters pushing ahead to use it as a competitive advantage.
Recording in 4K and shooting at higher resolutions has been around in the movie business for a while now, as has single-camera 4K acquisition for TV. We've seen this progress to live TV production in 4K, largely driven by a combination of factors, namely increasing ease of production and the availability of products at reasonable prices.
As this economic cycle continues, the cost of the technology comes down and a 4K ecosystem begins to develop. It's at this point that broadcasters decide that they can make that commitment to 4K as a way to differentiate themselves.
We've seen one-off events like the production of the first 4K version of El Clasico, the famous Barcelona FC and Real Madrid football match produced by Mediapro last year. However, the most recent and interesting phenomenon we've seen is increasing interest from companies wanting to actually broadcast in 4K, as opposed to only produce. Two major examples of this are BT Sport in the UK and Rogers Media in Canada, both now 4K broadcasting. However, behind them is a huge ecosystem of companies looking at launching a supporting 4K service. There is some movement in this direction in the Middle East, with broadcasters exploring 4K for specific live event coverage.
UK broadcaster BT Sport is a perfect example of how 4K can open up opportunities for a relatively new market entrant. Not only did it buy sports rights for the football Premier League and rugby Premiership in the UK, it also decided to launch a 4K channel: BT Ultra HD. It also broadcast the Moto GP at Silverstone in 4K last year. The broadcaster also commissioned the first purpose-designed 4K truck in Europe, built by Timeline to service its new 4K channel.
Rogers Media in Canada has also recently announced a market-defining 4K and HDR broadcasting service with a focus on live sports broadcasting. These are still early adopters who view 4K as a competitive edge in their markets – and it's no longer just other broadcasters that they're competing against, but also OTT providers like Hulu, Apple TV and Netflix, many of which have made 4K their default format. As a consequence, the supply chain is reasonably well developed.
Normally it would take several years for this to happen.
There are still some challenges in terms of 4K production, when it comes to dealing with legacy HD signals and equipment investments that have already been made. As a broadcaster or media company, you can't just forklift yourself up to a new standard and disregard all your existing equipment or media. It's essential that any 4K production workflow takes away complexity but can still cope with all the variations of SD and HD inputs and outputs that customers still want access to. It's critical that any 4K equipment makes this possible and is no more complicated for operators than the HD equipment they are used to.
The main advantage of 4K adoption compared to HD is that it's a lot cleaner in terms of the standards and variations associated with it. You still have differences in frame rate in different parts of the world – this is down to the electrical standards – but everything is progressive and there's just the one primary screen resolution: 3840×2160.
There are still complications with 4K. There are different methods in use for interfacing; for example, we have to use serial digital for uncompressed (3Gbx4), but there are two different methods of carrying this over copper cable (Mode A and Mode B). NAB this year saw this take a step forward, thanks to new interfaces including 12G serial and SMPTE 2047-1 for 4K over IP.
However, equipment deployed should be able to manage all these variants without making operators' lives more complicated. It's important that equipment for 4K production be ready to work with legacy Mode A over four-cable equipment, for example, plus any of the other newer signal types coming on to the market.
Disk space consumption is also an issue, and while this has improved dramatically thanks to new codecs, there are still some severe limitations. Moving and copying 4K media massively increases consumption of network bandwidth. If you think about the production tendency over the last few years, there's been a move towards a greater number of cameras and sources and higher and higher production values.
It's now a de facto expectation in live sports production that before the end of the first half of a game, a highlights package must be ready to be shown at half-time. This means recorded material needs to be moved to the editing system as soon as possible. With 4K, it's absolutely critical that servers, editing systems and network connectivity are able to cope with the significantly higher data requirements.
So what about HDR? The market's not quite there yet on the display front, but HDR TV sets are being introduced and this will mean we will soon see a growth in, and an appetite for, watching content in HDR. While HDR is not without its issues at present, we are a firm believer in the benefits of HDR in combination with 4K, in terms of giving viewers the best possible experience.
There are currently two standards being proposed for HDR, and the BBC has also proposed an alternative that seeks a middle ground between these two potential standards. There's no doubt that HDR will make 'better pixels' and contribute to a more immersive experience for the viewer.
But again, as with any move to a new technology, HDR brings its own set of issues. Until standard are clearly defined, there will be some problems for the delivery of content to the home. If the viewer has an HDR screen, the content needs to be rendered for that home screen so that it looks good enough to the viewer. But if the same set-top box is connected to a SDR screen, this then throws up potential problems, so there is still some work to be done.
It's relatively easy to ensure transparency across our production equipment through which signals are being passed. If you're manipulating signals, then more care is needed with colours, brightness levels and so on in an HDR context. What we don't yet know as an industry is how difficult it will be to produce HDR simultaneously to SDR. This still requires work.
As 4K begins to percolate out from early adopters to the mainstream, the likes of Rogers and BT Sport will have to look further in their continuous drive for differentiation. 8K is being mooted in Japan already, but as for when we'll begin to see this in earnest across the wider market – it's anyone's guess.
Tim Felstead is Head of Product Marketing at SAM.