Keeping up with the AI chatter in regional media, BroadcastPro ME hosted a webinar delving into the latest and greatest of AI and other trending technologies that have taken the broadcast world by storm. Sarah Nathan sums up the discussion.
At the recent BroadcastPro Tech webinar, panellists shared their thoughts on AI, cloud, next-gen technologies and FAST business models. Moderated by BroadcastPro ME editor Vijaya Cherian, the panel discussion featured Manish Kapoor, Executive VP of Broadcast and Technology, Zee Entertainment Middle East; Salloum El Dahdaah, CEO of White Peaks, who attended with COO Jessy Abou Habib; Melvin Saldanha, OSN Director of Technology; and Suhail Ahmed, Advisor of Technology and Strategy at International Media Investments, the parent company of Sky News Arabia.
Where do we stand in terms of artificial intelligence, and what is its future potential?
AI is the latest murmur across the region's media industry. Although the discussion revealed that the opportunities unlocked appear endless, it is largely being used for content localisation at present.
"This is still the infancy of AI," pointed out OSN's Saldanha. At OSN, any acquired content goes through speech-to-text software before being passed to editorial, programming or language service departments for further curation and localisation. Since AI is not immune to error, human intervention is still called for.
"Will you get a 100% correct result?" pondered Abou Habib. "Definitely not, but the result we are getting today is much better than what we used to get before." Saldanha agreed, estimating that potentially complete accuracy is not that far away.
Systems integrator White Peaks Solutions already offers clients several AI services. "You still need human intervention, but instead of spending two hours on each video, you spend about 15 minutes with our AI content moderation services," explained Abou Habib.
Meanwhile, at Zee, although AI has not yet been officially implemented, the broadcaster is getting a feel for its benefits, especially in India. With approximately 40 channels internationally, Zee boasts an extensive library of content and employs AI to dub and subtitle content for faster reach to international viewers and to filter specific scenes, characters and languages. "As a broadcaster, content creation is not there with AI as yet," Kapoor reflected. "What is there is post-production, a bit of production and, of course, it can be used in the distribution of channels or other streams."
The panellists also concurred that while AI is here to stay, it will not replace humans. "AI cannot make the decision on your behalf," explained El Dahdaah. "It can provide you different decisions whereby you choose one of them. It's just here to accelerate your job."
Ahmed noted that such apprehension deters the region from unleashing its full potential. He noted that AI is "augmented intelligence" and brings greater efficiency to the workplace.
Despite its services, however, AI comes with numerous complications, especially security. Errors could particularly transfer to external software and kickstart a chain of viruses. "If I build an app and I'm tricked into misclassifying data as real input, the output would be that the app carries a malware, which could be dangerous to a platform and could also bypass security. AI models that lack human oversight can lead to data poisoning," Saldanha said.
The region's legislative and legal obstacles may discourage companies from adopting AI. El Dahdaah posited that Middle Eastern content is not as enriched with data as in the West. For instance, if companies wish to offer viewers the option to view IMDB databases of characters on their screens, content has not yet been indexed with this information. "We came late to this," he commented. However, with the influx of companies joining the cloud, Ahmed is optimistic that data will be shared more freely between entities, opening up more prospects.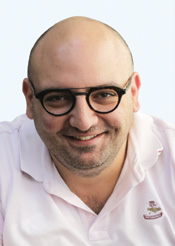 Another controversy is content creation. "If a story is written by AI, who owns the copyright? More importantly, if you recreate the voice of a dead actor for a programme, who then benefits from the revenue?" challenged Ahmed. "If we come up with a regulation that allows AI to have copyrights, that means they get a bank account. If they get a bank account, this leads to us agreeing that they exist. There are a lot of questions that need answers, especially on the ethical level."
Ahmed also highlighted that AI software, like humans, can fall victim to bias. Platforms like ChatGPT rely on existing datasets to inform data output. However, these platforms are often largely infused with Western and European datasets, as opposed to those from the Middle East. "How do we ensure that our region's culture and art infuse the data that is often used for training these AIs?" wondered Ahmed. "If we were to do a Middle Eastern version of ChatGPT, it would make decisions differently because of different datasets and different training of those datasets."
How are cloud and next-gen technologies shaping the region's media world?
When the question of cloud arose, all panellists agreed that security and cost were still major deterrents for regional players. El Dahdaah explained that their solution to the security issue was to have the data in the cloud but provide access only via private networks. "We're using the servers [the public] has, but we're blocking all network access and just allowing a specific encrypted tunnel for connectivity," he elaborated. "Whenever the tunnel is lost, it's just the system running there on its own. At the end of the day, we need the infrastructure of these big systems and we see that as the way forward."
Saldanha hoped to phase out some OSN on-prem operations: "I can't remember the last time I spent CAPEX investments on on-prem." With the cloud comes greater capacity for flexibility and scalability. With the company having widely adopted cloud services, not only does this bring better large-scale streaming capabilities and higher concurrent viewership, but also the flexibility to scale up or down.
Kapoor said that a hybrid solution is working for Zee. On the one hand, the flexibility of the cloud is useful for international ventures, especially subtitling. With cloud services, one channel with one subtitle language can become one channel with 12 subtitled languages – multiple channels can stem from one playout stream. Additionally, headaches of physical upgrades to hardware are eased as cloud vendors oversee all updates. Again, this promises efficient delivery of channels. On the other hand, some of Zee's offerings in general entertainment and sports mean file-based channels, live events and sports content have last-minute graphics changes, making them better-suited to on-prem operations.
"It's not 100% cloud," posited Manish. "Hybrid is still the way forward." Ahmed pointed out that some tasks, like graphics, are still achievable on the cloud. "If your creative team is happy to adopt HTML-based graphics as opposed to traditional RTF-based graphics that we've known in the region, the change is instant. Again, the barrier is humans."
A firm supporter of switching to cloud services, Ahmed was emphatic in his proposition to reinvent the traditional approach whereby broadcast companies purchase technologies using capital expenditure and spend operating expenditure on SLAs. Instead, a company could rely entirely on operational expenditure by switching to cloud services. This would even lower operating costs, since construction of data centres necessitates utility bills and civil costs and can take months to complete. Instead, the cloud allows visions and creative projects to materialise almost instantly. Costs are further minimised as the workloads of first-line maintenance and support staff are reduced.
Commenting on the region's apprehension of the security risks that accompany switching to cloud services, Ahmed claimed that safety is comparable to that of operating with private data centres: "[However], the efficiency would outweigh this risk."
Speaking about next-generation technologies, El Dahdaah brought in the context of caching dynamic content. With large-scale and heavily viewed live events such as the men's World Cup, systems that can handle large influxes of registration and payments by eager users while still caching dynamic content are a must. Since modern audiences are growing, both on bigger screens and mobile phones, their hunger for content urges companies to make things content-accessible – that is, not only do last-mile delivery methods ensure that content reaches audiences, but audiences are also able to reach content, especially with lowered latencies.
"About last-mile delivery, here, it's becoming about both up and down, not just down," he said. "It's no longer about last mile on a country level; it's also on a city level. You need to have more capacity at the levels of the cities whereby you lower latency." White Peaks Solutions has addressed this by placing nodes across different parts of the UAE to help Asharq TV achieve low latency rates of less than 4Mbps.
Again, however, the Middle East must rely on regional collaboration to keep up with its international counterparts. Since Western markets have connected IXs complete with fibre optics and numerous data centres, production output is guaranteed to reach centres in a few milliseconds. Despite the impressive infrastructure in some of its cities, the Middle East does not have this connectivity.
"Practically speaking, we do not have this infrastructure ready," El Dahdaah remarked. "We really need to go to that next step [and] have our IXs connected. Bandwidth is not a luxury. Connectivity is not a luxury. We need to have this understanding; it's a must. If we don't act fast, we'll always see Europe, USA, Canada and all those countries get ahead of us."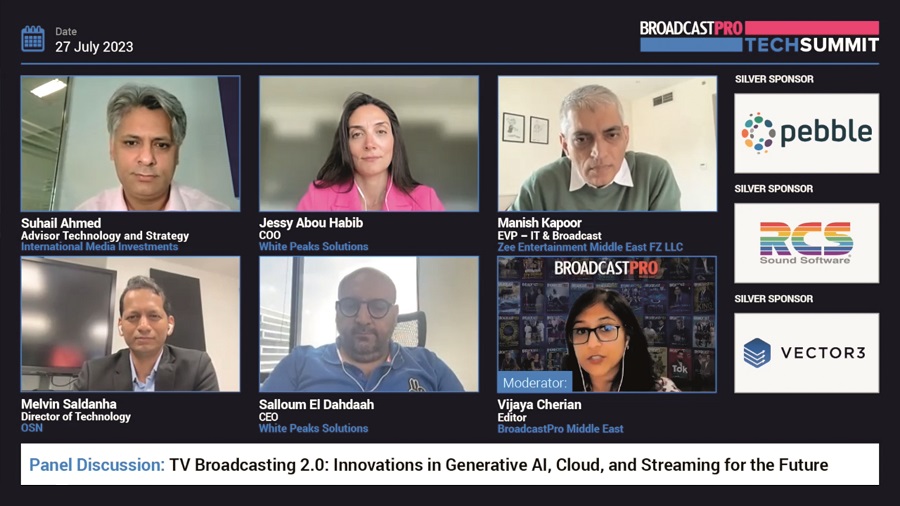 Is recommendation at its best?
Before diving in, Abou Habib clearly outlined the goal of personalised recommendation across the media realm: "When we talk about content personalisation and recommendations, we're talking about a personalised homepage where you can find whatever you wish to consume and immediately have that content."
People spend 8-23 minutes searching for content, said Saldanha, and ultimately the goal is to bring this down. Streaming platforms rely on Customer 360 views, collecting viewing history, viewing duration and preferred platform metadata to inform future recommendations.
Recommendation is yet another facet wherein AI can work wonders. Software could give companies the ability to create personalised trailers tailored to a viewer's preference after understanding their viewing habits, preferred genres and commonly used keywords. "If I could look through all pieces of content, identify each and every object, scene, cast and crew member and have that data onscreen, I can curate that to be used for my search recommendations for better content presentation," explained Saldanha.
Additionally, AI can facilitate the intricate breakdown of a title in terms of tags. For instance, a movie or TV show title can be broken down into percentages of the genres it falls into. "If you could put all of these ratings together, that'll help you build the best recommendation, because you're going finer," Saldanha continued.
However, Abou Habib highlighted a caveat to recruiting AI in tagging – although it might be efficient in recognising actors, locations and genres, it cannot tap into what theme or morals a piece of content might be preaching. "Betrayal, for instance," she pointed out. "When there are human emotions and feelings, you will need human intervention."
Saldanha went on to outline the holy grail of collecting data to inform personalisation and recommendation software. Machine learning could be trained to analyse viewers' content consumption based on time of day, day of the week and preferred form of content, depending on what platform the viewer uses – YouTube's short form or a streaming platform's long form, for example. Coupled with viewers' social media patterns and their affinity for certain genres, this information could inform AI models' output of recommended content.
However, he was resolute that these measures should adhere to GDPR regulations and guidelines. "If I can understand patterns through machine learning and deep learning, data collection sitting strictly within GDPR, I could serve customers exactly what they want to watch. Generative and super AI is going to give us all the tools that we need to build better recommendations. If I could get links into all of these feeds, I can build something more unique and personalised, which then can also be used for targeted advertising, content monetisation and performance improvement. Depending on where you're watching and on what device you're watching, I can give specific content in that format. It just opens up a plethora of opportunities if we have the tools in place."
Is FAST the future?
The FAST approach offers new monetisation opportunities for content-rich channels, production/ streaming companies and hungry advertisers, said Abou Habib, describing FAST as win-win. "If you have content, a platform on which to publish that content and advertisers waiting for you to monetise this, why not? It's a perfect combination. I see FAST as cost-effective entertainment. That's why it's such a big hit right now."
Over the years, Saldanha has recognised three types of viewers: subscribers, hybrid customers who have subscriptions but still enjoy linear or alternative viewing, and customers who do not want to pay for subscriptions. The last one is where FAST shines.
El Dahdaah cautioned that the FAST business model should be reserved for larger players who already have huge content libraries and can have "50 or 60 aggregated channels", citing Zee and Rotana as examples. However, he asserted that FAST will not work for startups with little content.
Kapoor confirmed that Zee benefits from the FAST model and has taken a steady and structured approach to creating FAST channels. For instance, advertisements are being carefully and strategically placed to ensure dialogue and prominent scenes are not interrupted. Importantly, adopting FAST has cut Zee's costs while keeping things exciting for viewers.
"What we're using is a mixture of old and new content," he explained. "We try to create a different set of contents where the investment to bring the content to customers is far lower. We allow platforms to dictate taking it further and localising it based on how they can distribute the channel. That's the advantage we want to take." However, he pointed out that simply recycling old content for months on end may at some point bore viewers. To keep things dynamic, companies should continue to carefully curate content that invites genuine interest.
Comparing FAST in the region to FAST abroad, Abou Habib highlighted a key difference – those abroad are traditionally done by the bigger players like telcos or cable operators, whereas in the region, individual streaming services or networks have adopted it.
The panel concluded with agreement that a think tank is needed to optimise the regional implementation of AI. A recommendation was made to start an AI group, which BroadcastPro has now created on LinkedIn, with all industry professionals welcome to join.
"Creation of such a group may help us catch up or put us ahead of how AI is being used in other regions," Ahmed opined. Saldanha agreed, adding that discussions surrounding AI should adhere to the five Cs: clear vision, change management, communication, collaboration and continuous learning.