AI experts across MENA broadcast gathered to look at the impact of this evolving technology on various aspects of newsgathering, production, contribution and distribution. Nicolas Hans, Partner at Broadcast Solutions Middle East and Africa, and the moderator of this panel sums up the discussion for us.
AI is the new electricity. It has become ubiquitous in every consumer's life. With every tweet, Facebook post or social media swipe, an AI recommendation engine is involved. The recent Facebook Files from the Wall Street Journal demonstrated AI's impact on our collective perception of reality. Beyond social media platforms, AI is booming across all industries.
Society is experiencing the fourth wave of AI. The first started a decade ago with internet AI ruling web sites and mobile apps; four years later, business AI affected financial services, medical, logistics and back-office systems. Then five years ago, perception AI rolled out across smart homes, smart cities and smart factories.
Today, the fourth wave, autonomous AI, has led to the boom in drones, robotics and autonomous vehicles. The broadcast industry is no stranger to the AI revolution, and Netflix claims to save a billion dollars every year thanks to cognitive technologies.
To better tackle the state of AI technology across broadcast and streaming media, the technology panel at the ASBU BroadcastPro summit featured three media professionals, one telecom operator and two technologists.
Kathey Battrick, Senior Manager, Library and Media Management at Asharq News, shared her experience deploying AI in her archiving department. Bassem Maher, Head of Operations Discovery, MEA and Turkey, explained how AI is supporting the launch of the Discovery+ OTT offering. Esteban Galan, Lead Manager, Broadcast Technical, Media Services, Expo 2020, explored how media distribution and live production are both affected by AI services.
These media professionals were complemented by Umut Keten, Senior Architect at Türk Telekom, who shared his insights on how neural networks are used to monitor internet and mobile telephony networks, and two technologists: Fadi Jumaa, Director of Business Development at VITEC, and Frederic Petitpont, CTO of Newsbridge, a French startup specialising in content indexing using Multimodal AI.
We were keen to understand what AI stands for and how it is already in use across media organisations. From setting the stage to going under the hood and exploring the challenges AI presents, the debate was lively.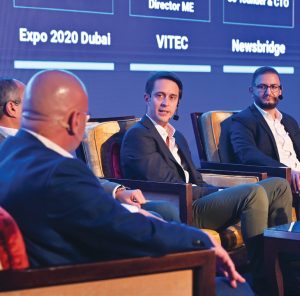 AI is not new; it turned 65 this year
Since the start of the year, $50bn has been invested in AI, according to the CB Insights 'State of AI' Q3 2021 report. According to PWC, AI will create $15.7tn in value by 2030. And things are accelerating.
As an AI evangelist, Umut Keten from Türk Telekom sees AI as generally misunderstood. "Everybody thinks AI is like a consciousness or something human-like, when the basic principle of AI is much simpler. AI is just a way for a machine to decide on its own without human intervention."
For Frederic Petitpont from Newsbridge, the reasons for the boom in AI technology in the last decade were not limited to the increase in CPU and GPU power and the availability of cloud resources. Code sharing and increased collaboration across organisations are essential drivers of this AI renaissance. "Science laboratories and universities are sharing how they're working and designing their systems. You're no longer starting from scratch anymore."
"It is predicted that the AI market in the sports industry will grow 30% every year until 2027. It will reach $3.5bn" – Esteban Galan, Lead Manager, Broadcast Technical, Media Services, Expo 2020
All agree that the new approach to AI – which has partially abandoned the development of rule-based engines for neural networks – relies first and foremost on the relevance of datasets. These datasets are critical because they are used to train AI engines and are the cornerstone of the concept of machine learning. "Neural networks are the engine and datasets the oil," concluded Petitpont.
AI speech-to-text and translation are changing archives and distribution
At Asharq, which launched just a year ago, Kathey Battrick went all-in with AI when she set up the archives department. "We wanted to use AI to help us preserve and create rich metadata for our content. We considered three key areas: labels and the flexibility to customise metadata; people and the possibility to reference new faces and personalities; proper support for both English and Arabic."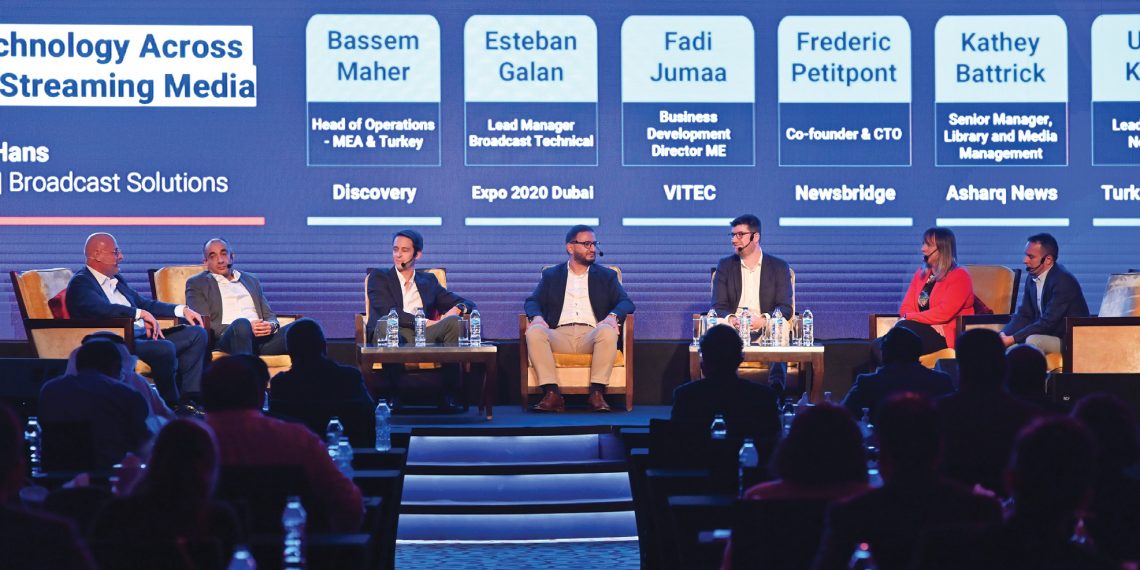 For Esteban Galan from Expo 2020 Dubai, automatic translation of metadata and transcripts across the three official languages of the exhibition – Arabic, English and French – was the "coolest feature". He detailed how AI combined with cloud infrastructure facilitates the distribution of videos and stills to media organisations worldwide, to promote the image and increase the reach of Expo 2020.
"We still have manual metadata we create, but it's vastly complemented by the huge amount of metadata the AI platform could generate for us" – Kathey Battrick, Senior Manager, Library and Media Management, Asharq News
Bassem Maher explained that the focus for implementing AI at Discovery is primarily distribution and enhancing the consumer experience, with the recent launch of the Discovery+ OTT platform and the creation of new services across Siri and Alexa digital assistants. Although he recognised that AI for production was still a work in progress, he projected a coming adoption to manage the seventy languages Discovery broadcasts in. He was confident about the roll-out, considering that Discovery operates 160 channels on AWS and can easily leverage cloud AI services.
AI is changing the world of sport
Galan, who has been involved with the Olympics since 2012, shared the growing impact of AI in sports. "It is predicted that the AI market in the sports industry will grow 30% every year until 2027. It will reach $3.5bn."
Convinced that the broadcast industry will follow a similar adoption pattern, he foresees the deployment of AI in live production. "Supercomputing will help, because the power of the processing power is getting much more powerful. The democratisation of the cloud is making storage and access to data much faster, and the deployment of 5G networks will only accelerate that further. I think that when all these are aligned, we will see AI used in high-end productions."
For Fadi Jumaa, the impact of AI on remote production already became a reality at the recent Tokyo Olympics. "We partnered with Eurosport to transmit the Olympics. Because of the Covid crisis, we took live feeds and sent these to commentators in the comfort and safety of their homes. They added their live comments, and the signal was sent back to Olympic production facilities in Tokyo."
In his eyes, AI technology that streamlines video encoding enables new business models. "Covid dictated this remote production at the Olympics in Tokyo. But later, it was realised as a very viable business model because it saves a lot of money and improves the return on investment broadcasters like Eurosport make buying sports content."
AI helps manage telecom networks and reduce OTT churn
As detailed by Umut Keten, AI is already used at scale by telecom operators. "In a telco, the network is big. There can be many outages, and one outage can relate to ten different causes. When operators monitor the network, they may get twenty alarms and little time to determine the root cause of that problem. That's where AI makes our lives easier."
Beyond monitoring the state of the network, Umut explained how AI helps telcos optimise data traffic for OTT providers: "As an internet provider, we support OTT services. AI monitors user traffic and knows where people connect to, what their latency is and what type of traffic they're downloading. According to that, you can determine which customers have a good experience and which do not. We use this to determine what kind of outages cause customers to churn."
Moving forward, Keten believes that telcos and OTT service providers should collaborate to further optimise AI monitoring. "OTT providers should work closer with the telco providers, deciding where their CDNs should be located. When a leading OTT provider such as Netflix launches a new series like the new season of The Witcher, you can immediately see on the network many people trying to reach one location, all at the same time. Our systems understand that as a denial-of-service attack and act accordingly. It just triggers a false positive!"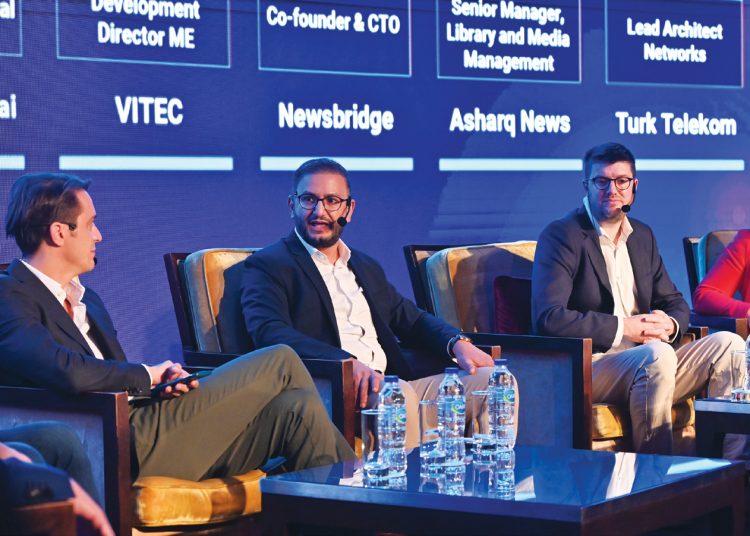 False positives: the AI disease
For Petitpont, "False positives are the disease of AI." He illustrated such false positives by explaining that football player Ángel Di María of Paris Saint-Germain looks like Franz Kafka, and both are identified as the same person by a facial recognition engine.
"When it comes to cognitive services, there are different ways to tackle false positives. The first one is feedback learning to improve the dataset, but that requires many actions from users. The second is to improve the quality of your original dataset, improving the quality of the pictures you give the AI to learn from. Finally, the last one is to use multimodal or multi-role AI. With multimodal AI, you don't limit yourself to the vectors of the face. You use all other available contextual data for better results. Multimodal is used a lot in the medical field. To identify a specific disease, you need to consider all the symptoms."
From Battrick's perspective, false positives are not that frequent. "I can't say we've seen a huge volume of false positives. It does happen, but we took the decision early on that we were going to manually review and approve all the people suggested by the AI, to ensure that everything we import back into our media asset management system is 100% accurate."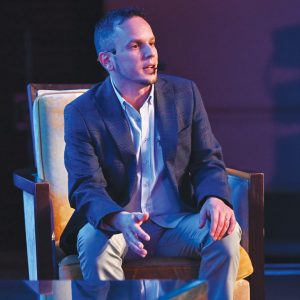 AI will affect production and change jobs
At Asharq, AI is not replacing humans but working for them. "The news librarian or archivist role will not go, and that's never been the intention. We need that role. We still have manual metadata we create, but it's vastly complemented by the huge amount of metadata the AI platform could generate for us."
Not all panellists were as confident of the future impact of AI on jobs. For Galan, "Once we use computer vision for camera tracking, automated highlights, automated graphics, it will reduce the number of people sitting in OB vans and impact live production."
AI has a serious carbon footprint
Meanwhile, AI already affects the planet. Petitpont explained: "When you are running on a public cloud provider, it's a challenge to estimate your carbon emissions. We need to decorrelate the time and the energy you need to train the dataset from the resources required to use the engine. Every time a user is using AI, we need to know how energy is consumed."
"When operators monitor the network, they may get twenty alarms and little time to determine the root cause of that problem. That's where AI makes our lives easier"-  Umut Keten, Senior Architect, Türk Telekom
According to Jumaa, AI can play a role in helping decrease energy consumption: "For the green MPEG GreenPEG initiative, we will incorporate an AI programme that will optimise how much energy is spent by each device. At VITEC, we plan to be carbon-neutral by the end of the year."
A brave new world
Asked what advice she would give to an editor-in-chief or head librarian deciding to roll out AI technology across their operations, Battrick was blunt. "My first piece of advice is to be brave! Change can be scary. The second one would be to run a good proof of concept and understand your business and user requirements, to make sure that the content or the metadata coming back meets those needs."