Zee's new VOD portal Z5 Weyyak offers Hindi and Arabic drama series and Bollywood content to cater to Arab audiences worldwide.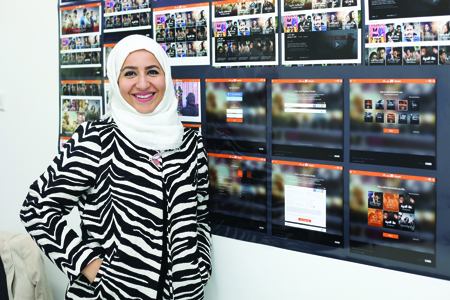 Zee's new VOD portal Z5 Weyyak offers Hindi and Arabic drama series and Bollywood content to cater to Arab audiences worldwide. In an exclusive interview with Nadine Samra, VP Digital Business Middle East and Africa, Zee Entertainment, Vijaya Cherian finds out about the new service and the network's digital strategy
Nadine Samra, VP Digital Business Middle East and Africa, Zee Entertainment, has had a daunting task these last few months. Amid several VOD and OTT launches in the UAE, she was hired and tasked with assembling a digital team for Zee, with the aim of launching a VOD platform that would initially serve an Arab audience with an appetite for Arabic and Bollywood entertainment, and then other communities. Last month saw the result of that effort with the soft launch of Z5 Weyyak, a VOD portal that boasts more than 6,000 hours of content, primarily from Zee's extensive library of Indian content dubbed or subtitled into Arabic, as well as newly acquired Arabic content.
"Weyyak is an Arabic word, which means 'with you'. It is pronounced differently in the GCC, Egypt and the Levant, but it means the same thing. It's our way of saying that wherever you go, whatever you do, whether you are in Europe, India, the Middle East or Africa, if you are interested in Arabic content, we are with you. Zee has recently built a global digital platform called Z5, and Weyyak is the Arabic version of it. This is in keeping with the vision of ZEEL's CEO of international business Amit Goenka and Chamli Tennakoon, who is the CEO of Z5X Global and Chief Digital Officer at Essel Group," says Samra.
Samra comes with a lot of digital expertise, having launched several websites and apps many years ago as part of a personal passion and then moving on to build Shahid.net and MBC.net at MBC Group and growing the platform for almost six years, before eventually transitioning to Zee last year to set up its digital business in Dubai.
"I managed the digital operations at MBC for almost six years, including its technology team in Jordan. During that period, we managed several digital services, which made a great footprint in the market."
Zee's digital offerings, however, are not exclusive to the MENA region but part of a larger global transformation strategy. The team, which reports directly to the digital global head, Tennakoon, is being groomed with the aim of creating a platform that can reach out to a wider demographic that is not restricted to the MENA or APAC markets.
"The digital team we have at Zee in Dubai has been created as part of the digital transformation of the whole company on a global scale. Essentially, we have started from scratch with one vision. Our digital strategy is to think about transformation in wider terms and put processes in place to execute that. At first I was responsible for the Middle East, and now Africa is also part of my remit."
As part of its launch treat to viewers, Weyyak.com, which is also available as an app on iOS and Android devices, has announced four series dubbed from Hindi to Arabic that will be available exclusively on its platform. Season 2 of Fidya, Aadhe Adhure, Khelti Hai Zindagi Aankh Micholi and Dilli Wali Thakur Girls will be available exclusively on Weyyak. Weyyak will release one episode daily of Fidya during the Holy Month of Ramadan.
The platform has both Hindi and Arabic content and leans more heavily towards drama series than films.
"Fidya season one was so popular that people were very keen to see season two. We brought it exclusively for Weyyak because of popular demand and have dubbed it in time for Ramadan viewing. With Zee Entertainment being a content producer, we have a lot of premium content that includes big names and big brands that Arabic audiences love. So we have had something great to start with in terms of the huge library of Indian content that is either dubbed or subtitled into Arabic. At the same time, we also have a library of Arabic content that we are slowly acquiring and building. At present, we have a good collection of Syrian and pan-Arab content. This platform is an entertainment hub for Arab audiences, so we will try to provide content that appeals to this audience. This is our first objective. Of course, it is on our roadmap to eventually make Indian series for our South Asian audience available, because at the moment they don't have a legal and free platform in this region for binge watching Indian drama series. We hope to change that," Samra says.
Weyyak is an ad-supported platform that offers different advertising models suitable for clients. The primary advertising model is through video pre-rolls and mid-rolls, in addition to the sponsorship of a title, where the brand is integrated with the content's creative material. It travels with the content in all of its relevant pages and marketing material.
"We will be tailoring advertising packages to provide the highest return on investment for our clients and reach their entire target audience. I believe in branded content, and with integrating the brand and our premium content, the impact can be huge."
Samra was primarily appointed to beef up Zee's Arabic digital offering. With the success of Zee Aflam and Zee Alwan in the linear world, Zee was keen to explore how its OTT offering could add to the media network's success.
"From a Zee perspective, I came on board specifically for Arabic, but as we evolve our platform, we intend to add other flavours that also cater to the South Asian audience," she says, adding that one of the big concerns with content is rights acquisition for longer periods of time.
"While our Indian content is available to us for a lifetime, we are looking to acquire Arabic content for at least two to three years. If they are very attractive titles, of course, we will probably have the rights for a shorter period of time."
Samra's young digital team presently comprises 15 members, and the firm hopes to double that by the end of the year. This team is supported and backed up by global digital teams in India and the US.
"When we hired people, we looked for champions in the field who brought passion and experience to the job. The brands they worked for wasn't important. We have a very young team and many fresh graduates who are actual users of the platforms they have created," explains Samra.
The digital team includes content acquisition and multimedia experts who look after acquired content, its metadata and the curation of that content before it is made available online. In addition, the team includes people in product management, branding, marketing, sales and social media. The team also works with several partners, including TVAPP, Oxagile, Akamai and Amazon, to deliver the platform.
"We have worked with many great partners during the prelaunch phase to be able to achieve our objective of launching Z5 Weyyak. The vision is to launch Z5 Weyyak in the highest quality possible and the best user experience within a short timeframe. We worked closely with TVAPP as our front-end vendor to develop the website and the different applications, including iOS and Android.
As for the OTT back end, it is a custom CMS developed by Oxagile. For the video caching, we are partnering with Akamai for CDN delivery. In addition to that, we are using Amazon AWS for the hosting of the infrastructure," says Samra.
Building a platform from scratch can be challenging, but Samra says: "This platform is the fruit of all our learnings. Our past experience has taught us better methods and what works and what doesn't. That's the beauty of a green field, because it gives you the opportunity to start over and create a new product that helps you avoid past mistakes and build something more superior."
Samra says there is a company-wide effort to create a digital culture, "because in this lies the future of entertainment".
"We have tried to make the experience as pleasant as possible for our audience, by building a free platform where our audience can watch our content without the need to register. We have created a very neat, clean and modern interface with recommendations based on what they have watched, to enrich the viewing experience for our viewers. We are also trying to be a bit creative when creating categories for people, so they can find what they are looking for easily. One unique feature of our website is that Arab viewers may want to navigate through an English interface instead of Arabic, so we have given them the transliterated version of the titles and other elements to enable better viewing capabilities for our viewers. This is not done by any other AVOD platforms here."
Zee has also ventured into a different sort of production, taking a whole series of 40- to 60-minute episodes and redirecting them into ten-minute episodes.
"These episodes are redirected from scratch with a new direction and re-editing. We are not cutting scenes here; we're literally redirecting one-hour episodes as ten-minute episodes," she reiterates, adding that this is purely because it is a new way of looking at content and creates opportunities to integrate brands subtly into a production.
"The image itself has been tailored, where some colours from the image or brand that are popular may recur through the story, and this creates more impact."
At the moment, the VOD platform has both Hindi and Arabic drama series, and Bollywood movies only. The videos are all in HD format, with others transcoded into 1080p.