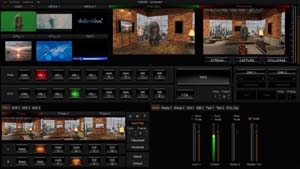 Datavideo's new TVS-1000 virtual studio is trackless, so it will not adapt to the movement of the camera. Due to this, the end-user will not need expensive tracking equipment (like a digital jib, for instance) to use the TVS-1000. The software has limited support for pan, tilt and zoom, so the setting will not be totally static.
The TVS-1000 software supports up to six layers, including a UV map, so it is possible to place a virtual desk or sofa on the virtual set. There is also support for background images, like a logo on the floor or a TV in the background, so you can customize your own virtual studio.
There is no longer need for a separate recorder, as the TVS-1000 has a hard drive recorder built in. It even has a streaming encoder built in, so streaming your show to different content delivery networks like Livestream.com is very easy to set up!
The TVS-1000 will have support for virtual studio sets downloaded from http://www.datavideovirtualset.com, the marketplace for virtual studio sets. This online marketplace will launch in May 2014. The TVS-1000 will include 10 free virtual studios upon delivery.
The TVS-1000 will be introduced on CABSAT, on the booth of Oasis Enterprises, hall 7, stand number B7-10.