Lawo will be presenting its IP video and audio processing and routing tools as well as IP-based digital audio mixing consoles and audio routers in Hall 2, Stand E2-42.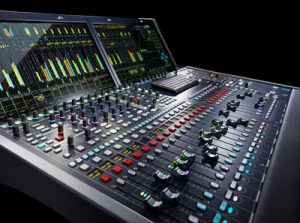 Lawo will be presenting its IP video and audio processing and routing tools as well as IP-based digital audio mixing consoles and audio routers in Hall 2, Stand E2-42. Also being showcased are Lawo's VSM control system, currently used in the most complex production scenarios around the world including Al Jazeera Media Network, BeIn Sports' Playout Center and Al Kass' latest OB van.
Audio Console Lawo mc²36
Lawo's mc²36 all-in-one live mixing desk provides a comprehensive feature set covering broadcast, theater, house of worship, live and install applications. The console features uncompromised sound quality and Lawo-grade mic preamps, offering unprecedented value for money. A powerful DSP micro-core with internal 512×512 port audio matrix, and integrated I/O make it ideally suited to permanent installations with limited space. As it is natively equipped with RAVENNA/AES67 technology, the mc²36 integrates seamlessly into IP infrastructures. In combination with the Nova37 audio router and mc² Compact I/O stageboxes as well as A__line audio-to-IP interfaces, multiple mc²36 can be easily combined to a very smart package for networked applications in live performance, installed sound and houses of worship.
Video processing and routing
On show will be Lawo's IP-based V__line video interfacing, processing and routing devices. The V__remote4 is a bidirectional multichannel video/audio to IP-interface for remote production. It is designed to provide a one-box solution for all the requirements of video and audio signal transport and processing in WAN-based remote productions, including everything from Video-over-IP coding to various monitoring and processing tools. The V__pro8 provides video processing, interconnecting signals in different video formats, as well as bridging between audio and video within a studio infrastructure via high-density audio connections. The V__pro8's DOLBY E encoding/decoding option offers up to four DOLBY E en/decoders for fully-compatible en/decoding of professional quality multichannel audio on a single AES3 connection with Dolby E metadata handling. In combination with the unit's Dolby E Auto Aligner, the V__pro 8 is the perfect transmission path gateway for multichannel productions.
Control solutions by Lawo
With Lawo's VSM System (Virtual Studio Manager), Lawo will demonstrate sophisticated and flexible broadcast control and monitoring for both baseband- and IP-based broadcast installations. VSM allows for managing all TV and radio production equipment within a single system, providing unmatched benefits in advanced workflows and simplified production operation. The system controls all major brands and models of video and audio routers, video and audio mixers, intercoms, under-monitor displays (UMD) and multiviewers, glue equipment, and other third-party devices.
Lawo Compact Engine with VisTool Control Software
Lawo's Compact Engine brings RAVENNA/AES67 capability to a variety of traditional (non-networked) audio equipment. This 19'' 1RU device delivers an impressive array of analog and baseband-digital inputs and outputs to interface to virtually anything. It's the perfect product when you're ready to begin the transition to IP, but not quite ready to toss out everything and begin anew. In addition to being a powerful AoIP audio interface, the Compact Engine has a powerful DSP resource onboard. Use the DSP for EQ and dynamics, mixing and routing, precision delay and other functions. Using VisTool, the powerful touchscreen-optimized control software, and a networked computer, you can build custom control panels or touch-based mixing consoles to control your Compact Engine.
R?LAY Virtual Radio Mixer
R?LAY VRX is a multi-touch enabled virtual mixing software that acts as a "virtual radio environment", hosting software apps that eliminate the need for expensive hardware peripherals. Taking advantage of computer virtualization technology adapted from the IT industry, R?LAY VRX lets engineers replace physical consoles, and entire racks of accessory gear, with a single desktop or laptop PC — with significant cost savings. R?LAY is perfect for remote kits, field journalists, fast setup of on-location studios, webcasting — even as a replacement for older studio hardware or as a permanent personal studio.
R?LAY VRX4 (four-fader) and VRX8 (eight-fader) software can be used alone, or bundled with a Lawo OnAir 4 audio interface for professional mic, line, AES3 and RAVENNA / AES67 I/O. A heavy-duty R?LAY backpack with space for a laptop, mic and headphones is included in these bundles.