Ericsson has transformed the playout centre at twofour54, which the technology company acquired last year. BroadcastPro ME speaks to Ericsson's Houssam Al Khaled to find out how the company plans to leverage the media hub, which goes live this month Last year, Ericsson acquired twofour54's playout centre in Abu Dhabi to serve broadcast clients across […]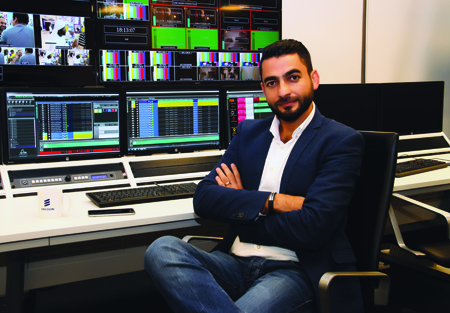 Ericsson has transformed the playout centre at twofour54, which the technology company acquired last year. BroadcastPro ME speaks to Ericsson's Houssam Al Khaled to find out how the company plans to leverage the media hub, which goes live this month
Last year, Ericsson acquired twofour54's playout centre in Abu Dhabi to serve broadcast clients across the Middle East and beyond. The hub provides playout services for seven television channels and acts as the local base to leverage Ericsson's portfolio of services in content management, over-the-top (OTT), content discovery, metadata, creative and access services.
According to Houssam Al Khaled, Head of Media Management & Playout (Middle East), Broadcast and Media Services at Ericsson, the playout centre was acquired with the idea of establishing a world-class media management and playout hub in the Middle East to support its burgeoning client base.
The technology company has since been involved in a complete transformation of the playout centre. Ericsson's Business Line Broadcast and Media Services designed and managed the transformation project.
"The project began last February and took us a year to complete. A complete technology refresh was achieved over six months without disrupting any of the seven channels being broadcast from this facility for five international clients. We plan to go live this month," says Khaled.
When Ericsson acquired the site, the playout and graphics were in place, supported by a legacy technology stack. Ericsson has since transformed the site, which now offers clients an end-to-end playout and media management solution, including monitoring, compliance, graphics, media preparation, file transfer, QC, disaster recovery and archive.
As part of the transformation project, Ericsson established a full-scale MAM, which allows early client access to content via transparent workflows and onward OTT / VOD syndication. This integrated MAM platform is specifically designed and can be configured to allow Ericsson to work with multiple formats.
"One of the key benefits of our solution is flexibility and scalability. We are currently broadcasting seven channels from our facilities, with the immediate capability to scale up to 32 channels. Our team is an international team of skilled broadcast and media professionals who have worked with and are trusted by some of the world's leading broadcasters," claims Khaled.
Khaled says that the project did not require any data migration. However, migrating the existing workflows to a new environment posed a challenge.
The challenge was twofold – to integrate the incumbent legacy scheduling systems with the chosen solution and to work with those channels that did not even possess such an application or the experience to manage one. A further challenge was to standardise the existing content and metadata in use and to migrate it accurately to the new platform without any service impact or duplication.
The workflow in the refurbished media hub will have an exhaustive and flexible reporting platform that enables clients to resolve issues earlier, thereby removing common operational risks. In the near future, Ericsson will also connect all of its global hubs to enable the sharing of resources (both people and technology), access to faster service provision, genuine follow-the-sun support and disaster recovery.
Ericsson has a significant heritage in the global TV and media market and launched the video compression technologies driving the worldwide digitisation of TV and enabling new viewing experiences such as HDTV, TV Anywhere and UHDTV.
The company works with some of the world's best-known broadcasters, platforms and content producers, including the BBC, Channel 4, BT Sport, NBCUniversal, DreamWorks, Liberty Global, NPO, Canal+, NOS, Bonnier Group, Sky, HBO, TV5 Monde and France 24.
The BBC and Ericsson signed a seven-year playout services contract last June, covering the technology and operations that allow broadcasters to deliver programmes to audiences through network, linear television channels. The contract also includes playout and media management for the BBC's commercially funded international news channel, BBC World News, which is available in more than 200 countries.
"Every day, people on all continents watch television programmes prepared, managed and broadcast by more than 2,500 Ericsson staff based in Europe, the Middle East, Asia Pacific and the US," says Khaled, adding that Ericsson's portfolio of services spans the entire media value chain, comprising creative services, access services, content discovery, media management, content publishing (playout and hosted OTT), and Piero.
"The playout and media management facility in Abu Dhabi operates a vendor agnostic, scalable platform that is part of a global network of hubs.
"We provide efficient operations, leveraging a network of expertise around the world and fast service set-up, thanks to standardised workflows," adds Khaled.
Ericsson plans to grow its presence in the Middle East steadily, and Khaled sees the establishment of this hub as the first major milestone. The hub provides Ericsson with a base to leverage its portfolio of broadcast and media services across the region.
"The Middle East hub is an important part of our ongoing growth strategy and will become part of Ericsson's globally networked broadcast and media hubs," he says.
Image Nation's Quest Arabiya recently joined the growing portfolio of TV channels managed by Ericsson from the twofour54 hub.
"Our portfolio of managed services enables our clients to make significant operational and capital savings by assuming responsibility for technical platforms, while speeding time-to-market and minimising business continuity risks. Our vision is to create an agile, innovative and flexible technology infrastructure with world-class operating models. We enable our customers to deliver their content to every audience, and ensure that content is discovered and optimised," Khaled concludes.