BroadcastPro ME takes a detailed look at how Qatar TV recently deployed Avid solutions to optimise its enterprise-level collaboration Qatar's Television Support and Development Committee (TVSDC), which is responsible for designing and contracting most of the technology projects at Qatar TV and Al Kass, recently undertook a major technology revamp for Qatar TV that included […]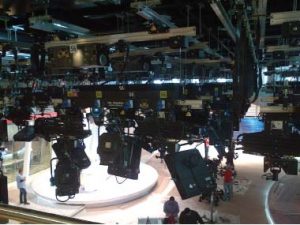 BroadcastPro ME takes a detailed look at how Qatar TV recently deployed Avid solutions to optimise its enterprise-level collaboration
Qatar's Television Support and Development Committee (TVSDC), which is responsible for designing and contracting most of the technology projects at Qatar TV and Al Kass, recently undertook a major technology revamp for Qatar TV that included building a new newsroom studio and broadcasting complex at its Doha headquarters in 2012.
"TVSDC was committed to investing in an entirely new system that brings innovations to the Qatar TV operation capable of rivaling broadcast operations in any media market," explains Samer Younes, Consultant Engineer, TVSDC.
The team, therefore, needed to develop a new set of media production and management solutions to perform the myriad tasks inherent in such a large operation. Avid was approached.
TVSDC worked closely with the Avid Professional Services team to design a comprehensive, integrated media environment for Qatar TV.
The key objectives were to create an environment that was optimised for effective media management; provide strong links to business processes, and support and orchestrate workflows specifically tailored for the full complement of diverse production groups to let contributors collaborate fluidly on an enterprise level.
From there, the Avid Professional Services team worked in conjunction with Qatar TV to design, implement, and install a full complement of ingest, editing, news scripting, news playout, and audio post production solutions, supported by the asset management architecture of Interplay Production and Interplay MAM.
A closer look at the workflows
Ingest
Starting with the ingest process, Avid Interplay Capture lets the production team ingest media from both tape and live feeds. The solution comprises six Avid AirSpeed MultiStream servers providing twelve SD/HD-SDI ingest channels, all set to record directly into the ISIS shared storage system using Avid DNxHD120 format. For file-based agency feeds ingest, such as Reuters, Avid installed a Telestream Vantage system at Qatar TV.
All of the AirSpeed MultiStream servers are controlled by the user through the Interplay Capture application, Avid's ingest tool that increases the speed and accuracy of media acquisition through advanced automated feed scheduling and control. An additional four Avid Media Composers can also ingest files directly from Sony XDCAM players.
Storage
After ingest has been initiated, assets are checked into Interplay Production and stored in Avid ISIS shared storage engines. Approximately 3750 hours of high-resolution, "protected" production material can be stored on ten new ISIS 7000 64TB chassis.
ISIS 7000 offers a self-balancing distributed architecture designed for intelligent processing for broadcast production on virtually any scale. At Qatar TV, this is mainly used for online production and news storage. An additional two ISIS 2000 chassis are available to park approximately 7000 hours of projects during the production process. ISIS 2000 is Avid's nearline storage solution for building cost-effective large-scale media storage. For the main house format at Qatar TV, TVSDC chose Avid's DNxHD120 codec technology.
The codec is engineered to create mastering-quality HD media at reduced file sizes with minimal degradation over multiple generations. DNxHD120 provides an end-to-end workflow and is fully supported by Qatar TV's EVS playout system, Avid's Interplay MAM, Media Composer, NewsCutter, and the Symphony editing systems used for production at the facility.
Editing/Finishing
Producers and journalists only require a browser and network connection to access the media assets through Interplay Central web-based clients to create their stories.
With this application, Interplay Central connects contributors wherever they are and provides an agile and effective means of media production. Qatar TV invested in 15 new Avid Interplay Central clients to provide this tightly integrated workflow between text script editing and video editing.
"This workflow was crucial for a channel, offering such diversity in programming, especially in news broadcasting," says Younes.
"For the news edit process, Interplay Central uses the Avid iNEWS news story integration, sending the news production material to five NewsCutter Nitris DX edit suites to finish the story creation."
He adds: "The programme production teams produce the latest programmes, commercials, or other video in 16 Media Composer suites with the support of Nitris DX and Artist Series control panels. The 64-bit Media Composer NLE solution lets the editing team at Qatar TV work with practically any media format allowing the editors to undertake fast dialogue-based searches or script-based editing, mix and match formats, frame rates, resolutions, and more in real-time without rendering."
For a high level of finishing, Qatar TV provides its production team with two new Symphony Nitris DX editors, Avid's video editing and mastering application, which offers advanced and secondary colour correction.
Playout
The new broadcasting complex at Qatar TV is equipped with a news studio and a programme production studio.
The news playout is provided by an AirSpeed MultiStream server, controlled by an Avid iNEWS Command system for playout automation.
The system controls the video channels of HD video from two AirSpeed MultiStream servers as well as a Vizrt character generator providing graphics. The iNEWS client allows the producer to send created scripts in the news studio to a teleprompter, to control the run-down order of the news programme and overall, lets him control the dynamic update of the story order for video and graphics. The programme production studio playout is using Avid AirSpeed MultiStream servers, which are manually controlled by High Tech panels.
The Heart of the System
Media Asset Management
At the heart of the system are the media management capabilities provided by the Interplay Production and Interplay MAM system, giving it the flexibility to handle the large volume and diversity of content Qatar TV generates.
Integrated links between Interplay's Production and MAM solutions ensure the seamless transfer of video assets, allowing a completed video sequence to be archived directly from the production environment and to be restored when needed. The Interplay production system integrates the creative and management processes. Producers, editors, assistants, and reviewers can collaborate in real-time to find, short list, review, annotate, and edit content while tasks such as media movement and transcoding are orchestrated in the background. Production assets created and being worked on in the Interplay Production system, are parked on the ISIS 2000 nearline storage chassis.
TVSDC opted for an Avid Interplay MAM solution to archive finished material on tape and share video assets for transmission. Integrated links allow the transfer of video assets from Avid Interplay Production to Avid Interplay MAM so that a completed video sequence can be archived directly from the production environment or sent to transmission.
Through Interplay MAM, proxy versions of the media are created, enabling any archivist in the system to play video in a web-browser at their workstation to log or add enriched frame-accurate time-based metadata. To restore media to production, users can efficiently search archived assets and initiate restore jobs. After receiving authorisation, the media is restored to Interplay Production and made available for high-end editing applications such as Media Composer and NewsCutter.
Interplay MAM is the main platform to move media from archive to transmission either manually or automated using an interface from Pebble Beach Systems.
Mohamad Fares, Head of Broadcast Technology at Qatar Television, says, "End-to-end workflow designed by the Avid Professional Services team in cooperation with our team, has optimised our media cycle of acquisition, production, distribution, and archiving.
    "We can now easily exchange assets between our production and our archive system and if changes are needed, we can even apply them with no downtime while the system is running. We have become more collaborative and efficient than ever before, meeting our business and technological challenges."
Audio
As part of this workflow, Qatar TV also made a significant investment in audio. The state broadcaster uses a digital dubbing suite with the audio production platform, Pro Tools HD and a 24-channel ICON D-Command digital control surface. D-Command allows the mixer to gain mix precision with touch-sensitive encoders and faders and offers a tight integration into Pro Tools.
The suite includes a video satellite client which allows the team at Qatar TV to playback HD video sequences to the dubbing suite. The Pro Tools system takes completed video sequences with audio tracks, created by the sound editors, and transfers them through the Interplay Production system for dubbing. Once that is complete, they are mixed down in Pro Tools and written back to the original story tracks in the ISIS storage.
In addition, Qatar TV invested in an S5 Fusion digital audio mixing console. This console offers an expandable DSP engine for standalone operation, and includes a complete EUCON Hybrid control to record and mix EUCON-enabled DAW projects. The entire project was completed on time and Qatar TV went on-air with the new system at the end of 2012.
Younes attributes that "to an open, well-integrated line-up of industry-standard solutions and the efficacy of the two teams from Avid and Qatar TV".
"Qatar TV is now able to manage the entire lifecycle of virtually any kind of asset, optimise its value, and let contributors work collaboratively across the entire enterprise, thanks to this workflow," he says.
"It has strengthened Qatar TV's position as a leading Arabic channel in the Middle East and on an international level. Avid delivered the integrated media enterprise solution we required to be a competitive player while future-proofing our system for new projects."