Five years ago, a team of senior executives at du were brought together to develop a premium OTT service, which is slated for official release this month. In an exclusive interview with Vijaya Cherian, the team behind the project, speaks about what it has entailed to design and execute an OTT project from the ground […]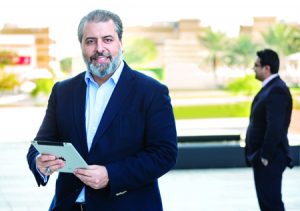 Five years ago, a team of senior executives at du were brought together to develop a premium OTT service, which is slated for official release this month. In an exclusive interview with Vijaya Cherian, the team behind the project, speaks about what it has entailed to design and execute an OTT project from the ground up
When you have 180-odd nationalities in your database – and that is only one of several variables, such as age group, genre and VOD – how do you create customised OTT packages? This was the challenge for Samer Geissah, who is now Vice President – Consumer Home & Multimedia Services; Ghassan Saad, Director Consumer Video Services; and Ali Dernaika, Senior Manager – Video Planning, Operations, as they sat together to conceptualise a plan for an OTT service in 2010. The research, and subsequent planning and work that took place over the last five years will result in du's OTT service, du View, which is slated for official release this month.
Geissah, who has headed the du View project since its initial days, puts the whole project in perspective.
"The idea was envisioned back when the first iPad was launched in 2010. The large-screen portable tablet led us to think of whether people would view live TV channels on it. Then we decided to work on several parallel streams. First, we did a feasibility study to explore their potential and see if our customers would enjoy watching live and VOD content on their multiscreen devices. Then we split the project into several streams, each driving a specific area.
"The technology stream focused on building high-end encoders that can deliver the various formats of the streams for the variable sizes. A second stream evaluated if it's better to own or partner with an OTT platform solution provider. The marketing stream assessed the needs of the customers in terms of linear and VOD usage and performed several customer-focus group studies to understand behaviour, from GUI [graphic user interface] preferences to content-watching behaviours and regional content preferences."
The research helped the du team understand that building a user-friendly GUI was crucial, and getting it right the first time was even more critical. Geissah explains that "many people use an app for the first time and never use it again if the GUI experience is not optimal".
The team enlisted the help of Frog Design, which has created designs for Apple and other major brands, to create the GUI for du View and ensure that the same look and feel was retained across all the various platforms – mobile, tablet, web and TV.
In the meantime, the team looked at addressing three major groups from a content POV, with initial offerings on du View split into Arabic, Western and Asian entertainment. Within these offerings, there was a need to further specify the content to cater to the demand for French and German content among expatriates, for instance. Within the Asian entertainment, there was further segmentation required for the South Asian community, where there were different linguistic preferences, with Malayalam, Tamil, Telugu and Hindi being the most popular.
"Content is very complex, in that the UAE has many different nationalities and trying to offer something that everybody likes is challenging," explains Geissah.
"These packages, therefore, have been based on a lot of research on what kind of content is appreciated, which channels are the most popular; and more importantly, we have addressed the issue of affordability."
On the technical side, the project called for a lot of expertise within the OTT space. Geissah, who headed the technology part of the project, moved up to the role of Vice President of Consumer Home & Multimedia Services, while Ali Dernaika continued to drive the OTT and IPTV systems.
Dernaika has worked on du's IPTV project since 2007 and has gained expertise in OTT, networking engineering compression and, now, middleware. He explains that a lot of "new technology was involved to create an end-to-end solution" and that "different sets of skills to those we see in broadcast" were needed.
The project required an RF expert to receive the channels from the dishes; a headend engineer who understood compression technologies intimately and could package and reformat content for different platforms; a network team that could properly design the traffic engineering; and an equally experienced web team that understood the different technologies, including HTML5, Apple iOS, the Android platform and related solutions.
Alcatel Lucent was contracted to undertake the systems integration for the project. Comcast's thePlatform was established as the main OTT platform provider, while Ericsson middleware and Envivio encoders made up key parts of the technology.
"Comcast has a proven track record in the US, with tens of millions of subscribers already on its platform. We were looking for a cloud-based platform such as theirs for our needs, and thePlatform seemed the appropriate solution for our service," explains Geissah, adding that their leading partner in the IPTV project was Ericsson.
"We built our OTT service, du View, which is a Comcast platform, on top of our IPTV layer. This is managed through a relationship with Alcatel Lucent. So these three brands constitute 90% of the ecosystem that we have built for this project."
The other major players are Cisco, which provides the network, and HP, which provides a big virtual farm in terms of hardware and storage. This was required, as du's VOD assets are stored at its data centre in Samacom. Without any doubt, a strong IT infrastructure was crucial to this project.
One of the big challenges of working on the tech aspect of this project was supporting different devices. When du View launched late last year, it was made available on Apple, Android, Xbox One and Samsung TV platforms.
"Apple iOS and Android platforms use completely different technologies. While iOS works mostly on HLS, Android relies on HLS as well as streaming. We had to talk with a lot of vendors in order to bring this ecosystem together," explains Geissah.
Du eventually used CRM to develop its Android and iOS applications.
"We used TV App Agency to develop the smart TV apps, Sony PlayStation and Google Chrome. We used Plain Concepts for the Microsoft Xbox One app and Windows 8 apps," explains Geissah, adding that unlike a set-top-box environment, where the quality of service can be controlled all the way to the remote, the support requirements for an app are very different.
"There are too many variables on the app side, and it can't be controlled as much as we can control the box. Training people on how to troubleshoot was an important part of this exercise, and we spent a lot of time training customer operations."
One of the key aspects of this infrastructure was a robust CDN solution. Rather than outsourcing this to a CDN network, du deployed Velocix, an advanced content-delivery solution designed specifically for network service providers. This CDN is used by telcos across the world to deploy an advanced digital media delivery platform that builds on its existing network investments and assets. Once installed, network service providers are fully equipped to launch new revenue-generating premium-content services to their customers, while also achieving a highly differentiated delivery performance level. As du already had an infrastructure in place, deploying a CDN like Velocix was a better option than outsourcing it to outside operators.
"We own the infrastructure, so we manage the software and our operations colleagues control it completely. Velocix was already integrated with the Comcast platform and works well with several different entities across the world, so it was the safest option for us," clarifies Geissah.
This whole infrastructure primarily supports two important workflows in the du View OTT service: live TV streaming and VOD. In the live TV workflow, the channel is received from du's dish farm stations at its teleport in Dubai. These channels, which are received by the stations, are not formatted to be displayed on smart devices. Thus, real time transcoding is performed on each channel to transform the main format into multiple resolutions with different bit rates.
In du's case, there are four profiles per channel in standard definition and five profiles per channel in high definition. Bit rates vary from 400Kbps to 1.2Mbps SD, and from 400Kbps to 4Mbps for HD. All channels are streamed to the origin server, which serves as a temporary buffer, in order to serve the customers. The CDN then pulls the traffic from the origin server when it has to serve a subscriber.
This element of the CDN is called a web cache, and its main role is to offload the traffic hitting the origin server. Each web cache node can serve around 6Gbps of traffic, which is distributed within the network in order to achieve optimum performance.
For video on demand (VOD), the assets are received from the studios. Here, a workflow engine orchestrates the mechanism to automatically push the asset to the user.
This workflow starts automatically when the workflow engine detects an asset available in the folder (every asset has a video file and an XML file). First, it applies offline transcoding to bring the asset to the OTT format; it is then encrypted. Du uses PlayReady encryption to protect its content. Once done, the asset is moved to and stored in the origin server, ready for user consumption.
Again, when a customer wants to use VOD, the CDN pulls the asset from the origin server exactly as it would for live TV. The workflow engine updates the client's VOD catalogue with the new entry. Each VOD asset has metadata attached to it with programme information.
One of the big aspects of the du View service is content, and securing licences to broadcast content on du's OTT service is part of the remit of Ghassan Saad, Director – Consumer Video Services. At the moment, du View is still a fairly young service with 50 to 60 channels of content offered free-of-charge to du's IPTV subscribers. However, this service will soon be available to users across the UAE, irrespective of which telco operator they use.
The team explains that they needed to ensure that 30% of the content was changed regularly.
"We have also done it slightly different from the rest of the crowd, in that we started with linear TV and then added 50 channels to our OTT platform. Slowly, we intend to add more channels as we get the rights to more channels," explains Geissah.
One of the big challenges here, especially with free-to-air channels, is creating an electronic programme guide (EPG). This is an ongoing project for du. For now, du View complements du's fixed services and its subscribers are being encouraged to use one user name to download the app and start watching it free-of-charge. In the meantime, du has already partnered with icflix to ensure its content is available to its mobile customers but is also looking to collaborate with more local partners.
VOD is a special element of the du View service. Du research showed which VOD services would appeal the most to online viewers. In particular, children's content and binge watching of TV series seemed to be the most attractive media assets.
Besides content, the du team is also working on some exciting features that could take its OTT service to the next level. For instance, there is a plan to introduce a remote DVR function enabling users to record content from the du View app onto their set-top box at home.
"If you want to watch a cricket match and you won't reach home on time, you can record the match on your box from your mobile with this feature. The remote DVR will enable you to record one episode with one click or the whole series with two clicks. At the moment, we are trying to provide the best of both worlds – our IPTV and OTT services to our clients," explains Geissah.
There is also a plan to introduce music content, and in the near future, a karaoke feature as well. These, according to Geissah, will place du View in the big league with international players and enable du to look at the possibility of taking its service outside the UAE.
Of course, no project is complete without a business model. Although a return on investment is still quite distant, the team would like to experiment with small and simple targeted advertising, or the ability for viewers to watch more assets free-of-charge with some advertising in between.
"We are evaluating this model at present, to see how it can generate some revenue to offset some of the costs of development and the features that we are developing," clarifies Geissah.
By beginning this project while OTT was still in its infancy in the region, du has had a significant advantage in terms of market research, experience and learning from the challenges it has faced while building this product from the ground up. Clearly, the team is proud of what they have achieved.
"We dreamed of a product that was very rich from a content point of view, was easily navigable, and we desired a lot of audience outside the existing fixed network, because our fibre footprint is quite small – unlike our mobile footprint, which is very extensive. This service will take us to new subscribers and places. In addition, what makes du View beautiful is the fact that it is a powerful platform that is scalable, reliable, consistent and feature-rich," concludes Geissah.