In an exclusive interview with Vijaya Cherian, TikTok's Head of Video and Creative Rami Zeidan discusses how the app is attracting content creators, audiences and businesses to its platform in the MENA region.
The last quarter has seen an unprecedented surge in the popularity of online entertainment platforms, and the fastest-growing of these worldwide appears to be TikTok, which is now available in over 150 countries. With an estimated 800m users, according to Datareportal's recent study – although this may have dipped significantly with the app's ban in India – 2020 appears to be TikTok's year to shine.
TikTok set up its Middle East base in Dubai around 18 months ago, but the app has already attracted a large audience, owing to its special affinity with a younger demographic. In Q1 of 2020, TikTok is said to have had 315m downloads worldwide with users spending an average of 52 minutes per day on the platform and opening the app at least eight times a day. Today, media houses and brands are promoting their content on the app while TikTok itself is focussed on growing its regional user base.
"TikTok has evolved tremendously in the last 18 months, specifically here in the MENA market, which has embraced the platform and the content," says Rami Zeidan, Head of Video & Creative, TikTok MENA. Zeidan, who joined TikTok in November 2019, was previously Vice President, Partnerships & Special Projects at Anghami, a popular regional music streaming service.
Zeidan attributes the success of TikTok to the evolution of its content ecosystem, which has progressed significantly since its initial mandate of creative expressions over music. Since then, different genres have been introduced within the app from food, fashion, music, sports and learning.
"Initially, people danced to songs they loved but as we gradually started introducing new categories, we saw people accepting that and it encouraged us to add more elements," he explains.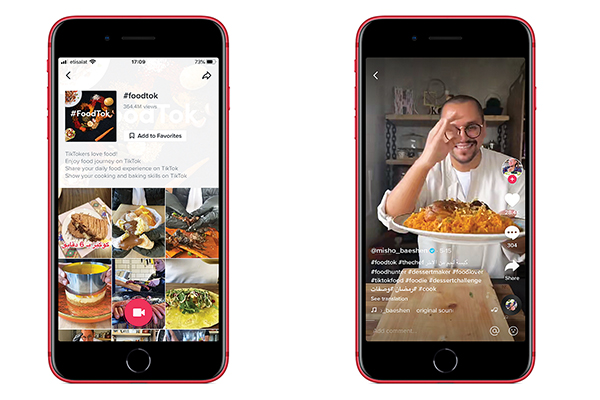 "In October last year, we started FoodTok, where chefs and food lovers came to the platform to showcase their recipes or reviews of food and that has diversified further into other pieces of content. Today, food is one of the biggest clusters on TikTok. Then in November last year, we launched FashionTok, where we gave fashionistas the opportunity to showcase different trends. We gradually introduced Makeup Trends. Here, we saw people come to TikTok with no makeup, using our tools to show their transformation and weaving new narratives. These different elements helped bolster our profile among our audience."
One of the newest additions to TikTok has been LearnTok, which gives TikTokers the opportunity to teach or learn a skill or a language.
"We realised that when you have a high affinity to a young audience, we have the responsibility to start balancing between value and play, and this is where teaching became important. It could be teaching you English content or some other language or motivational speakers giving advice, or traditional fitness and life hacks," Zeidan elaborates.
Likewise, the company has also seen a big adoption in music, claims Zeidan, adding that celebrities like Yara Seif Nabil, Balqees and Ahmed Helmy "have come to this platform to blend in with what the TikTokers are doing".
Although he declined to divulge any numbers for the Middle East, Zeidan claims that "the growth plan of TikTok is quite balanced and spread across the region".
"We see very high penetrations whether it is in the GCC, Lebanon, Morocco or Egypt, and this is a reflection of the growing internet penetration, the high mobile phone usage and the increasing availability of good broadband in these areas, and that is evident not just in the number of users but the repeated time spent on the app. There is an ongoing consumption at different times of the day and that is exciting."
For TikTok, the consumer community has always been hugely important, and it has succeeded so far in engaging storytellers within this sector. Anyone with a story has the opportunity to join the platform with their video.
"We are not a social media platform. TikTok is a short-form video platform, which means people come here for creative expression," clarifies Zeidan.
And where consumers are, businesses follow. As a result, the app has also attracted a lot of brands, who want to talk to its user base.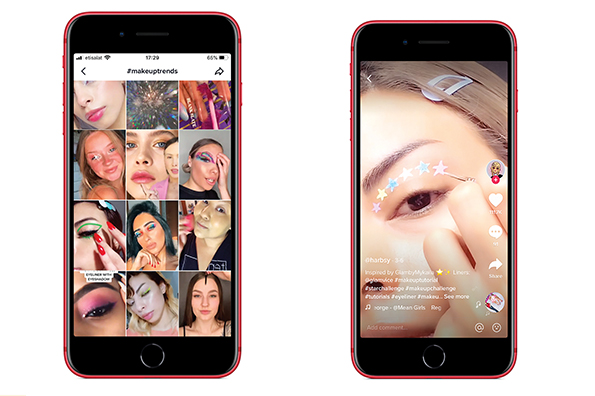 "Today, TikTok is set up for the full marketing funnel of an organisation from building awareness to tactical promotions and performance campaigns to driving conversions. Clients can create their own campaigns or they can reach out to our team, who can help them design campaigns and give them solutions on how to engage with creators and create campaigns that are amplified for reach and advanced targetting. One amazing campaign we did was with KitKat. A creator from our music community created a song for them. Around 20 people came on board to create stories for them on that music and the challenge brought in around 1.6bn views from the region," explains Zeidan.
With many consumers on board, media houses have also started to see the value of TikTok as a platform that allows them to reach new audiences. In fact, Ramadan provided the greatest opportunity for media houses to promote their programmes through TikTok, says Zeidan.
MBC Group perhaps has had the biggest traction on the app with around 5m followers between its various channels: MBC, MBC Egypt and MBC Iraq. Other media houses like Synergy have had success with 1.2m followers while the OSN and Rotana accounts have a much smaller number of followers.
"Ramadan is like the Super Bowl of media in this region. So we received a lot of feedback from our partners during this time. MBC and every single station that presented a Ramadan series was flooding their pages with TikTok-type snippets of the series they were doing. El Brince had a challenge on TikTok with 106m video views for instance."
In fact, TikTok has also become a platform for broadcasters to discover new talent, explains Zeidan. 
For instance, Rotana picked Saudi national Mohamed Ahmad Abbas, a creator from TikTok to become the face of its Fawazeer Ramadan programme, an age-old tradition during the Holy Month of translating riddles.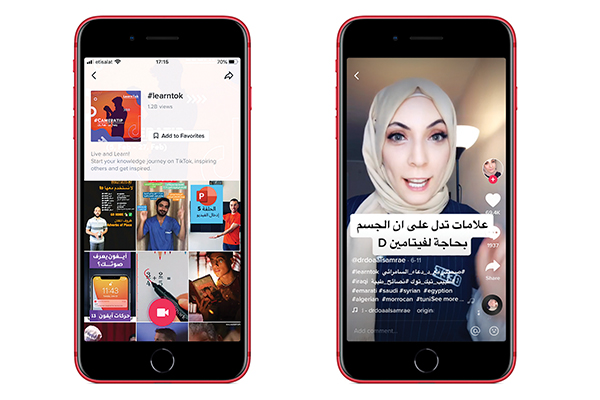 "Abbas has been on the platform for more than a year and started off as a lip-syncer with more than 1.2m followers at the time of going to press. His dream was to become an actor. This was his biggest break to date, where he was to create 30 episodes of the programme for Rotana. He became the face of Fawazeer Ramadan on TikTok."
Another creator, who does a lot of voice overs, was cast in a web series.
"We are hoping that in the building of this ecosystem, we start working more closely with the broadcasters to really empower them while also taking the creators' ambitions and passions to a different level. A lot of people who are on social media are creating videos out of passion," explains Zeidan.
This spurred the launch of the TikTok Creators' Academy, where the platform gets in touch with some of its most active creators to help them produce content that goes beyond just posting on the platform and helps amplify their creativity.
"When we are working with creators, we are set up and structured to work with the top-tier people, who are creating a specific type of content. Top-tier creators typically have a dedicated comedy account, or a dedicated sports account and they have performance metrics. When we monitor that and see that some of them are exceptional, we ask them if they want to be part of the creators' programme. This is presently by invitation only and not open to the public and so far, we have worked with around 600 creators. We help them enhance their content, run workshops for them and when we see shining stars, we develop projects with partners and them. Abbas is the most recent example of that with Rotana," explains Zeidan. 
TikTok's short-form videos are presently capped at 60 seconds and Zeidan says this time frame enables partners to chop their videos and post more often on the app, encouraging audiences to return regularly to the platform for more stories.
"What we tell our partners is that they live in a sphere where there is more content than time. People are always tempted to go beyond that to tell a full story. But when someone goes on and on, the audience will move on. So, short videos are better. You can always chop your story into highlight messages. That allows you to post twice or thrice a day and be more active and constantly remind the audience of your presence."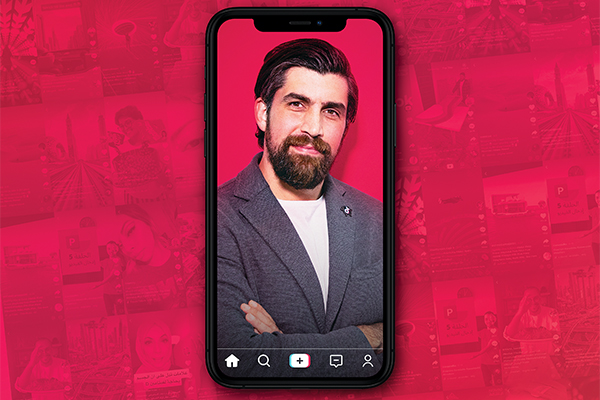 But the platform has explored longer duration videos as part of TikTok Live in partnership with some of its clients.
"With TikTok Live, we encourage creators to go live for an hour at least and stay online for up to three hours if they can. We are working with publishers and top creators to develop programmes that allow them to create one-hour sessions as part of a structured format. Live is our long form format but published video is 60 seconds. This has also seen a lot of success so far," claims Zeidan.
In the meantime, with no monetisation model in place for the region at present, TikTok is encouraging everyone to come on board with the aim of first increasing its user base.
"At this stage, for the content partners, creators, broadcasters, and business partners, no official monetisation model has been rolled out in this market," confirms Zeidan. "Our current aim is to focus on user growth numbers, build the platform and create the right ecosystem to talk business."
"Globally, we have several different monetisation models, but we are fairly new in this market and are still growing the team and setting up the infrastructure. We are a two-year-old company in a 10-year-old industry, and we are pacing very fast in terms of users. That is an opportunity for everyone to come and set up their account, learn the TikTok model and grow their accounts. I am sure there will be a lot of different models we could potentially bring to this market, but we don't have clarity on that just yet. Currently, we are inviting everyone to come and grow their content and build their account. We are working on a roadmap to build monetisation in, but that's somewhere in the future."
In the meantime, TikTok continues to grow its Middle East team. Although Zeidan declined to comment on how many members the team had in Dubai, he said the company is "committed to bringing as much headcount and talent as is necessary for us to keep pace in serving the market".
Zeidan also clarifies that although the app is owned by Chinese technology company, ByteDance, the platform's core teams are based only in LA, London and Dubai, and they are responsible for the technologies that drive the platform.
For instance, TikTok already employs AI and other newer technologies to enhance its capabilities and drive more users to the platform.
"The TikTok global team is spearheading innovation and content recommendation," says Zeidan.
"The gameplay that has made TikTok popular is the simplification of content creation and the simplification of discovery. If you look at the two elements of how a user can discover creative content that they love in an easy way, which is via a recommendation engine, and how they can create content easily with the app, this together delivers the TikTok experience," explains Zeidan.
TikTok has several features that make it instantly attractive to a new generation of cord cutters.
Zeidan elaborates: "This includes editing tools, a speed teacher that allows the user to slow down the audio that they are recording over to do a fast time-lapse or speed up the audio to create a slow-mo effect or a timer that prompts TikTok on when to start recording and when to stop. This is particularly useful to ensure that a person can keep their phone on a tripod and do transitions or employ other features without support from another person. A voice-over feature gives users the flexibility to record a video and add a voice over, and then play around with the audio volume. A user has the option to tinker with multiple volumes and audio sources, be they the video, the song or the voice over."
He adds that TikTok has a large music library that is licensed with key partners, allowing users to take songs freely for their creative expressions.
"There are a lot of effects on TikTok driven by gesture recognition. Some AR projects have also been done and we have also explored projects with green screen technology."
In short, TikTok creators have a raft of tools at their disposal to create video showreels, edit them and sync them with music, voice over and the like. This has helped bring in the numbers that the platform is aiming to grow at the moment.
"As TikTok, our current focus is to continue our journey through the diversification of content. To that effect, we recently launched gaming and LearnTok and we see people more attracted to the new format.
With our Creators' Academy, where we have mentored over 600 students, we are pushing the bar and activating the community, and helping our creators lift their narratives.
And more importantly, we have been careful to maintain and nurture a safe environment for our users," explains Zeidan.
Even as we go to press, TikTok has had some significant challenges with the recent ban in India and other countries threatening to take the same route. However, the platform continues to generate interest in a younger audience that has found a creative outlet to tell their stories easily and cost effectively.