From niche content to data-driven personalisation at every level, streaming players are using a variety of tactics to bring in new audiences. Delegates at the BroadcastPro ME summit were given a masterclass during a special panel discussion. Keith J Fernandez sums it up.
The recent proliferation of OTT services around the world means streaming players can't just differentiate themselves against linear services alone. Rather, the crowded marketplace means it's harder than ever for streamers to stand out.
That's equally true in the MENA region, where streaming services have seen subscriber and viewing numbers increase by over 50%, with unique viewership rising 100%, said Omar Othman, Director of Strategic Partnerships, Al Aan TV, who moderated a panel discussion on ways to grow audiences in a competitive streaming environment, as part of the BroadcastPro ME summit last month. The other panellists were Danny Bates, Chief Commercial Officer and co-founder, StarzPlay; Ahmed Qandil, Director of Growth, Brand Marketing and Communications, Shahid at MBC Group; and Sri Hari, SVP Sales and Business Head EMEA, Amagi Corporation.
Here are some of the major takeaways.
Use niche content to bring in new audiences
Data-driven algorithms on social media and search engines have made it easier to find content that suits individual preferences. Because niche audiences are loyal, catering to those preferences can help OTT players drive traffic to more broad-based content.
At StarzPlay, sporting events such as the Cricket World Cup and the Italian Serie A football league provide that niche hook. Traffic and revenues from sports programming can then be redirected to other areas of the business. Cost per acquisition (CPA) differs for sports and entertainment, and capitalising on the former can support the latter.
"Sports has been key for us, for two reasons – subscriber numbers and revenue growth," Bates said. "Sport is also bringing customers to the StarzPlay platform and has been an invaluable investment to actually get the StarzPlay brand out there."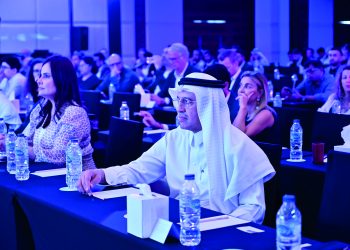 High-profile games such as Milan versus Juventus or Roma versus Lazio drive search traffic and catering to those queries can bring in new customers, he added. "We see customer acquisition as one-fourth or one-sixth the cost on sport. And then that allows us to cross-sell our other products to those customers very effectively and to start to bring them closer to some of our entertainment products for upsell as well. It's a nice combination."
The streaming platform has been able to diversify its offering in recent years with original series such as Baghdad Central. Approximately 41% of all active StarzPlay viewers followed the series. But what works in one market may not work in others. Consumption differs across different regions, Sri Hari said, and broadcasters and OTT platforms may want to position their offerings in line with viewership patterns.
As a technology player, Amagi supports both the broadcast and streaming sides of the business. It works with linear networks such as Fox and CBS in the US, and with AVOD and FAST services in several major markets. "Consumption differs across genres depending on the region. In North America, we're seeing news as a hero genre. Live news especially has a lot of viewers. In EMEA and APAC, by comparison, documentaries seem to take the lead while news is tapered down in terms of consumption, ranking equally with documentary content. We are also seeing single-branded content channels doing extremely well with FAST services."
Combine content, commercial and tech strategies to improve stickiness
A key challenge for OTT apps is retention and 'stickiness' – being engaging enough to keep users coming back for more. If app users find they aren't using a service, they may unsubscribe. For channels that depend on advertising, there's the added issue of keeping viewers watching long enough for the ads to be served.
Stickiness tactics are therefore essential to keep people engaged and on the platform, Othman said. He offered the example of Netflix's five-second countdown between episodes. "By the time you're done deciding whether to stay or switch off, the next episode starts and you're stuck for another hour anyway. And you're up late, late at night."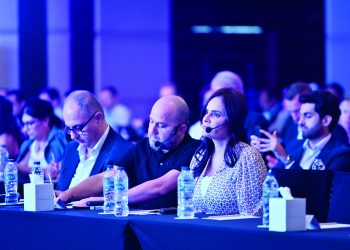 Understanding user behaviour can reveal ways to promote discovery and retention, Sri Hari said. To offer viewing comfort in an era of scrolling fatigue, providers can create a "FAST TV front porch" with a linear set of channels in front of a subscription service. With this front porch, consumers can see a list of curated FAST linear channels on the SVOD app. This allows (a) paid subscribers to consume content immediately, without having to endlessly scroll across the SVOD library; and (b) non-subscribers to consume a set of free content (as linear TV channels) as a precursor to signing up for the SVOD service. This ready-to-consume curated linear TV service tactic has driven increase in viewing hours by as much as 50%, he said.
An analysis of business reports from leading subscription providers shows the importance of a free subscription tier in keeping viewers engaged and consuming more content, Sri Hari said, offering a big-picture view of what streamers must consider on this front. "We see this as a network business. You need content, you need viewership and you need revenue (subscription and advertising revenue, as with broadcast TV). All three must come together so the business grows as a network for all stakeholders."
One example of how different elements of the network support each other is average revenue per unit (ARPU), which is higher for advertising tiers than subscription tiers. Streaming platforms may therefore want to work with a mix of both, to maximise revenue while retaining customers.
But there's an argument for content as a retention magnet. Retaining and winning back customers first and foremost comes down to content, Qandil said. "When it comes to win-backs, they're mainly driven by content. Content plays a big role in retention. If customers find something that's interesting for them to watch, they will either take a decision to wait and watch it or maybe leave and come back."
However, with more content available, viewers have become choosier and streaming offerings need to raise the bar accordingly. Here, Qandil said, partnerships can help with acquisition.
Bates spoke of how StarzPlay uses the user experience (UX), content strategy and payment models to drive retention. A good recommendation engine is key to enticing viewers to stay on the platform, he said, but curation can drive audiences to reconsider archival content. StarzPlay recently used innovative curation to promote evergreen content such as Top Gun and Fight Night. Such messages can be served to consumers via in-app messaging.
Over the duration of the World Cup, StarzPlay will give its sports customers two months of entertainment content for free, both to grow audiences and as a retention tactic. A combination of technology and execution can get content in front of customers and prompt them to engage with the product, Bates said.
Drive revenue with both new tactics and established strategies
OTT is one of the fastest growing segments in the broadcast sector, but competition and fragmentation could quickly become a threat to revenue streams. There are several strategies to combat the problem, panellists said.
Perhaps the most straightforward approach is for streaming providers to offer tiered plans, with advertising-supported options alongside commercial-free subscription plans. Netflix, for example, recently added an advertising-based service, Basic with Ads.
Shahid also offers both options. Originally an advertising-supported service, it later added a subscription-based tier, Shahid VIP, to offer subscribers uninterrupted viewing. The tiers complement each other in a region of heterogenous viewing and spending habits, Qandil said. "The willingness to pay for different services is different."
The streaming platform is closely monitoring the progress of its FAST offering. FAST offers a way to tap different revenue streams while surfacing archival content, he said. AVOD, on the other hand, reaches audiences with low willingness to pay, who can then be upsold into SVOD. Each complements the other.
Advertising remains the other major route to maximising commercial opportunities. Programmatic buying is now the default option, but platforms would do well to develop the direct route.
StarzPlay has a 25-strong internal sales team to represent its advertising inventory, Bates said, which has brought in more revenue than would have been possible by relying on ad platforms alone. "What we don't want to do is just be selling our inventory on CPM, because you're just not going to get a return on investment on a CPM level." Having a sales team allows the brand to offer other campaign elements, such as sponsorships and digital product placements, alongside traditional commercials.
Use data to support personalisation and monetisation
Viewership data has long underscored the superiority of digital advertising in providing opportunities for customisation. As granularity improves, so too do opportunities for personalisation – at every level.
"You want to build a viewer profile and you want to do so for multiple reasons. Part of it is understanding what kind of demographic is watching the content in the first place. It's also something you can utilise in the advertising space," Qandil said. "We track every profile and their behaviours and are using this information to inform advertising strategies [including] ad insertions and digital product placement."
Data already informs nearly every aspect of business at Shahid.
"Most of our decisions today, whether on a commercial level or content level or marketing level, are data-led," he said. "We've invested a lot in understanding and building the pipelines behind data. We try to analyse everything that we broadcast, even at a platform level, to understand what works, what doesn't work."
One example is digital product placement instead of production-based product placement. The old-school tactic is familiar to film and TV audiences, but it remains relevant even in the digital age. While Qandil did not say what form such placement takes at Shahid, other players are seamlessly inserting digital footage into existing content, such as on billboards, storefronts or food and drink packaging within a shot. Digital product placement can also be adapted to each viewer's individual footprint.
Technologies such as artificial intelligence (AI) are being used to create personalised data profiles of each viewer that can then be shared along the value chain, from advertisers to producers and marketers to programming teams. By looking at consumption patterns, AI algorithms can tailor programming to individual viewers, Qandil explained. The viewer receives a rich consumer experience without quality or reliability being compromised, platforms can use the information to scale, and media owners can build channels with little or no experience.
"We believe data should be democratic," Sri Hari said. Amagi is innovating new types of granular data models that can deliver just these sorts of insights for all stakeholders (OTT platforms, media-owners and studios, advertisers) and even optimise content scheduling.
On the other hand, streaming platforms should guard against an over-reliance on data, cautioned Bates. "As OTT platforms we have so much return data coming back. It's not like in the old days in the satellite industry. So why not use all that information? We look at the actors that work, the shows that work, the genres that work and use that in our thinking, in our content acquisition, our marketing and our planning, even in our billing and retention."
"Yet there's a place for creativity as well. Data can maybe push you in the right direction, give you some indications, but you still need people who can read a script, can have passion for a project, might help you lead into the right project. But you still need to combine together that hardcore data with passion and gut and creativity as well, to really succeed."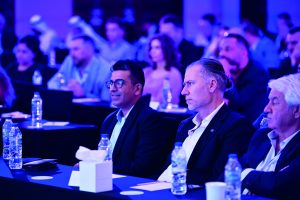 Syndicate for more revenue and new audiences
The panel closed on the issue of content syndication and distribution. Long established as a way to monetise dormant content libraries, syndication has been used by television networks to generate new revenue by licensing airing rights to other networks. However, it can also cannibalise subscriber growth when spread too thin. Finding the right balance is crucial, the panellists agreed.
Content syndication can be used to attract audiences and drive new traffic, Bates said. An example is licensing the first season of a successful show to another platform, so that it is available around the time the second season first airs on your own platform. Such a tactic can generate interest in the original product and bring in new audiences. Finding the right balance to avoid cannibalisation depends on each platform's market proposition, Qandil added.