Bahrain recently inaugurated a brand-new futuristic radio facility intended to house private radio stations. Eng Abdulla Ahmed Al Balooshi, Assistant Undersecretary of Technical at Bahrain's Ministry of Information, takes Vijaya Cherian on an exclusive tour of the facility.
Upon entering the well-secured gates of Bahrain's Ministry of Information (MI), one is transported to a realm reminiscent of a bygone era in the GCC. The compound's square, low-rise structures, which house departments such as television, radio and print, exude nostalgia. However, standing apart from these old structures is the new futuristic addition that has transformed the compound's landscape: a state-of-the-art $7.5m radio facility.
Shaped like a sine wave, the building boasts six cutting-edge radio studio islands of varying shapes and sizes spread across two floors. These opulent studios, designed specifically for individual private radio stations, were inaugurated on August 31 by Deputy King His Royal Highness Prince Sheikh Salman bin Hamad Al Khalifa, the Crown Prince and Prime Minister of Bahrain.
Each studio island is equipped with top-of-the-line studio equipment, including dedicated editing rooms, inviting lounges and reception areas. The facility also houses a radio library, a central master control room (MCR), a central lounge, an electrical grid, a generator and a UPS. The technical aspects were executed by RCS – the New York-headquartered systems integrator designed and built six FM stations as separate islands while ensuring they were accessible from a single window by the Bahrain MI technical team. Each station can operate independently, and clients can rent them and go live immediately.
This facility marks Bahrain's first foray into the world of audio-over-IP (AoIP), the future of radio broadcasting. Its successful implementation in a traditionally conservative market is a testament to its growing popularity. RCS has also developed Mobile RCS2GO, a tool that empowers end users to work from any location, providing automation, music scheduling and traffic capabilities. With multiple layers of redundancy and remote console control between the different studios, this deployment ensures seamless operations for tenants.
Eng Abdulla Ahmed Al Balooshi, Assistant Undersecretary of Technical at the Ministry of Information, Bahrain, proudly explains: "We designed this facility with grandeur in mind, specifically catering to the private sector. Our aim was to open the market up for private radio stations so we decided to construct six purpose-built studios from scratch, and this facility before us is the outcome of that endeavour."
He emphasises the significance of this development by highlighting the shift from relying solely on the ministry's infrastructure to enabling each radio station to have its own independent chain, complete with servers, studios and galleries, among other things. These studios are connected to the existing MCR but can also operate autonomously, a significant leap forward for private radio broadcasting in Bahrain. To accommodate the needs of the private sector, the team added an external entrance for studio users and guests to access the facility without navigating the ministry's fortified gates.
One of the facility's standout features is its state-of-the-art equipment. Al Balooshi elaborates: "All the equipment in the MCR, including the automation system, utilises RCS products. Furthermore, our transmission room has six transmitters, each catering to one of the six frequencies. We have also constructed a DAB+ platform, propelling Bahrain into the digital era of radio. What we have assembled is a comprehensive package exclusively for the private sector. Already we have received requests from clients for the DAB+ platform, and that is an indication of its immense potential."
The facility has currently secured three tenants. One is 96.5 MHz, Bahrain's only English-language radio station, previously under the ministry and now transitioning to the private sector; another is 104.2 MHz Radio Mirchi, an Indian radio station currently on a temporary contract with the ministry and committed to bidding for the next five-year contract; and 103 MHz – English Entertainment has already been allocated space. The ministry has also announced auctions for two new frequencies.
"We are in negotiations with a private channel that operates on an assigned FM frequency in Bahrain. There are more options on the horizon, including a Tagalog channel and another FM service. Two frequencies are up for auction at present," explains Al Balooshi, adding that the ministry recognises the potential for expansion and is constructing an additional facility to accommodate the growing office space requirements.
The incorporation of the DAB+ platform is significant, he explains. "The specifications for the DAB+ receivers have been approved and distributed to manufacturers through our Ministry of Commerce. As of January 1, 2023, the MI mandated that all new cars imported into Bahrain must include the DAB+ feature."
Beyond providing the infrastructure, the ministry is committed to offering round-the-clock support to tenants. "Our team controls the MCR and we provide transmission support from our end. Our technical teams are available 24/7 to address any equipment-related issues and ensure smooth operations." The team has even customised the studio furniture for durability and protection from accidental damage.
Anticipating the diverse needs of the tenants, the team has proactively wired the facility to accommodate additional features, with the General Directorate of Technical & Technology Affairs technical team closely involved. Al Balooshi elaborates: "Some tenants have expressed their desire for visual radio. We have the necessary infrastructure in place to incorporate cameras. Certain channels also wanted to showcase their branding in the background, while others requested streaming options. We can readily offer these additional features."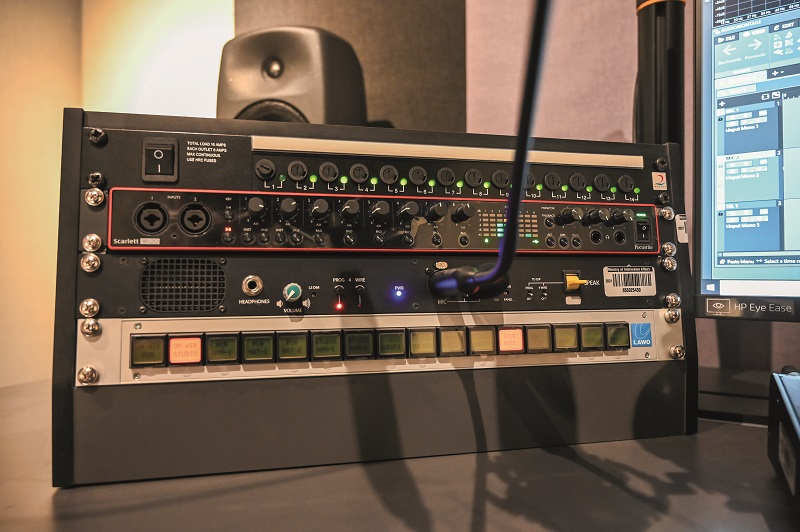 Within the MCR, all the playout hardware has been installed by RCS to maintain a quiet acoustic ambience across the studios. For real-time control of the RCS software suite, the systems integrator has installed an ATEN dual-screen IP-based KVM solution which ensures instant control and remote support. In terms of audio transport, the system employs AOIP, complemented by traditional analogue and AES connections for back-up and STL connectivity. To facilitate audio transport, Nevion frames equipped with analogue and AES distribution cards were installed. These enable audio transmission to the transmitter via audio fibre, with TSL PAM1 devices installed for monitoring these audio feeds.
There were several challenges to completing this project, primarily due to the global pandemic and disruptions in chip supplies. Initially planned for development in March 2020, it was temporarily shelved and delivered in late 2022 by RCS, but only launched last month.
Baher Al Zaher, who leads the RCS MENA office, sheds light on the challenges. "We found ourselves in a precarious situation due to the lockdown imposed by the pandemic. The delivery of audio mixers, for instance, depended on other items, including the furniture on which the audio mixer was to be installed. We received partial deliveries at higher costs, while we needed them all to be on-site – fully delivered, installed and configured – prior to anything else. Whether switches, Ethernet switches, audio and fibre cables, racks and rack MDUs, they were all delayed."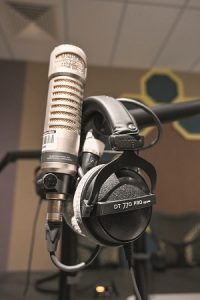 RCS had to recalibrate its approach, investing unplanned hours in building financial and technical solutions to overcome these challenges and offer multiple options to the client. Spikes in oil prices and the closure of Russian airspace further complicated the delivery of essential products, exacerbating delays.
Despite this, RCS successfully delivered the project within the revised timelines set by the ministry, Al Zaher says proudly. "RCS has earned a stellar reputation within the radio install sector as the world's largest broadcast software company, with our products being utilised in thousands of radio and TV stations, music channels, cable companies, ad agencies, satellite networks and streaming stations worldwide. This positions us favourably. Today, RCS has sister companies and technology partners that cater to every aspect a global radio station may require, from A to Z."
In the Arab world, RCS products enjoy a significant advantage. In addition to being intuitive and flexible broadcast tools, they also offer multilingual support, making them attractive to end users in the region.
The collaborative effort between RCS, the ministry, suppliers and the consultant ensured the successful completion of the project. RCS assembled a dedicated team of six specialists and six members of the infrastructure team. Al Zaher calls them the "RCS six-by-six team": project director, implementations manager, technical architect, project coordinator, logistics coordinator and senior systems integration engineer, along with two Ethernet network specialists, three audio network specialists and an infrastructure implementation manager.
Once the logistical delays had been resolved, the testing and acceptance phase proceeded smoothly, with all issues promptly resolved. The most significant challenge was to strike a balance between well-established engineering practices and cutting-edge technology. "This project incorporates multiple layers of redundancy and is designed with future scalability in mind. We built everything from scratch, ensuring the utilisation of the latest models for all installation materials and hardware. We are immensely proud to have delivered a comprehensive turnkey solution to Bahrain MI," says Al Zaher.
The Ministry of Technical Affairs directorate also commended RCS for its equipment selection, compliance with international safety and performance regulations, and the seamless integration achieved throughout the project. "RCS possessed unparalleled expertise across all aspects of the project and their team went the extra mile, excelling in project management, design, supply, installation, implementation and commissioning services," says Al Balooshi.
The Bahrain Ministry of Information's new radio facility is a testament to the country's commitment to advancing private radio stations. With its state-of-the-art infrastructure, advanced equipment and comprehensive support, the facility opens doors for the private sector to flourish in the radio broadcasting landscape. The addition of the DAB+ platform and its commitment to future scalability reflect the ministry's foresight and dedication to staying at the forefront of technological advancements in the radio industry. As Bahrain embraces this new chapter in radio broadcasting, the prospects for further growth and diversity in the sector are indeed promising.
The minor details
RCS, in collaboration with various manufacturers and suppliers, installed a range of specialised equipment and technology in the new radio facility at the Bahrain Ministry of Information. The facility consists of six on-air studios, each featuring custom-made announcer tables from Knotty, Electrovoice RE27 dynamic cardioid microphones for high-quality recording and broadcasting, and Yellowtec Mika microphone arms. Sound reinforcement applications were chosen for the announcer studios and control rooms.
For monitoring, RCS integrated Xi Audio HP505 monitoring panels with Lawo GPIO controls, enabling functions such as headphone monitoring, talkback and mute. Genelec speakers provide output monitoring in each on-air studio, while NTP-powered Masterclock units synchronised via GPS signal ensure accurate time. The Soniflex on-air lights are integrated with Lawo via GPIO.
The Programme Control Rooms are equipped with custom-made technical furniture that accommodates Mika arms and monitor arms for touch-enabled HP screens. Lawo Ruby mixing consoles, along with the Lawo Power Core, serve as the central control system. This set-up enables AOIP connectivity with routing in the MCR, as well as traditional analogue and digital connectivity to other peripherals, including the Tascam emergency CD player, Programme Delay Manager, Sonifex headphone distributor amp, Sonifex silence detector and Glensound talkback panel.
The AVT broadcast telephone system has eight SIP-based telephone lines, with phone and touchscreen-based show management software. The system is connected to the Lawo Power Core through AES. Each station has its own editing studio with customised furniture and AKG C414XLS condenser microphones.
AOIP is the main audio distribution, with study switching equipment at the core. RCS configured an Arista 7304X frame as the switching core, connected to Cisco 9200L edge switches via 10G fibre patches. VLAN configurations allow the studios to operate independently, with central management by the Bahrain MI engineering team also possible.
The RCS suite, running on HP servers and HPE workstations, is optimised for playout. The Z8 is the chosen playout workstation and the DL380gen10 server is complemented by an HP MSA 2050 storage array connected via 10G fibre. All machines are connected to an ATEN KVM-over-IP switch.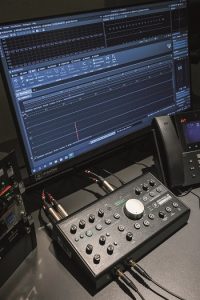 RCS has integrated Ravenna AOIP via virtual sound cards Lawo R3lay. The main audio routing is done on Lawo's Power Core, a powerful audio signal processor for broadcast, offering multiple high-density RAVENNA/ AES67 and MADI interfaces. Back-up is ensured by a second unit in standby mode. All hardware is overseen by Lawo's VSM system, which provides IP control for a safe and flexible broadcast operation. A__STAGE devices handle analogue and AES I/O for routing.
To ensure back-up, RCS incorporated additional HP Z8 machines as standalone playout systems synced over RCS' Zetta ZCast feature with the main station servers. These are directly connected to the router via AES interfaces, using ASI PCIE cards. Standalone CD/SD/MP3 units from Tascam are also installed as back-up devices to prevent on-air disruptions.
For off-air monitoring, RCS installed Deva Broadcast receivers along with exterior FM antennas and splitters. Output is recorded using Stirlitz Media Software logger, running on a capable HP DL380gen10 paired with an HP MSA. This set-up ensures easy and reliable access to audio recordings.