Jonathan Ali Khan's new three -part film series promises a brand new perspective on the UAE's wildlife as well as footage of animals rarely seen on the desert landscape. In addition to capturing footage with his 4K camera kit, Khan uses drones to bring a new dimension to this series.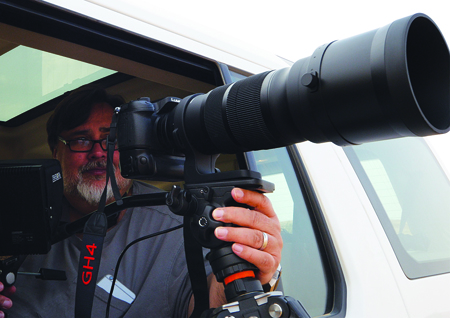 Jonathan Ali Khan, well-known natural history filmmaker, is presently filming a brand new series on the UAE's wildlife. He speaks exclusively to Vibhuti Arora on using new technology to capture rare moments in the wild
Jonathan Ali Khan's new three -part film series promises a brand new perspective on the UAE's wildlife as well as footage of animals rarely seen on the desert landscape. In addition to capturing footage with his 4K camera kit, Khan uses drones to bring a new dimension to this series.
Khan says a well-rounded story was waiting to be told, and the film covers aspects right from awareness to conservation and the need to research wildlife.
"In the last five years or so, there has been a lot of development in terms of conservation work from the government and authorities. We have explored the Arabian desert quite extensively and it was about time we looked into our own backyard and created something locally in the UAE," notes Khan.
The authorities are proactively supporting the conservation efforts in the UAE, but there is not enough awareness about these efforts. It was the idea of highlighting the conservation efforts of the UAE government and the authorities that formed the basis of Khan's latest project titled The Last Wilderness of the UAE. It covers some of the indigenous desert species found in the UAE.
The next step was to find funding for this rather long-drawn project, which is typical of natural history films.
"We didn't want to approach the government authorities for funding because many of them were working with tight budgets. Emirates Airlines came on board and Patrick Brannelly was quick to accept the films for Emirates' inflight entertainment platform, ICE. Discovery MENA is also supporting the films and will have the first rights to them, following which the content will go on ICE. We are currently in discussion with international channels but too early to mention any names," says Khan.
More than 60 hours of filming have already been completed. The three films trace the animals and birds living in the desert, sea and mountains of the UAE. The filmmaker is also creating fillers for social media to keep the momentum for the films going.
"Filming began last year and we have now been working on the project for around 13 months. We need to do another seven months in the field to complete the film," he adds.
Most of the wildlife are in remote areas in the desert, and a lot of these animals have adapted for survival to become nocturnal. Many of them come out at twilight hours and are very elusive creatures.
"We work with all the footage we have to make the story as close to the real story as possible, but also have to leave out a lot of it. Finding wildlife is the main challenge here, and it's hard in such harsh weather conditions. When dealing with wildlife in Africa, there is so much happening, whereas in the desert we have to find them by long and hard searches," he notes.
Every film begins with a treatment that Khan calls his wish list and includes subjects he would like to film. Then he goes and finds them, but what's caught on camera may turn out to be completely different, and the film is given a final shape only in post.
Experience goes a long way and technology also comes in handy when filming animals in the wild. With films such as Arabia's Cycle of Life to his credit, Khan says a wildlife filmmaker must have the ability to look for a good story spontaneously, as things never go according to script.
"The moment you come across something unexpected, it may take the story in a different direction. You have to be quick to alter the script accordingly," he adds.
Khan's three-part UAE wildlife series is being shot in 4K using four Panasonic Lumix GH4 cameras, with a whole range of lenses with variable focal lengths including macro and telephoto lenses. This is also the first project where Khan has used drones to shoot some aerial footage.
"DJI provided us with Phantom 4, which we have used extensively to film the Oryx, gazelles and several bird species in the desert. We also used DJI Inspire 1 Pro with gimbal on some locations. These drones are a great fit for wildlife filming and photography. They are an inexpensive alternative to using helicopters, which involve a lot more logistics and cost several times more."
Drones are helpful in studying the topography of the land and are a great tool to film areas out of bounds for humans. Filming with drones is an effective, non-invasive way to capture some of the most elusive creatures.
"When working on a budget, nothing rivals DJI," comments Khan. He likens the effects of filming with drones to Steadicam, but says fluidity and smoothness comes with drones.
"We were told at the outset: don't go chasing the oryx, or you will scare them. But their tolerance was much greater than what we had expected. Gazelles are more sensitive, however. We have shot the kingfishers from very close quarters using the Phantom. The new Mavik, another DJI release, is silent and discreet, thereby making it perfect for wildlife filming."
Drones give Khan a very different perspective to filming from the ground, he says: "Filming with drones adds a new dimension to the footage and at times is helpful in capturing rare shots that wouldn't have been possible otherwise."
The areas being filmed are representative of the type of habitat that exists in the region and include Dubai Desert Conservation Reserve, the Empty Quarter, some secret wadis in the Hajjar Mountains, and the east and the west coast of the UAE.
The UAE's first national park, Dubai Desert Conservation Reserve stretches across 225 sq km. Khan's film covers the efforts of the conservation team in rehabilitating the flora and fauna of the reserve with footage of the desert and the ecosystem there. Drones are extensively used for detailed mapping of the area. The conservation team has been using the DJI S100 to identify different plant species, and Khan's film highlights how that's being done.
Yet another protected area Khan's film covers is the Kalba coast on the Indian Ocean. It's under the Environmental Protection Authority in Sharjah and has been quite aggressive in its conservation efforts since 2012, when the coast was closed to the public and declared a protected area. For the first time in about four decades, sea turtles returned to the mangroves in the area and have been thriving alongside a robust population of indigenous crabs and birds such as the Arabian collared kingfisher. The authority uses DJI drones to count the turtle population, which Khan's film showcases in great detail.
On most shooting days, Khan sets out with his team early around 4am, when it's still dark in the desert. All of the support equipment along with cameras and lenses required for the shoot is carried in cars, from mini jibs to gliders, lighting stands to monitors, batteries and drones.
"We'd love to get our hands on Starlight thermal cameras, but the rentals for these are very high. We go out with minimal lighting and use video light to illuminate the area in focus and make it look natural using two or three LED lights.
"All of our acquisition for this project is in 4K, including our footage captured using drones. The post-production, however, will be done in HD, as we will be delivering the film in HD. We have used Adobe Premiere Pro for editing."
Khan says there is a lot of international interest in his natural history projects but he feels more local support is required for such initiatives.
"Natural history is traditionally a genre of programming produced by national broadcasters. These projects should be supported more. However, regional broadcasters have not yet understood the importance of natural history content. They find it expensive and very niche or technically demanding, requiring expertise which they lack. The onus for such projects lies on the state broadcasters, who should support independent filmmakers working in the field."
Producing natural history content has been highly satisfying but riddled with challenges.
"It's an emotional journey and a learning experience. I hope when viewers see our films they will realise the labour of love that goes into creating each frame," he says.