It all began with Basel Anabtawi wanting to listen to a good talk show on his night runs. From there, he went on to create Basel Meets before eventually launching Rising Giants Network (RGN), an up-and-coming podcast network in Dubai that hopes to take the MENA market by storm with a raft of new Arabic podcasts. In an interview with BroadcastPro ME, the co-founder and CEO of RGN shares his podcast journey and his vision for the company.
How would you describe your company in one sentence?
Rising Giants Network is a storytelling company focused on immersive audio experiences.
How did you get around to starting RGN?
RGN was an idea brewing for years. I had started my own podcast, Basel Meets, in 2017 after I wanted to have a talk show in my ear as I did my night running. Then I discovered the wild and wacky world of podcasts. Can you imagine? My head exploded when I saw all this insane content that exists on my iPhone for free! My go-to was Joe Rogan and he became my running companion, then my driving companion and then my cooking companion (I make really good burgers).
I then evolved to listening to many other shows like Wondery's Business Wars or Gimlet's StartUp – but what I truly loved was Serial. This prompted me to start Basel Meets. I met many great people through that experience … but I wanted to bring the art of podcasting to so many more people in our region. It was like I had a secret that I wanted everyone to be in on! So I met Barry Kirsh from BKP as well as Bashar Najjar, a kung fu-level sound engineer, and we decided to move into starting a network for podcasts. And here we are today!
When did RGN become operational, and how many stories have you got out there so far?
We were founded in the midst of the 2020 lockdowns. We started work around March 2020 and finally launched on July 7, 2020. Since then, we have closed one major round of investment in January 2021, which was valued at $1m! That's how much we think podcasts kick ass! We have 15 podcasts out and we're going strong. We're not stopping churning out amazing content any time soon.
Tell us about some of your popular podcasts.
We have a few shows that have been recurring in the charts. Abou Abdo Al Hakawati has made consistent appearances on the charts since it was released. Our documentary series, Our Darkest Day, a show about the survivors of the New Zealand terror attacks as well as the victims' families, has been named as a top podcast by Spotify Australia. Our show Sehtak Aham Ma Baraa, which is about wellness and nutrition, has topped the Apple podcast charts. Our latest entry into the Apple podcast charts is the Emirati talk show Kursi Al Ithnain, which is now in the top 3. We have so many others and are so proud of the progress being made.
"We have closed one major round of investment in January 2021, which was valued at $1m! That's how much we think podcasts kick ass!" – Basel Anabtawi, Rising Giants Network (RGN)
Assuming that a good script and a fantastic audio experience are critical to a good podcast, how do you ensure that both are top quality?
We have our own method of creating – we call it SONICPLAY! We basically follow a set of guidelines that ensures we have top-notch programming. This includes vetting our ideas through a rigorous process, then ensuring we flawlessly execute. SONICPLAY!
In terms of technology, what does hosting a broadcast-quality podcast entail?
Let's be honest, entry into podcasting isn't hard. You just need a mic and a closet and you'll be good to go. But with RGN, we're taking that up a notch. Our closet is a state-of-the-art studio, and our mic is a full sound engineering console that ensures that we make you sound like Morgan Freeman! By using our studios, our sound engineers and our writers, we ensure that we have a well-thought-out show, paced in a great way and with an ambience that really elevates the podcast. So yes, you can do it at home, but with us, it's just going to sound so much better!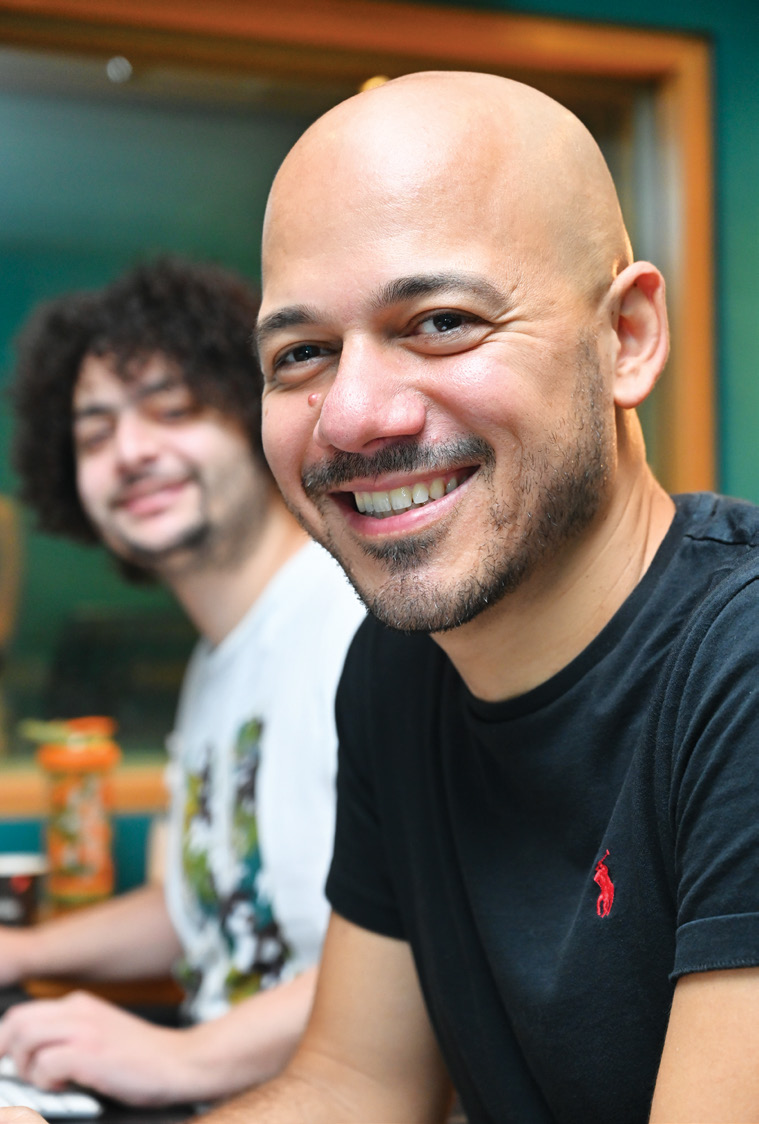 How many people are you?
We're seven people right now, and we're going to be hiring more.
Can you elaborate on the ongoing challenge of high demand but low supply of top-quality Arabic content?
Yep – we're addressing that gap. We believe that there are so many amazing stories that need to be told in Arabic and in many different contexts. Our goal is to become the number one podcast network in the region, with hundreds of shows under our belts. We're ambitious.
How do podcasts allow meaningful conversations that open your mind on how people feel about current affairs, cooking, travel and anything else that piques your interest?
Podcasts are very intimate experiences. First, as a listener you have complete control on what you want to listen to, and once you do and you love what you hear, you develop a solo bond with this show. Think about it – you have a host speaking directly into your ear, with no one else around you. It's as intimate as it gets. Also, with podcasts, there is no second screen to distract you. It's because you're often listening to podcasts while doing something mundane like driving or running. When you listen, your mind is doing all the visual imagination for you, so you are tuned into the discussions of the stories being told.
Why are Arabic podcasts an excellent way to hear about experiences that don't often make it into the mainstream news cycles?
Because it's such a decentralised platform. With so many people jumping onto podcasts, you find many different topics that a lot of mainstream Arabic channels probably don't cover. There is a lot more room to be creative and to tell stories that may have not been told before.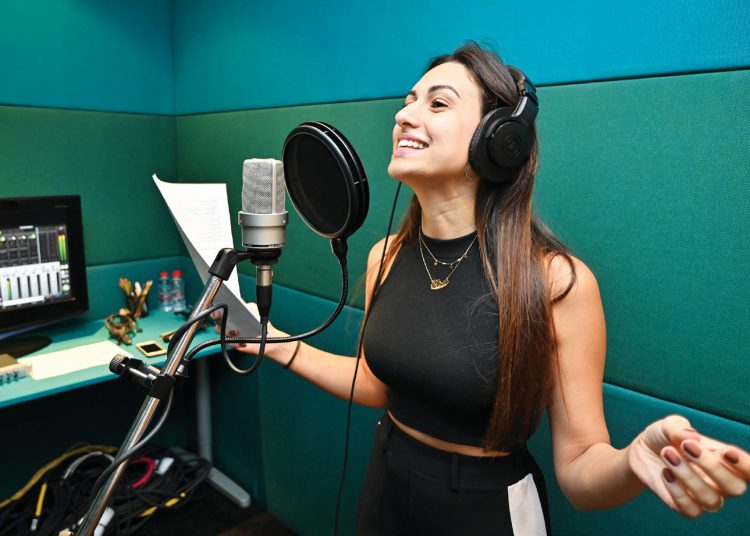 Who is your target audience? How do you address the challenge of language? 'Arabic' means different things to different people.
We want Arabs from all backgrounds to get into our podcasts. Our audience depends entirely on the show we're building. If it's a football show, then we look at the football vertical and the audience that exists within that vertical. As for Arabic, we work with different dialects – we love the many different dialects that exist in our region, and we try to use a varied slate. We have a studio in KSA, which means we will also have a large number of Saudi talent coming through our programming. Our Dubai studio is varied in its offering – from Lebanese to Jordanian to Emirati to Iraqi – we have all those accents under our umbrella.
When do you think you will break even? Is what you are doing commercially viable? How do you market your stories?
We move with the pacing of the market. I'd love to break even tomorrow, but we understand these things take time. All I can say is that we're super happy with the pacing we're going with, and we see so many interests from clients, so as we say, INSHALLAH it happens sooner than we think. As for marketing a podcast, it is hard business, but luckily we've been fortunate enough to be doing it for 15 shows over a year. We're developing different and non-orthodox ways of getting our shows to listeners' ears, be it through influencer marketing, our talent or even through PR campaigns. We have to have a healthy mix of communication touch points to ensure mass reach.
We also let data lead the way … we work with platforms, apps, publications and various other partners to move our podcasts forward. We need to be clear and targeted with how we speak about our shows. We need to ensure that we are speaking to the relevant audience of that show. I don't think casting a wide net is doable when it comes to podcasts.
Do you have numbers you can share on your current audience and the podcast industry? Do you have any research on the MENA podcast market specifically?
Since we don't share numbers, all I can say is that we're growing at a faster pace than initially anticipated. I think this is largely because the whole podcasting environment is growing and we're growing with it. There are over 5m people in KSA that listen to podcasts, and more than 1.3m in the UAE. These numbers were revealed in April 2020, so it is our estimation that these numbers are much larger today, because we've matched up our growth numbers from Ramadan 2020 versus 2021 and the scale of growth is vastly different. There have been way more podcasts, way more downloads and way more conversations around podcast in 2021, and we see that growing in the next few years.
"Our goal is to become the number one podcast network in the region, with hundreds of shows under our belts. We're ambitious" – Basel Anabtawi, Rising Giants Network (RGN)
The visual medium is so powerful. How do you justify podcasts? Do you do fiction as well as non-fiction, and where do you see maximum visibility?
They're both very different formats with very different uses. Podcasts do not take time from video, because with video, all you can do is sit and watch that particular show. However, podcasting is a different beast altogether. It's a multitasking format, so essentially we're just colouring your boring moments. We do not do fiction; we do scripted shows, monologue shows and conversations.
So, for instance, our scripted stories are based on true stories. Legendary Rock Stories is based on rock bands that changed the course of history, or Abna Al Dam talks about the true stories of the Italian mafia, or Abou Abdo Al Hakawati finds unknown stories that are written in a fun and poetic way. We have a few historical dramas being scripted and are ready for release as we speak. We get into all sorts of genres, from entertainment and sports to self-development and scripted dramas.
Where are your podcasts available?
Everywhere you listen to podcasts, we're there. Apple Podcasts, Google Podcasts, Anghami, Spotify and other apps.