After conducting a virtual edition last year, CABSAT is back for an in-person gathering and exhibition. Thomas Löffler, AVP, Exhibitions, Dubai World Trade Centre, takes us through some of the key features this year.
How is CABSAT shaping up at present? Will this be a hybrid version or in-person only?
CABSAT will reunite the region's content and broadcast communities in-person once again at its 26th edition. Our exhibitors, speakers and visitors are extremely excited to meet again after a year that has been defined by virtual interaction – or, in other words, the missed opportunities that are associated with being unable to meet in-person.
Technology played a vital role in helping to mitigate the economic impact of the Covid-19 pandemic. While life went on pause for people across the world, online streaming boomed to unprecedented levels as a result of lockdown measures. Digital transformation was already affecting every major industry across the world, but the pandemic has only accelerated that pace of change. The main challenge for the global broadcast and content communities is to now ensure that the increased levels of demand seen during the pandemic for a variety of services can be effectively sustained.
In terms of the satellite industry, it seems fitting that CABSAT follows soon after the UAE's Hope Probe successfully entered the orbit of Mars, which represents a landmark historical occasion for the Arab world and a hugely exciting opportunity for satellite operators, not only in the region but also internationally.
CABSAT plays a key role in sparking international conversations within these communities to ensure that stakeholders are able to stay on top of the latest developments in their industry through the cornerstone of business networking, which is of course meeting in-person.
What big lessons has DWTC learned from Covid-19, and how have they shaped your strategy for future events?
Visitor well-being is our number one priority at Dubai World Trade Centre, and CABSAT 2021 will be held under stringent safety and hygiene protocols. DWTC has proven its capability to curate the safest face to-face business environment and deliver world-class events with the highest safety protocols, as evidenced by the recent GITEX Technology Week – the only live in-person tech event in 2020. Held in December, the event welcomed tens of thousands of visitors, with 96% of local and international attendees recording a 'safe' or 'very safe' experience.
DWTC's protocols were further intensified for Gulfood 2021, the only major F&B industry event to go live in a year and hosted this February, under strict guidance and coordination with the Dubai Health Authority and Dubai Municipality, to ensure the safest possible business conditions. The wearing of masks is of course now mandatory, with social distancing enforced to ensure the well-being of all delegates.
DWTC continues to work with these authorities to ensure it complies with local regulations, and is also Bureau Veritas-certified, which attests to its commitment to world-class health and safety standards.
How important was Dubai's decision to press ahead with hosting exhibitions?
Dubai was the first city in the world to reopen its events industry, in H2 2020, and has proven that large-scale, in-person events can be safely and responsibly hosted. CABSAT will be the first in-person event for the global broadcast industry since 2019, and we are experiencing great demand from right across the spectrum to meet in-person once again. The abiding theme has been the increased value that CABSAT provides to businesses to meet existing and new customers and bring like-minded sector professionals together.
Could you take us through some of the new topics that will be part of the conference this year, and perhaps mention some of the speakers?
The Covid-19 pandemic will spark irreversible global change across so many industries, in the process creating new forms of cross-border collaboration; media, and specifically content, is chief among the realms that will be permanently disrupted. Global lockdowns caused a spike in content consumption, which worked to the advantage of content producers.
Almost ironically, filming in production studios instantly ground to a halt, forcing production houses to think outside the box in order to keep consumers satisfied. Now, content producers need to rethink their roadmaps to keep pace with this demand.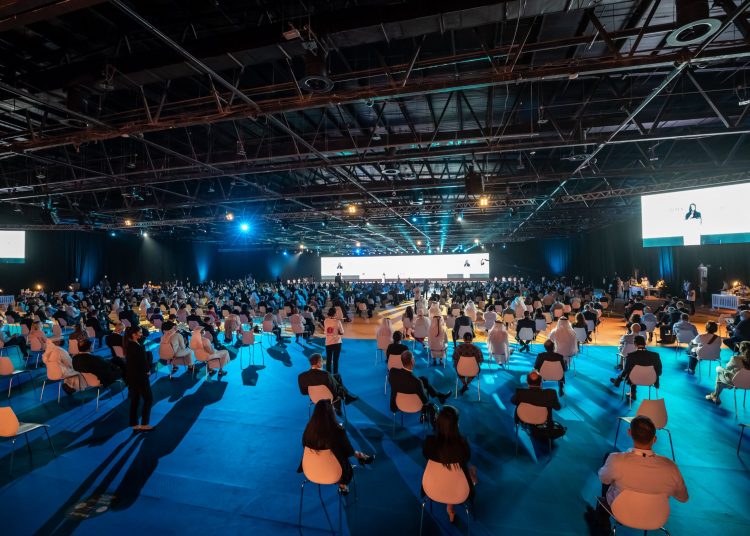 Content Congress will deep dive into the survival strategies of smaller OTT players, as well as exploring the current lifespan of linear TV and the ways that Gen Z are disrupting the content industry. CABSAT will also explore the expanding role of artificial intelligence within broadcast, and specifically the '4 C's' of AI – how it will understand the citizen, content, context and container (device) used.
CABSAT will host a range of international and local broadcast and content expert speakers, including Jamie Cooke, Group SVP and GM, Central Eastern Europe, Middle East and Africa, Russia, Discovery Inc (UK); Madeleine Noland, President of the Advanced Television Systems Committee (US); Augustus B. Ajibola, Director, Department of Entertainment and Creative Services, Federal Ministry of Information and Culture, Abuja, Nigeria; Fagr Kassim Ali, Director Media Sector Development, Sharjah Media City; Catherine Mwangi, Head of TV Production and Programming, Kenya Television Network; Hans Fraikin, Film and Television Commissioner, Abu Dhabi Film Commission; Majed Al Suwaidi, MD, Dubai Media City, Dubai Studio City and Dubai Production City; and Bernhard Hafenscher, Austrian Partner, Executive Consultant, OnMedia AG, Austria.
What are some of the key focus areas at the event this year?
The Content Congress conference will engage a cross-section of senior industry stakeholders with up-and coming influencers to share insights on how to adapt traditional broadcast models, the benefits of disruptive thinking and the future of worldwide broadcasting. CABSAT will also host its homegrown content marketplace ContentScape, which is set to attract content creators and sellers who will present their ready-to-be released content to content buyers, while CABSAT will also explore the impact of AI in the broadcast, content and satellite spaces.
What can we expect at SATEXPO?
SATEXPO will launch as a two-day summit and two-day exhibition focused on all satellite communication solutions and technologies for the MENA region. Through the expo, an all-encompassing event experience will cover applications for all areas of satellite communication, Earth observation, satellite imagery, hybrid network technologies, mobile satellite services and security, and space.
SATEXPO will unite all products, solutions and services available and in use across multiple industry sectors, delivering higher levels of ROI to exhibitors, resulting in new target attendee (buyer/ specifier) acquisition per industry vertical from industries including government and military, maritime, aviation and enterprise.