Deaf Film Lab, an innovative initiative in Egypt, is inspiring deaf youth to take up filmmaking. In an interview with Rachel Dawson, founder Waguih El Laqany shares how the initiative is pushing the envelope for inclusivity in cinema.
"I could never imagine that deaf people could shoot films," says nineteen-year-old Islam Ahmed, who chanced upon a workshop designed for the deaf in his hometown of Alexandria in Egypt early this year.
Ahmed, who works at a restaurant and has always been passionate about street photography, is one of the young people who have learnt the entire gamut of filmmaking, from filming and colour grading to editing, at Deaf Film Lab – a non-profit initiative founded in 2018 by Waguih El Laqany for deaf youth to pursue filmmaking and bring out their creative ability and youthful energy.
"At the workshop, I learned everything about filmmaking, starting with screenwriting and directing," he enthuses. "The workshop helped me hone my skills by teaching me how to shoot in both day and night mode as well as external and internal scenes. My skills in photography were basic, but when I joined the Lab, I started to learn professional photography and editing, and now I can shoot films on my own."
Laqany says the initiative aims to enable aspiring deaf filmmakers to use film as a medium to communicate with society, as a tool to express their ideas, dreams and visions.
He is a co-founder of Cinema Everywhere, an initiative that seeks to expand cinemas in Egypt, and the inspiration came to him after a special screening of silent films.
"We screened films without dialogue at deaf associations, organisations and independent gatherings.
"Then, as part of a screening programme I'd conducted with the American Embassy in Cairo, we translated four short films of the American Film Showcase into Arabic sign language through C Film Translation Centre, another initiative of Cinema Everywhere."
The films were screened at several Egyptian governorates and got a lot of attention in the deaf community.
"We conducted a simple training project in 2017 to measure the extent of a deaf individual's ability to learn visual arts, by providing them with cinematography training through a project called A Look at the City. This was a training workshop on photography and lectures on human relations in the city, resulting in an exhibition at the Goethe Institute in the winter of 2017; this project encouraged me to think about implementing the Deaf Film Lab initiative," Laqany explains.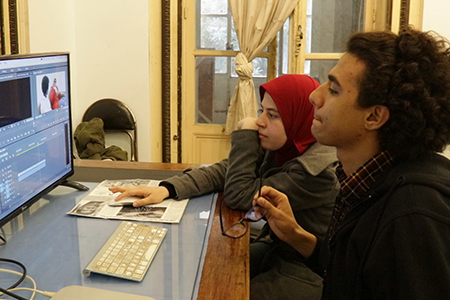 "At the film screenings we conducted through the years, many deaf people made it clear that they wanted to learn and study filmmaking, so when I saw the impressive results of the photography workshop, I learned more about the difficulties they face and tried to address those challenges when I launched Deaf Film Lab.
"We managed to get funds for the project from the Arab Fund for Arts and Culture (AFAC), which covered trainers, equipment rental and the wages of sign language interpreters, and all the expenses of the workshop."
Laqany wants to enable deaf individuals to enter mainstream cinema as trained professionals.
The goal is to create an environment conducive to learning filmmaking, and to this end, the Lab oversees everything from the training of deaf filmmakers right up to marketing, distribution and special film screenings.
Attendees study various elements of filmmaking, including screenplay writing, framing elements, cinematography, directing and film editing with Adobe Premiere, with all workshop content translated and interpreted into sign language by Egyptian interpreters. This is all done within a span of 144 hours, over the course of 24 sessions.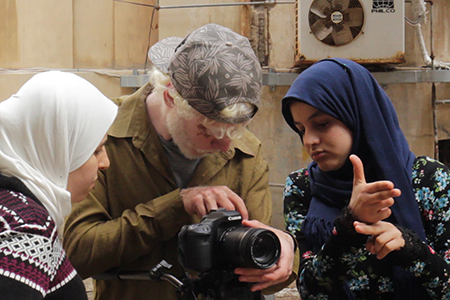 The Lab has birthed several film projects, such as The Game, written and directed by Fatma Belal, with Islam Ahmed as the DOP.
The film follows a group of deaf people in a park who play a game only they understand.
Other youngsters join in, while two passers-by watch but fail to comprehend. The Game conveys a larger message that addresses ways in which deaf people are misunderstood.
Belal says: "When I first joined the Lab, I found it hard to learn filmmaking, but gradually I began to understand and love it. I learned how to write a screenplay, how to direct, shoot and edit a film. I learned the basics of principal roles in filmmaking, such as the cinematographer, the editor and the first assistant director. I specialised in scriptwriting and directing.
"I wrote the screenplay of my film and directed it. The film is about a game that only deaf people play.
"It's a great and joyful game, all the deaf like and play it – I learned it from my deaf friends. I conceptualised a film on this because it was a real-life experience for me.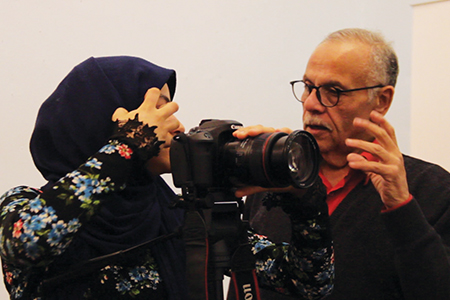 "Whenever I saw a normal person watching us play that game, they always had many questions and didn't understand how it's played or why we enjoy it.
"So I wanted to put the skills I learned at the workshop into use by making a film to convey to people who can hear that being deaf doesn't imply being disabled.
"One day I aspire to be a professional filmmaker and hope to teach the art of movie-making to youngsters."
While aiming to inspire and empower more young minds like Ahmed and Belal, Laqany says the Lab will also be supporting the deaf in a bigger way.
"Deaf Film Lab is planning to have a permanent training centre fully equipped with training equipment and data visualisation tools, and a number of deaf trainees in previous rounds will become trainers in the next round.
"They will also take part in the coordination of the training and production projects.
"We also plan to implement a more advanced training for attendees who have already specialised in the first workshop in film directing, editing, screenplay or cinematography.
"We plan to widen the scope of Deaf Film Lab not only in Egypt, but to include the rest of the Arab region.
"In addition, we aim to create the first feature-length film that is produced 100% by deaf people behind and in front of the camera, starting from the ideation right through to writing, directing, editing and post-production.
"This way, we hope to integrate more deaf filmmakers into the Arab filmmaking market," Laqany notes.