Senior executives look at whether the entry of more pay TV operators will make the FTA proposition less lucrative for the stakeholders Imagine you were the CEO of a free-to-air television network in the Middle East, working on your strategic plans. What would your outlook be? Is the sector on the path to recovery? Will […]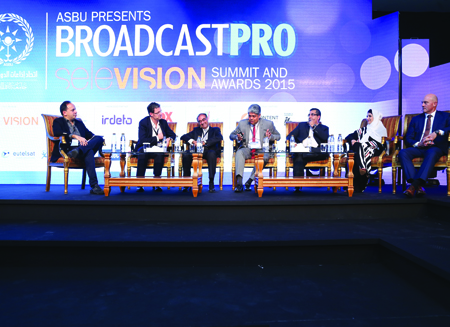 Senior executives look at whether the entry of more pay TV operators will make the FTA proposition less lucrative for the stakeholders
Imagine you were the CEO of a free-to-air television network in the Middle East, working on your strategic plans. What would your outlook be? Is the sector on the path to recovery? Will there ever be enough advertising revenue to sustain an industry, or is the answer to switch to the subscription revenues of pay-TV?
That was the debate tackled by the CEO panel at the BroadcastPro Summit recently. The pro-FTA side was represented by:
• Mukund Cairae, CEO of Zee Network Middle East, a group that runs a commercially successful FTA business in addition to licensing pay-TV channels
• Carl Von Doussa, GM of Channels at Imagenation Abu Dhabi, which is about to launch the newest FTA channel in partnership with Discovery
• Sarah Al Jarman, General Manager – Dubai One at Dubai Media Inc, a stalwart of the FTA industry
On the other side, the proponents of the pay-TV movement were:
• Hamad Malik, Head of Marketing at beIN, a premier sports pay-TV network that has just launched its entertainment offering
• Sanjay Raina, GM of Fox International Channels in MENA, who took the decision to switch his Fox Movies and Fox channels from FTA to the newly launched beIN Entertainment network from November 1
• To provide a perspective on the piracy threat to pay-TV revenues, the panel included Mark Mulready, Senior Director – Cyber Services & Investigations, Irdeto.
Von Doussa kicked off the session with his assertion that pay-TV penetration in the Middle East will simply not reach significant levels and that FTA remains the only efficient means of reaching a large audience in the near future. The best way to rise above the cluttered FTA space is to create content that is relevant to the region's audience.
Al Jarman added that networks that are backed by governments, such as DMI, do not only consider commercial comparisons between FTA and pay-TV. While they are open to considering subscription-based channels on a case-by-case basis, the need to reach a large audience remained an important factor in support of FTA distribution.
Cairae gave a spirited defence of FTA by highlighting how Zee has managed to carve out a profitable niche for itself even when faced with direct competition from MBC in the Bollywood space. While Zee operates both FTA and pay-
TV channels in the region, it has no intention of abandoning the FTA arena.
This wholehearted support of FTA was vigorously countered by Raina, who made a bold prediction that the coming 12 months will see many more FTA channels abandon the sector and switch to pay-TV by joining the beIN entertainment network. While Fox maintained an FTA partnership with Abu Dhabi Media through the National Geographic Abu Dhabi channel, its decision to switch Fox Movies and Fox to the pay-TV bouquet of beIN was not taken lightly. For Raina, the over-arching dominance of the FTA space by one large media group made it extremely difficult, if not impossible, to generate a profit. He added that the situation was exacerbated by the lack of widespread measurement systems in the region, making it harder to oust the incumbent.
Naturally, it was expected that beIN's Malik would clearly support the move to a pay-TV model. beIN is aiming to acquire 10m subscribers over the coming years. However, his assertion that FTA channels were knocking on beIN's door to the extent that they had to convince beIN why it should add them to its network instead of the other way round was certainly confident. If that is true, the statement is an eye-opener when it comes to the state of mind of FTA channels in the region.
While each side had a clear vision for why they were in FTA or pay-TV, Mulready from Irdeto highlighted some of the piracy challenges facing pay-TV through a revealing quiz. He showed the attendees several screen shots of websites and asked them to guess which were pirate and which were legitimate. Needless to say, most of the room couldn't guess all five correctly. He also showed how easily and cheaply one could obtain pirate decoders in the wholesale Chinese market. In conclusion, while legal enforcement and technology are essential, piracy can only be defeated by offering consumers choice and value.