Indian production house Rajshri Entertainment plans to set up a subsidiary in the UAE to repurpose content in Arabic for YouTube. BroadcastPro ME caught up with the head of the company's digital division, Rajjat Barjatya and Ossama Yusuf of Diwan Videos, the MCN for the company, to find out more Mumbai-headquartered Rajshri Entertainment Private Limited, […]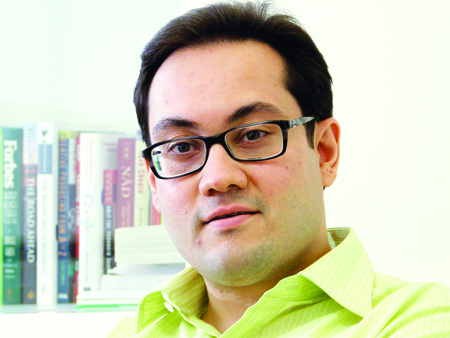 Indian production house Rajshri Entertainment plans to set up a subsidiary in the UAE to repurpose content in Arabic for YouTube. BroadcastPro ME caught up with the head of the company's digital division, Rajjat Barjatya and Ossama Yusuf of Diwan Videos, the MCN for the company, to find out more
Mumbai-headquartered Rajshri Entertainment Private Limited, the digital arm of the 68-year-old Rajshri Group, will be exhibiting at CABSAT this year. With a rich legacy of production and distribution of films, TV shows, music, e-news, lifestyle and kids' content, the company has been among the top film production houses in India. Rajshri entered the digital domain in 2006, when there was no digital content in India. The company has been growing its assets ever since.
Over the past 10 years, the company has evolved into one of the largest multi-platform networks for digital content in Asia and manages a robust digital content library with more than 20,000 hours of content. With close to 50 owned and operated channels on YouTube, Rajshri Entertainment comes to the UAE with a plan to repurpose its content library to offer content in Arabic to viewers across the MENA.
At the helm of the digital division is Rajjat A Barjatya, MD & CEO, Rajshri Entertainment Private Limited. Barjatya says that having established a firm base in India and having a significant presence amongst the domestic and diaspora Indian audience, the company is now planning to expand its footprint in territories outside of India in order to tap a local audience.
"We experimented by repurposing our food content for a Japanese audience. That encouraged us to look at more local markets. We see huge potential in the Middle East for content that is made in India. Indian and Arabic cultures are very similar and our ties go back centuries. Bollywood is also very popular here, so I see a huge opportunity for our content offerings here," he says.
Rajshri Entertainment produces 120-150 minutes of content in-house every day for digital platforms, mainly in English, Hindi and Marathi predominantly for an Indian audience, domestic as well as diaspora.
"Digital is the future of entertainment and as Rajshri, we span the entire gamut of entertainment. We are one of India's most successful entertainment companies since 1947. We have built a huge library of digital content, across genres and languages, including Indian films and short-form content like music videos, food shows, kids' shows, yoga/wellness shows, Bollywood news and gossip shows. We distribute this content extensively across 100+ digital video platforms worldwide. We have over 6.5 billion views on YouTube alone," Barjatya says.
The digital content production house plans to start with cookery shows, which will be dubbed into Arabic and distributed across YouTube and other digital and TV platforms in the MENA region.
"We are launching an Arabic-language food channel on YouTube for Indian food. It's called Almutbakh Al Hind [Recipes from India]. Multichannel network Diwan Videos will manage the channel for us. Making Arabic versions of popular Indian songs owned by Rajshri with local artists is the next step. We are also dubbing and localising other content we own. Eventually, we want to produce local language content with local talent for audiences and are setting up operations in the region for this purpose," says Barjatya.
There are three phases in the growth of the digital business, notes Barjatya.
"The first one is to create content for a market we understand, then repurpose existing content in new languages for new markets and finally, produce local content in the new territory with local talent."
The next phase will be to localise content, set up a base in the UAE and produce local language content with local talent for the local market.
"After food and lifestyle, we will move on to kids' content, kids' stories, folk tales from India, which will be dubbed in Arabic at a later stage and hosted on YouTube because we see a definitive demand for this kind of content in the region. Arabic versions of popular Indian songs performed by local artists is another area in which we see tremendous potential."
Rajshri Entertainment is looking to set up a subsidiary in the UAE in the next six months.
According to Diwan CEO Ossama Yusuf, the partnership has been brewing for the past year, since MIPTV in Cannes.
"We will provide them with full YouTube channel management covering content uploading, channel optimisation, audience engagement and audience growth and content protection," he says.
Also included will be social media consultation to help promote content discoverability and drive traffic to YouTube.
"Monetisation will be an important aspect of this. The more views we can secure, the more revenue we will generate from YouTube. We will also approach brands for potential sponsorship for the channel," explains Yusuf.
"We saw huge potential in repurposing Indian content for Arab viewers when I met Rajshri last year at MIPTV. It took some time to finalise the agreement and develop Arabic localised content. For Diwan, this will be the second project with localised Indian content after Zee Alwan channel. We are keen on reinforcing the fact that MENA is a great market for Indian and Turkish content. So building a success story with Rajshri will help Diwan scale this line up."
Diwan Videos generated 600m views in January alone, making it the 33rd most viewed MCN globally. The MCN now plans to do collaborative production between Rajshri and Basmaty, a cooking platform producing original Arabic cooking content. Yusuf says the idea is to create a global cooking platform as a joint venture project involving Diwan, Rajshri and Basmaty.