Abu Dhabi Media has deployed a business continuity playout site, with full premium channel functionality, in partnership with Imagine Communications.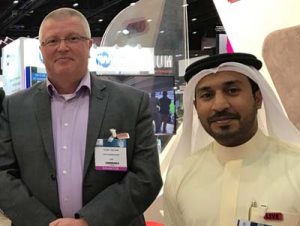 Abu Dhabi Media (ADM) has deployed a business continuity playout site, with full premium channel functionality, in partnership with Imagine Communications. The disaster recovery solution uses Imagine Communications' playout, automation and other software products, and runs on du's Media Cloud platform. The business continuity service was launched in October 2016 and was the result of an extended proof of concept phase, during which ADM continually challenged the two service providers to expand the functional scope of the project. The result was a cloud-native, secure facility that provides all of the functionality of ADM's primary, premises-based operations.
In addition to providing ADM with a cost-efficient and fully functional DR facility, the cloud-based deployment has prompted the media company to revitalise its premises-based playout operations to match the performance and flexibility of the new cloud-based facilities.
The current workflow is distributed across the two facilities. Schedules and schedule updates issued by Imagine Communications' Broadcast Master traffic system are communicated both to the existing ADC automation platform in Abu Dhabi and to the Versio playout software operating in du's datacentre in Dubai. Scheduled content that is not cached in the cloud is then called for by Versio, which prioritises its uploads to ensure it meets immediate needs and to provide complete security.
Based on the performance of the core cloud-based playout and media asset management functionality provided by Versio and Imagine's Nexio Motion MAM solution, respectively, ADM requested further functionality to mirror the complete capabilities of its premises-based operations. In particular, it needed the remote site to be capable of showing live programmes, including news. The addition of the SelenioFlex Live encoder on the live feeds allowed the content to be streamed into the Versio engine, helping to ensure seamless playout of all content.
ADM worked with Imagine and du to fortify the remote facilities with graphics capabilities fully compatible with ADM's traditional facilities through the installation of Imagine Communications' ChannelBrand software. Now, all graphics templates generated over the past nine years can be called and populated by the schedule seamlessly.
"Our strategy is to move towards an all-IP infrastructure in due course, and this proof of concept of full IP playout channels running on a datacentre miles away is an important step for our broadcast industry in the region," said Hamad Abdelrazaq, Director of Technology, Live Media Production Services at ADM.
"Imagine Communications showed that they could do it today, and our proof-of-concept installation is now part of our long-term vision. Working with Imagine Communications, we have created a cloud-native business continuity site, which precisely mirrors the functionality of our traditional playout, and we have transmitted from it," added Peter Van Dam, Technical Advisor, LIVE Media Production Services at ADM.
"Great cooperation between us, Imagine Communications and du has achieved something we thought, at first, was too ambitious. But more than giving us the perfect business continuity solution, we now have a template going forward. We have seen that a software-defined architecture provides not only the functionality but the performance that premium broadcast channels demand. What we have implemented on du's media cloud we will implement on-premises as our next-generation playout facility, giving us the flexibility and agility to respond to growing demands of our channels, our clients and our audiences."
ADM and Imagine Communications have now entered into a service level agreement to upgrade the existing facility to the new virtualised platform, running on HPE severs and systems, a preliminary step toward all-IP operations. ADM will work with Imagine to migrate the entire operation – currently supporting 14 channels – over the coming years.
Anas Hantash, who recently took over as Director of Sales MENA, Imagine Communications added: "It's fair to say that both ADM and du were looking to Imagine to demonstrate that we could make premium broadcast playout and multiplatform delivery work in the cloud. That we are now seen as a major partner by du is a testament to the success of this project."