Dubai is committed to attracting industry talent both in terms of companies and individually, commented Majed Al Suwaidi at its keynote speech at CABSAT 2022.
The broadcast industry focused on the ongoing issues surrounding consumer mindset shifts in content consumption as content producers came together on the opening day of CABSAT 2022, the Middle East and Africa's most competitive event for the satellite, broadcast, and filmed content industries.
CABSAT'S Content Congress opened with a keynote speech from Majed Al Suwaidi, Managing Director of Dubai Media City, Dubai Studio City, and Dubai Production City. Al Suwaidi identified the growing number of entrepreneurs and Dubai's shift to attracting talent, as well as corporations as a driver of the media industry.
"We are fostering the right landscape and ecosystem for entrepreneurs to thrive," he said. "Over the past year, we have seen an influx of business as they invest here and see the potential of government reforms to support the media sector. CABSAT has become a platform of potential, especially this year as it offers numerous opportunities with our focus changing to attract not only companies but also pioneering individuals.
"Our commitment going forward is entrepreneurship-focused, and at TECOM Group, we take it very seriously. We invest heavily in creating the right infrastructure through our In5 arm, which recently saw the introduction of a new dedicated space to accommodate angel investors, venture capitalists, and institutional investors at the heart of in5 Tech Centre in Dubai Internet City."
A panel discussion attracted leaders from regional and international broadcasters to discuss how content reaches consumers and the intricate decision-making processes made to ensure consumers are happy and businesses stay profitable when the traditional and digital fight for the spotlight.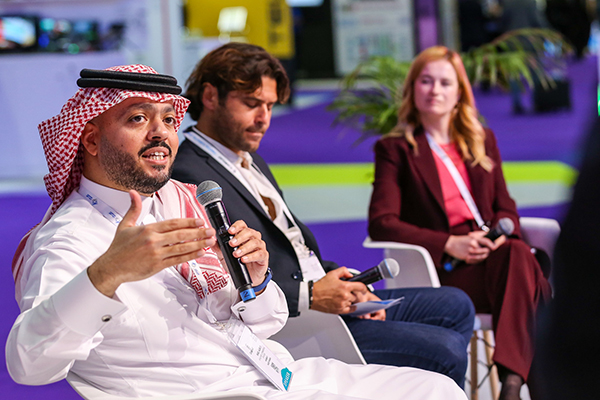 Wael Mohammed Al Buti, VP & Chief Commercial Officer, Arabsat stated that focus on localisation and quality is key to consumer satisfaction on the back of continued satellite adoption. "We have been operating since the 1980s and have become the leading satellite service provider in the Arab world," he said. "Usually, at Arabsat, we don't look at quantity, but rather the quality and how we can better serve a specific market. Off the back of new channel launches in Lebanon and Jordan, a recent MENA satellite penetration study we conducted revealed that satellite has a 97% market share in this region. We have seen an increase in the number of HD receivers being used."
Also speaking on the panel was Yuliya Fischer, Director at ZDF Studios GmbH, one of the largest broadcasters in Europe. "Our content is predominantly German, but we are looking at co-production opportunities here in the Middle East," said Fischer, who oversees acquisition and sales in Asia, Middle East and Africa. "We produced The Killing, The Bridge etc, which really educated us on what binge-watching is – this was before Netflix and Disney+. There is an appetite for content not only from Hollywood and consumer burnout is becoming a thing. If the quality of content is great, there will be people that want to watch it."
CABSAT 2022, which is running from May 17-19 from 11am to 5pm daily, is taking place in Sheikh Rashid Halls 5-8 at Dubai World Trade Centre.