For over 17 years, Sam Barnett has patiently mastered the nuts and bolts of MBC Group, connecting its various limbs and leading it towards profitable new ventures and widened TV offerings.
The TV conglomerate that dominates the media scene in the Middle East is MBC Group, out-performing its competitors by several light-years.
Based in Dubai, from where it manages at least 17 leading TV channels, including Arabic streaming platform Shahid, MBC Group is a major player in production, distribution, viewership, reach and advertising, with influence over the lives of millions of viewers.
In the cafeteria of MBC Group in Dubai, every weekday at 12 noon sharp – watches can be set to this – a tall man enters the cafeteria modestly and discreetly, without a briefcase or paperwork. Just an ordinary man looking for an empty seat in a crowded place. Let's call him the tallest man at MBC.
He sits wherever he finds a free chair among energetic, noisy, hungry people who are always rushing to finish their meals and get back to their demanding jobs. He sits with editors, accountants, writers, directors, producers, secretarial staff – no big deal for him or them. Many new faces chat briefly and candidly with this amiable, friendly and polite Englishman, who asks them about their jobs – what they like and don't like – without revealing much of what he does. He mainly listens.
The tall man could easily order a meal to his office, but he goes daily to the cafeteria because he likes people to have direct access to him.
The tall man is Sam Barnett, CEO of MBC Group.
Being tall is not the only thing that distinguishes him. He also enjoys the trust, support and love of 2,800 MBC employees. He fully understands Arabic and speaks it his way, making the language part of his daily routine.
Sam also has access to the thinking patterns of Group Chairman Sheikh Walid Al Ibrahim. Sam has proved himself most capable of translating Sheikh Walid's ideas into policies, procedures, standards, processes and professional energy – everything required to run the Group smoothly.
Under Sam's guidance, MBC Group has held no secrets. Every month, he sends a group email that explains the highlights of the successes, challenges and shortcomings facing the Group, making everyone feel – through a unifying transparency and clarity – part of the success stories or upcoming challenges.
There are plenty of senior executives. What is rare is a leader who is capable of growing and progressing within a highly aggressive and competitive environment, and able at the same time to unify the Group top to bottom, vertically and horizontally, like a well-performing orchestra.
It may be easy to look at numbers and make them green. It is much more difficult to base the emotional system of a business on a spirit that reaches every office and every hallway, allowing growth to blossom.
It may be easy to get rid of a red line here or there with a stroke of a pen. It is much more difficult to build a firing growth engine while maintaining security and balance within the rank and file.
As you walk from the ground floor of MBC to the fifth, you see TV screens on the walls airing updated information about the company's various projects and the figures and results they are achieving. Everyone knows what they're doing 24 hours a day, and they realise the full economic impact on everyone else.
For over 17 years, Sam Barnett has patiently mastered the nuts and bolts of MBC Group, connecting its various limbs and leading it towards profitable new ventures and widened TV offerings. He is the fiercest believer in Sheikh Walid Al Ibrahim's vision of focusing aggressively on the Saudi market.
MBC Group is not merely a commercial operation. Like the US media institutions whose contributions have defined and cemented American identity, MBC Group's ambition is to play a leading role – through long-lasting investment in media – in the radical transformation of KSA under the leadership of Crown Prince Mohammad Bin Salman.
MBC Group, under Sam Barnett, is heading to compete directly against Netflix in the region. It aims to build a drama and cinema entertainment industry through MBC Studios, with MBC Academy tirelessly scouting for Saudi talent in all aspects of the audiovisual industries.
Sheikh Walid has provided strategic leadership, but Sam Barnett has transformed that doctrine into clear models and processes followed by thousands of employees. Yes, there will be challenges along the way. But Barnett has taught everyone how challenges can be reasons for progress and prosperity.
MBC Group is not merely an entertainment network. It is the story and strategy of leadership, advancement and influence.
Barnett wanted to prove to colleagues that anyone can achieve their personal goals. On the morning of November 17, 2017, after two years of hard and steady training, he swam continuously for nine hours and 54 minutes, covering 23 kilometres stretching around the Dubai World Islands project. He broke the world record by over an hour. That's the spirit that leads MBC.
So don't be surprised if you visit MBC someday and meet a tall Englishman with a friendly smile in the lift. That man will be Sam Barnett.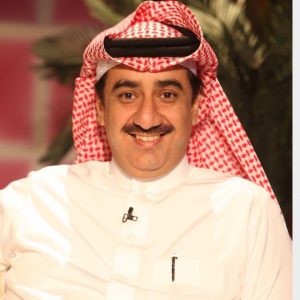 Hassan Assiri is the founder of AlSadaf for Sonic & Visual Production Limited, the largest production house in KSA, which has created several flagship TV series and characters.