Veteran DaVinci Resolve user Nina Sargsyan recently had the opportunity to test the just-launched version 18. She shares her experience with BroadcastPro ME.
I have been using DaVinci Resolve from Blackmagic Design for the last few years, and every time I try a new version, I come back with a feeling of satisfaction that Blackmagic has listened to user feedback and delivered – but does the newest iteration continue to meet that standard? Let's find out.
There are some new upgrades within DaVinci Resolve 18 that surely elevate the software to a new level, making the workflow for editors, colourists and even audio engineers smooth and seamless. It has quite a few enhancements and upgrades to already existing features; overall, there is a performance upgrade, making the software run smoother with GPUs. The overall GPU acceleration allows brush strokes to be updated in real time, giving users speed in their workflow. Depending on your personal set-up, there is a smoother output in playback and overall software performance.
The one notable change is the renaming of Database. As DaVinci Resolve users know, when you open up the software, you have your Databases available to you. Blackmagic has renamed this Libraries, a more accurate description – a small change but a welcome one.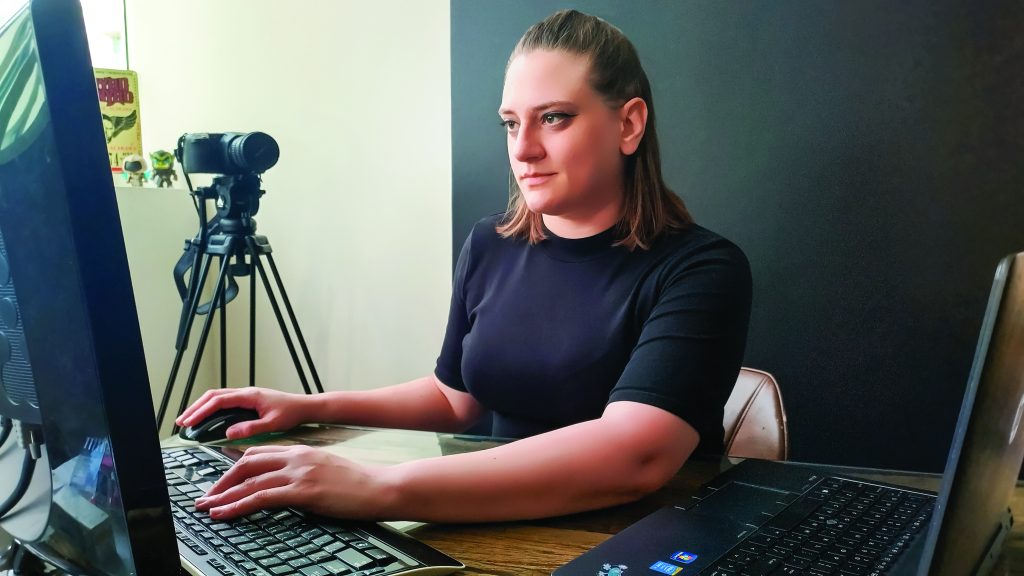 Blackmagic Cloud
Along with the new enhancements, this release also comes with a powerful new feature: Blackmagic Cloud. This new collaboration tool is a major game changer. In the new world of remote and hybrid working, it makes it super seamless and easy for people from all over the world to work together.
What's so great is that this feature is free to sign up for, which means no subscription fees. Users create Project Libraries on the cloud, which can then be shared with others. There is so far no limit to the number of users that can join and work on a project.
To share a Project Library, there is a fee of $5 per library per month, but this is a one-time payment per library. So, for example, I make a library and share it with a teammate working in the UK. They pay $5 and download that project, and once we are both done with it, we close down that library so there's no further fee to pay. It is important to note that there is no media within the cloud server, so users working together remotely on projects must have the media present within that project on all sides.
The collaboration goes one step further by allowing users to see who is on the project and what page they are on. The only lock on the timeline in collaboration mode is the Edit page; this is quite handy, as it prevents changes from happening to the other shared timelines, eliminating the risk of unwanted changes. But what is great is the fact that in one project I can be colour grading, while my teammate in the UK works on adding effects within the Fusion page, saving us both time through not having to do things individually. The chat feature makes fast communication easy, and when a change is made to a project, a small Refresh icon appears next to the collaborator's name. I can then refresh, see the changes made and move on.
All in all, this new collaboration tool makes working within the software and projects so much faster. Add the free sign-up and the nominal fee of $5 per Project Library, and Blackmagic seems to have hit the nail on the head with this one.
Finer details
Some of the finer details added to the Edit page, Colour page and Audio page have made the software and projects smoother and easier. To start with, the Edit page includes a huge upgrade to the Multicam feature. Previously, users had a limit of nine angles. As an editor for so many years, I know the ability to view multiple angles at once is very important, especially in complex projects. In this release, users have the ability to view 25 angles, making editing any complex multi-cam project smoother.
The addition of Power Bin is also a major life saver. I have always used the Power Grade tool on the Colour page, but now the Power Bin on the Edit page makes editing across multiple projects a breeze. It works just like any other bin on the page, except that I have access to whatever I put in the Power Bin on every other project of mine.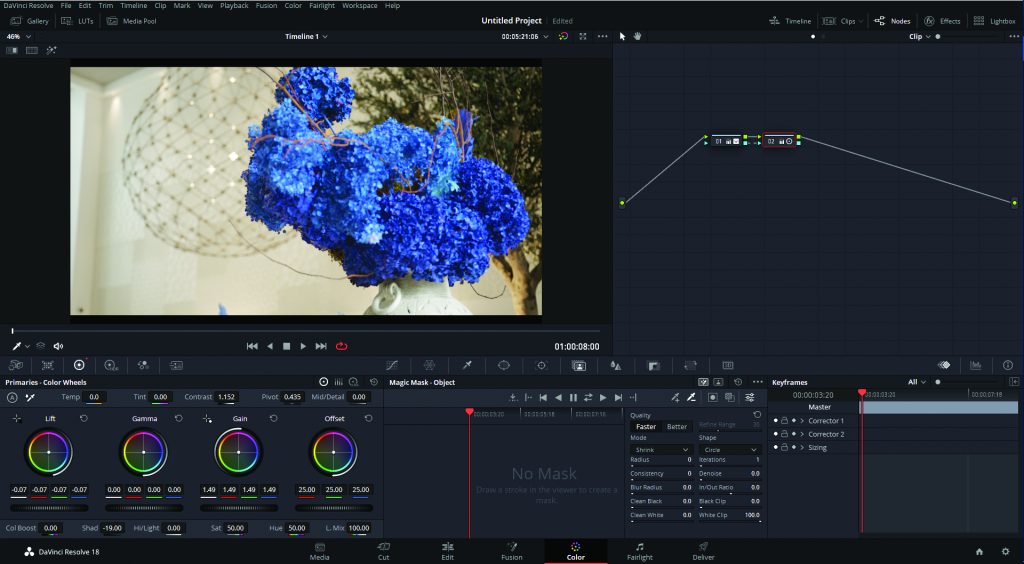 For example, I have a text layer that I have animated with fade in and fade out, and I like my text size, settings, etc. I then want to use the layer in another project, but don't want to go through the hassle of replicating everything. I simply put that text layer into my Power Bin, open up the other project – and voila, there it is. Now I simply drag and drop it onto my timeline and move on.
When I edit in Adobe Premiere Pro, I typically have to keep juggling between projects to get certain settings. This ends up eating into a lot of time. For someone like me who edits a lot of interviews, the Power Bin is perfect, as I don't have to keep going back and forth when I want to add names, etc to my timelines. I just drag and drop, saving a lot of time.
The Colour page has also gotten a few enhancements worth taking note of, especially when it comes to masking. One of the major updates takes advantage of the Neural Network introduced way back in version 16 of DaVinci Resolve. The new Object Mask in the Magic Mask panel is a game changer. This little tool gives users the ability to select an individual object using the selector tool; the AI engine then calculates the similar-looking area and makes sure the selection is accurate. After that, you can use the handy forward/backward tracking button, then adjust the colours via your node tree – nothing else within the scene will be affected. This gives users the ability to be creative in so many ways and create interesting looks.
In a recent project, this came in handy. I wanted to make the colours of flowers pop out. Typically, I would select the Hue curve tool and enhance the colours within the flowers; however, this time I wanted to make sure nothing else in the background with slight blue in it would be affected. I simply used the Object Mask, selected the flower area, and was done. I was able to cleanly colour and enhance only the blue flowers.
Another addition, the Depth Map, is a crucial tool we didn't know we needed until it emerged. Taking full advantage of the neural network AI, it analyses the scene in 3D and creates a depth map showing the background, middle and foreground in the form of a greyscale map – the foreground will be bright white, the middle will be off-white, almost grey, and the background will be dark grey and black. If I want to colour grade something more intensely in the foreground, for example the sand in a beach scene, I apply the Depth Map, wait for it to be generated, then colour that foreground sand more intensely.
As you can see in the example, the beach sand is very saturated, and you can see that reflected in the depth map. Additionally, if I want to make the horizon more blurred, I can then choose to affect only the middle portion of the map, add a blur effect – and done. I have manipulated the scene with a few small steps.
This is a very powerful tool, as it gives users the ability to be more deliberate about their colour grading and saves quite a bit of time from no longer having to apply a window mask to that section, then grade it. The only caveat is that Depth Map is slightly more processor-intensive.
Surface Tracker brings a new world of possibility to the Colour page. Users can now easily add logos or graphics, and even cover up certain elements of a frame. The tracker works by analysing the depth within the scene, then creating a mesh with multiple tracker points. Using those, you can easily attach a logo to the side of a moving car, for example. This is a handy feature to have on the Colour page, as it saves you from switching to the Fusion page, or using other software applications such as Adobe After Effects to manually add a logo.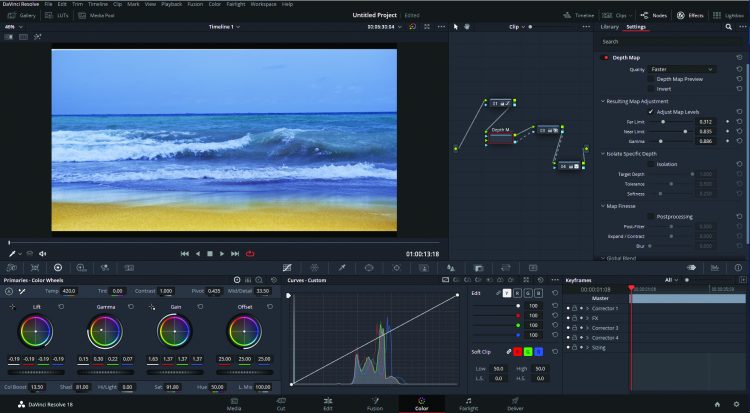 There are other small enhancements; for example, the Beauty effect now has an added Ultra Beauty option giving colourists more control over detail recovery, texture recovery and the strength of the beauty filter, with more room to finesse the effect. Previously, I had issues where sometimes the models within my scenes looked far too pasty and I kept having to adjust back and forth to find the right balance. Now, however, it's easier for me to adjust the smaller details, creating a smoother finish to my look and grade.
Despill is another great addition. This tool makes cleaning up images faster and easier; working on the RGB colour scale, users can now remove any colour spill. When keying green/blue screens, the Keying panel prevously offered a despill section, but it wasn't always that handy. With this tool, cleaning up the spillover of any colour is now super easy.
Another cool new feature is Fast Noise, a handy effect giving users the ability to create fractal noise effects, adding noise to a scene and even mimicking the movement of waves and heatwaves. Simply add the effect to your desired node and adjust the settings as required.
Every editor knows that audio can make or break an edit. Adding effects, music and even vocals is an essential part of bringing any scene to life. When working on multiple timelines, you come across some effects that can be used in multiple edits. Typically, we copy-and-paste them between timelines, or even re-add them into timelines and rework everything and the settings.
Now, however, Blackmagic has given us the ability to drag one audio timeline into another; this comes into your timeline as a precomposed file. When you decompose the file, all those effects are in your current timeline, with all its settings and placements. This is especially handy when working on projects that require similar audio; instead of getting lost in the world of copying, pasting and re-adding, just easily add in the timeline and continue with your work.
Overall, I think Blackmagic has really thought about how its users – colourists, editors, audio engineers or even VFX artists – perceive their workflows. Using that knowledge and insight, it has upgraded the software to make a tool that is truly all-in-one and a major contender in the world of production.