A high-performance infrastructure can address many of the challenges of a multi-entity, digital media production and distribution system to deliver competitive advantage, says Yarob Sakhnini Increasingly, consumers in the Middle East are accessing entertainment and news 'on-demand' via mobile devices. Less complex, and with lower cost entry points, this growing demand has put mobility at […]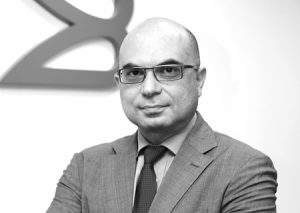 A high-performance infrastructure can address many of the challenges of a multi-entity, digital media production and distribution system to deliver competitive advantage, says Yarob Sakhnini
Increasingly, consumers in the Middle East are accessing entertainment and news 'on-demand' via mobile devices. Less complex, and with lower cost entry points, this growing demand has put mobility at the heart of Internet subscription service expansion. Consequently, mobile data consumption is growing rapidly.
'Content' becomes a valuable resource to leverage, not just for advertising, but also to underpin e-commerce. Connecting content with synergistic products or services, and capturing data, enables behavioural intelligence and more precise targeting.
Big opportunity, Big Challenge, 'Big Data'
Patterns or trends from mining and analysing 'Big Data' are critical for regional operators, agencies, broadcasters and content producers. Inevitably, the insight extraction must be generated at high speed. This is particularly true during campaign pilots or short-term window transactional activity.
However the growing volume of production and 'Big Data' content runs counter to the need for shorter 'time-to broadcast', and the desire for higher financial returns on digital assets in an aggressively competitive market.
For some, there is the need to radically reform production and distribution processes, using a different combination of in-house and contracted resources. This transformation involves a new level of 'Big Data' collaboration – particularly for video – across the entire value chain. This chain may be spread over several continents as the pace accelerates from digital asset production to distribution, broadcast, archive and playback.
This step-change poses a significant challenge at all stages in terms of video data management, storage and availability. It requires a move towards much more integrated, secure, multi-entry collaboration.
Traditional on-site IT systems tend to be silo-oriented towards one company or a few suppliers. They are unable to meet the capacity, resiliency, flexibility and speed necessary to support multi-entry collaboration, or a fast growing mobile consumer base. A high performance infrastructure is critical to support and deliver content, development and delivery on-demand, that can reliably scale to meet the 'Big Data' production and distribution demands.
To ensure the data is successfully captured, the infrastructure distributing mobile video and entertainment or news must be sufficiently agile, and scalable, in response to a widely variable workload. The capacity of the network to automatically reconfigure according to demand adds substantial value and reduces operating cost.
Content Creation
In terms of content creation, video is the fastest growing premium advertising format. This poses a significant challenge for many traditional publishers. At the broadcast end of the market, Over-The-Top (OTT) pay television is a proposition that many broadcasters have decided is business critical. Most major players are building a range of news or entertainment offerings to compete with the emerging Internet Video Providers (IVP), or established operators, to expand into OTT with aggregated programming.
The video production process is becoming highly integrated to accelerate output, reduce cost and improve the quality and timeliness of news and entertainment. The video production 'Big Data' files depend upon an infrastructure that is enabled for efficient sharing and handling across a workflow process. For example, this may include remote production staff working on the same production stage, in content developing and editing.
Market Growth, Market Share
OTT video is strategically important for engaging mobile consumers who are using a diverse range of multiple mobile devices to download and view content. If successfully promoted alongside a flexible pricing model, OTT will enlarge the total market size as the entry requirements from a device perspective can be considerably simplified and mobility provides anytime viewing. Estimates vary, but suggest 30% customer growth might be achieved based upon this simplified IPTV model.
The investment required will inevitably rise significantly, putting further pressure on the cost of production and distribution. Social media as a source of content will provide some compensation, including personal video. It will also be a basis for channelling consumer response, engagement and 'word of mouth' promotion and distribution.
The multiple pricing options that aim to reduce consumers' entry costs to online entertainment, and expand the market, put pressure on capital budgets. Enabling and supporting this changing environment is dependent on a combination of cloud services and flexible, on-site, high performance technology.
Advertising opportunity
Digital video traffic is estimated to increase by six times more than current rates within the next three years – largely from mobile devices – with a similar increase in advertising spend.
The agency motivation is clear, as the value of digital advertising has increased significantly as part of the total client media expenditure. But more importantly for the agencies, their share of client spending has also risen at a rapid pace.
This profitable, fast-growing segment will continue to drive growth and profit through mobile video. Most major agencies anticipate their digital services will outperform traditional media services within three years.
New services that offer a digital marketing technology platform offer opportunities for revenue growth. In addition to content creation, behavioural intelligence from 'Big Data' analytics, social media and digital media management, these services may extend into e-commerce, or omni-channel integration.
Strategically, agency technology platform development can lead to new alliances with high performance technology vendors experienced in the digital media market. This enables agencies to extend their capabilities to improve production processes and client collaboration.
Asset and IP Protection Piracy continues to prevail, but the strategy to deal with it is changing – from asset protection, which is still important – to lowering the cost of consumer access.
This reflects the significant growth in consumer use of the internet. The convenience and fee-based access to multiple productions will, it is hoped, outweigh the cost, quality compromise and complexity of piracy. Solutions that provide native security and encryption capabilities, from the edge to the core, and from a client to the server, must be a vital part of any infrastructure overhaul.
The continuing growth in 'Big Data' across the media asset value-chain requires an underlying network infrastructure that will scale quickly. It must also be adaptable at short notice to different workloads, without disrupting production or distribution performance. Legacy networks must give way to 'the new IP' and Ethernet fabric network architecture.This can be efficiently supported by network virtualisation, and cloud 'on-demand' services, to deliver information in 'up-to' real-time whenever it is required.
The fundamental business value of a high performance network is based upon reducing both media asset risk and cost. This is achieved by increasing the value-chain workflow efficiency across multiple locations, using an integrated architecture, and a scalable combination of on-site and cloud service delivery.
Yarob Sakhnini is Regional Director, MEMA at Brocade.