Chris Bradshaw, SVP, Media & Entertainment, Chief Marketing Officer, Autodesk talks to BroadcastPro ME about how filmmakers are increasingly amalgamating storytelling, artistry and technology Visual effects have come a long way. 18 years ago, Forrest Gump, came about as a groundbreaking movie with computer-generated imagery (CGI) that made it possible to present the fully-limbed Gary […]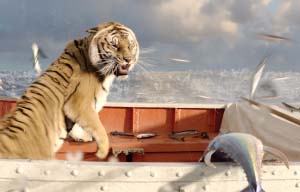 Chris Bradshaw, SVP, Media & Entertainment, Chief Marketing Officer, Autodesk talks to BroadcastPro ME about how filmmakers are increasingly amalgamating storytelling, artistry and technology
Visual effects have come a long way. 18 years ago, Forrest Gump, came about as a groundbreaking movie with computer-generated imagery (CGI) that made it possible to present the fully-limbed Gary Sinise as an amputee. At the time, visual effects were just a fraction of the movie, comprising up to 20 minutes of the entire film. Today, entire movies can be conceived and created digitally. The much acclaimed Life of Pi, winner of this year's Visual Effects Academy Award, has used some sort of visual effects in every scene. The common element that runs through both these films is the extensive use of Autodesk technology to create visual imagery that looks as good as real.
This year's Academy Award nominations for best visual effects and all five nominees for best animation, including Life Of Pi, The Avengers, Argo and Brave, used visual imagery extensively. Autodesk Maya and other software tools were used to create everything from animation to rendering, modelling and visual effects.
"The five nominated movies contained a total of 7,754 visual effects shots and brought together 30 visual effects studios (many of who worked on multiple films) in more than 10 countries.
"Maya was used to help create at least 13 films nominated for Academy Awards in this year's ceremony," informs Chris Bradshaw, SVP, Media & Entertainment, Chief Marketing Officer, Autodesk.
The technology has evolved from stop-motion, claymation and animatronics to greenscreens, CGI and animation, full 3D environments, motion capture and stereoscopy. The coming years will see truly realistic digital actors with accurate facial animation and hair. Virtual production techniques will improve and become more pervasive.
Technological innovation is enabling artists to focus less on technical obstacles and more on telling stories.
"For digital imagery there's no looking back as digital artists continue to challenge reality, making it increasingly difficult for audiences to distinguish between what is computer generated and what is real. In future, more VFX production pipelines will be distributed globally and will operate 24/7, helping to grow the talent pool of artists around the world," adds Bradshaw.
One of the most exciting examples of visual effects is Life of Pi, a film that pushed technology barriers to create very realistic visual imagery .
The making of Life of Pi
The film adaptation of Yann Martel's novel Life of Pi required the visual effects and design work of hundreds of artists.
"The tiger that primarily appears in the film is a digital creation from the effects house Rhythm & Hues (R&H). Artists developed each layer of the animal's physical make-up, starting with the skeleton which they used to control basic movements then adding the muscle, skin and fur," explains Bradshaw.
Rhythm & Hues, an international animation and visual effects studio, used Autodesk software including Maya and Mudbox as part of its global pipeline to help deliver 446 stereoscopic 3D visual effects shots for the film. The visual effects work included the film's computer-generated Bengal tiger, a breaching whale amongst dozens of ocean creatures and more than 110 sky environments.
The production team relied on a global pipeline consisting of Maya for modelling and matte painting, Mudbox for displacement maps and texture painting, and Naiad fluid simulation technology for water simulations, as well as several proprietary animation, compositing, rendering, fur and grooming tools.
During production, Rhythm & Hues collaborated with post production house MPC to ensure that the computer-generated tiger would interact realistically with ocean environments developed by MPC. Using Maya as an intermediary to trade assets, Rhythm & Hues was able to quickly and easily convert their proprietary assets to Maya and share them with MPC.
Some interesting facts about Life of Pi
85% of shots featuring the tiger are computer generated (CG); only 24 shots in the film include a real tiger. Six tigers were brought on set for eight weeks in Taiwan.
R&H was tasked with creating varied simulations for the different areas of the tiger's body to ensure that its muscles moved properly when flexing. The team had the foundational knowledge they needed to complete the task from past muscle work on "Hulk" and skin simulation on "Night and Day."
One of R&H's greatest challenges on the film proved to be creating realistic tiger interactions with the various ocean environments. Drawing on reference material footage of tigers shot in sanctuaries and zoos prior to production, digital artists were able create realistic facial and body expressions for the tiger without performance capture technology. A professional tiger trainer was then brought into the screening room to assess the realism of each movement.
The CG tiger had 10,000,000 digital hairs, each piece made up of two different levels – the actual hair and guides used to control its flow and motion. In one scene, there is a 360 degree shot of the boat as it is immersed under water. To design realistic aquatic simulations, such as splashes, bubbles and foam, that would interact with the CG tiger required detailed animation. Using its international pipeline, the R&H team was able to overcome these challenges to achieve the desired aesthetic and deliver a truly beautiful scene.