Seven years after opening a small office with five employees in Dubai's Jumeirah Lake Towers, Augustus Media has moved into a 1,100sqm facility at Dubai Production City. BroadcastPro ME takes a tour of the new studios unveiled to the press last month.
Augustus Media has enjoyed considerable success in the Middle East since its launch in 2015, with social media followers across various platforms at 6m and monthly readers at 1m. To up the ante and further support the production of shows for Lovin Dubai, its online news and lifestyle platform serving UAE audiences, and Smashi, which features business, tech and culture news from the Arab world, the media house has invested more than $1m in a brand-new studio space in Dubai Production City, with a VR room, a podcast room, dark- and light- themed studios, and two studios with complete access to advanced technologies for content production.
"The formats that will drive media consumption of the future are being created now, and we hope to front that movement and be seen as the modern media company of choice in the Middle East," says Richard Fitzgerald, CEO of Augustus Media. "It was important for us to have the facilities and expertise to be equipped to deliver on that promise, and we found the right partner in Dubai Production City to execute that."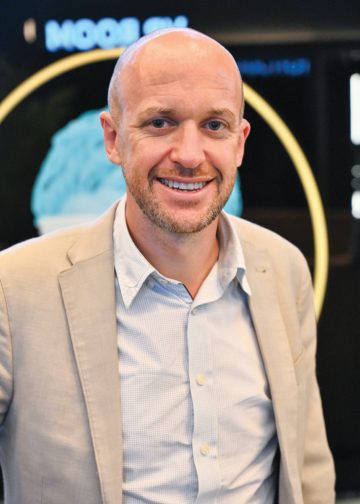 The idea of expanding the facility came while the team worked on a project for an American company during the pandemic.
"We had initially rented an LED wall but were frustrated with the limitations of the small rental space and equipment. We scouted for a location where we could merge the needs of a modern newsroom, radio station and TV station to cater to all our content creation needs. That's how we discovered this space."
Augustus roped in Consul for interior design and architecture, broadcast consultant Mediapreneur for production gear, cloud-based automation and playout systems, and Motif for fit-out and construction. With the new space, Augustus Media could build an integrated facility for its podcasts, video productions and news bulletins.
Mediapreneur was called in to help Augustus evolve and adapt to the changes of the media landscape, by creating new studios and using cloud services to automate the process and ensure operational efficiency, while enhancing the viewing experience to serve a rapidly growing audience and offer a better service.
The majority of Smashi shows are broadcast as video; they are also adapted for audio and created in a video environment, and the technology deployed at the new studios makes this possible. Studio one, the main newsroom, is equipped with three Sony SRG-X400 1080 PTZ camera systems and a PixelPlus 2.5 LED video wall. This infrastructure supports news production and live programmes.
Other key gear includes a Fortinge prompter system, a Swit studio lighting system, an Eartec intercom system and a Manfrotto dolly and a tripod. A Soundcraft audio console and Sennheiser microphones wireless system form the main audio part of the audio element. Video/ audio signal processing is provided by Datavideo SE-3200, with a 12-channel digital video switcher.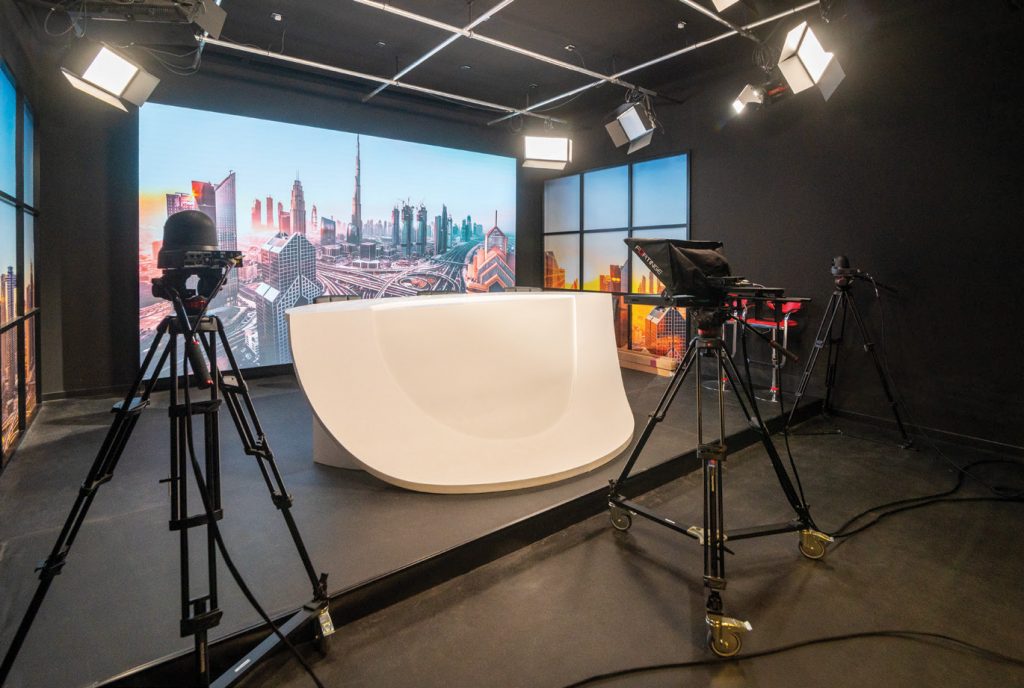 The second studio, dubbed the YouTube studio by the Augustus team, sports a more casual set-up suitable for talk shows, podcasts and live streaming. While its primary focus is video streaming, it is equipped for podcast production as well. Blackmagic Design cameras connect it with the broadcast facilities. For podcasts, Augustus relies on a RODECaster Pro mixer and Sennheiser headphones and microphones. The studios are both connected to the main production control room through wall boxes.
With the new studio, Augustus hopes to move from a CAPEX to an OPEX model, a trend that is fast catching on in the broadcast industry. For instance, live production is done on-prem but automated playout takes place in the cloud. This enables the Cairo and Riyadh stations to go live from anywhere, as the main playout and automation system is in the cloud. It offers greater flexibility to stream and gain access to a live event from anywhere.
Augustus' cloud solutions were devised by Mediapreneur CEO Nawaf Al Sullami, who took a deep dive into the media company's strategy, goals, technology roadmaps and upcoming initiatives. After in-depth discussions on conceptual, schematic design and system workflows, Augustus was advised to migrate to VESET Nimbus to power its smart TV application, Smashi TV. This allows it to easily operate remotely in a public cloud such as AWS, with access to a range of all-in-one channel creation tools including live stream and file ingest, scheduling, content management and ongoing 24/7 support for platform users.
Augustus' new premises are a pleasant departure from traditional podcast and streaming venues, which are usually smaller and focused on a single distribution platform. With the remarkable growth spurt of Smashi, Lovin Dubai and Lovin Saudi in recent years, there was an urgent need for bigger premises. Smashi, for instance, is an SVOD (subscription video on demand) and AVOD (advertising video on demand) free streaming service that Augustus plans to launch on more smart TV devices in the coming months, after debuting on Android and IOS. The company is also building up content for TIZEN OS for Samsung, Roku, Vizio App, Hisence, Snayo and Amazon Fire, in addition to giving distribution rights to telcos.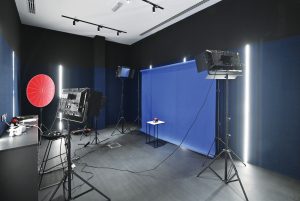 Egged on by this need to quickly ramp up content, Augustus made the $1m investment in the new studio in Dubai. While there has been some external funding through debt for its overseas expansion, the cost of the studio has been fully borne by Augustus. The company, which has been profitable for the last five years, sees this as a long-term investment which will allow it to explore various production options to distribute across different platforms.
"We see content like manufacturing. Those that are brave enough to bet on the UAE as a manufacturing hub can leverage economic efficiencies. We now have the factory, and a great team to attract the future media talent for us to build a different kind of media company for the region," says Fitzgerald. The new studio is part of that carefully thought-out strategy he has been devising since the first day.
In 2015, Augustus Media launched Lovin, followed by Smashi. In 2017, it claims to have been the first fully foreign-owned media company to step into Saudi Arabia with the launch of Lovin Saudi. Last year, it opened Augustus Misr in Egypt. The new studio will further support the ambitious expansion plans Augustus announced last summer.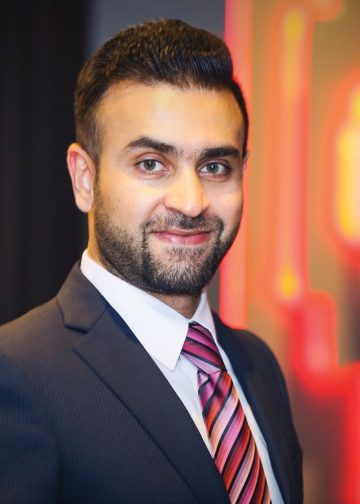 The business is expanding its Lovin platform within the UAE and Saudi Arabia, while also making a foray into Pakistan. In the UAE, Lovin will have separate editions for Sharjah, Abu Dhabi and Ras Al-Khaimah, while its expansion in Saudi Arabia will see four local editions come up in Riyadh, Jeddah, NEOM and Sharqiyah. In Pakistan, its first edition, Lovin Isloo for Islamabad, will be followed by dedicated platforms for Karachi and Lahore.
"Lovin is a local news and horizontal plan; we want it to be in as many cities in the Middle East as possible. Smashi is a more niche streaming service and a vertical play, with Smashi Crypto, Smashi Gaming, Smashi Green designed to grow along with the rise of OTT consumption," says Fitzgerald as the company gears up for significant expansion this year. "With the onset of technology, the UAE has seen innovation across many industries and media doesn't need to be any different. The industry needs constant innovation, to embrace new technologies and continued fragmentation of mediums to thrive and prosper. The publishing and broadcast industries are challenged by platforms on one side and the creators on the other; however, by focusing on this region, on digital – content and commercially – and on the IP of our brands, we believe we can continue to build a sustainable profitable media company over decades to come," he concludes.