Dubai Media Inc. recently upgraded to an HD facility with a brand new unified transmission room and a revamped newsroom. BroadcastPro ME looks at what the upgrade entailed State broadcaster Dubai Media Inc. (DMI) recently completed the large-scale migration of its newsroom and transmission facilities to an HD/3G infrastructure as part of the network's larger […]
Dubai Media Inc. recently upgraded to an HD facility with a brand new unified transmission room and a revamped newsroom. BroadcastPro ME looks at what the upgrade entailed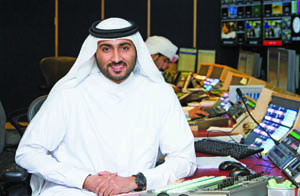 State broadcaster Dubai Media Inc. (DMI) recently completed the large-scale migration of its newsroom and transmission facilities to an HD/3G infrastructure as part of the network's larger vision to create a fully integrated, file-based TV facility by the end of 2015.
DMI, which until recently operated as a tape-based SD facility, designed a blueprint in 2012 under the leadership of CTO Saleh Lootah to overhaul its operations both, at its Maktoum bridge headquarters as well as its newer facility at Dubai Media City (DMC).
Late last year, the team successfully completed the consolidation of DMI's 12 TV channels under one umbrella, while also migrating its newsrooms, studios, playout and transmission to a full HD and 3G environment. Alongside this, the media entity has also undertaken the Herculean task of deploying a digital archive solution.
The upgrade of the transmission area to 3G/HD was initiated in late 2012 and went live in Q4 2013 with all of the current DMI TV channels being played out from the new transmission chain. This also includes the newly launched Dubai TV HD channel.
DMI's CTO Lootah calls the file-based transmission and everything that it has entailed in terms of equipment installation, workflow changes within the organisation as well as the need to change the mindset of the workforce "a huge step forward".
"Technical development is inevitable, we live in a world that is rapidly developing and when it comes to technology, the pace is even faster. Keeping pace, however, is governed by many factors and to me, the most challenging factor is the manpower capability to adapt to the new development. There is also the challenge of migrating from the old setup to a new setup within a live environment; all precautions were taken to ensure service continuity.
"It is a challenging equation to balance. At one end, you have a group of people who are willing to move forward and at the other end, there are those who are reluctant to adapt as they fear leaving their comfort zone," he explains.
The solution, according to Lootah, "lies in creating a smooth transition phase and managing the resistance as well as high expectations."
"The new transmission setup is now ready and we have successfully moved all of our channels to the unified transmission room. We are tackling the transition in a phased manner by moving island by island to the latest systems. Our edit suites are fully upgraded along with two of our studios that are now completely file-based. We will migrate two more studios in 2014 to a fully file-based 3G environment. Our feeds recording project, which has also now been completed, will allow the content to be ingested automatically into our servers, and schedule it in our infrastructure."
"Once 70% of our infrastructure is file-based, we will have a centralised operations centre, from where our engineers can monitor the systems. Our news centre is already fully file-based all the way from acquisition to deep archiving and is fully placed within a HD/3G environment and we are working hard to achieve the same at DMI's headquarters," Lootah explains.
Two major chunks of the workflow included the migration of DMI's News Centre and its transmission operations.
News Centre
The News Centre was first launched in 2005 and has since been upgraded to a state-of-the-art HD facility. The first phase of the upgrade involved renewing the Avid system to HD and installing a digital archiving solution. This phase was completed in 2012 and integrated Avid with the gallery. The second phase involved the complete 3G/HD upgrade of the studio cameras, gallery equipment, ENG cameras, MCR, expansion of the Avid solution and its digital archive. It also included an HD file-based workflow. The existing Vizrt graphics solution was also expanded with an immersive graphics solution (Hologram) from the vendor.
The 3G/HD upgrade at the News Centre includes a 15-camera and a four-camera studio setup in Dubai Media City as well as the MCR.
19 Sony HDC-2400 series HD camera kit were installed at the DMI facility. Two Sony MVS 7000X 3G vision mixers are installed in each production control room (PCR) and one Sony MVS 300 at the DIC studio as well.
With this upgrade, DMI also boasts a 21m x 2m video wall from Christie at the news centre, which it claims is one of the largest video walls to be installed at a regional broadcast facility.
The Christie wall replaces the previous 7m wall. A new lighting grid along with new lights and control system was also added.
The newsroom, the galleries, the MCR, the Avid NRCS and the Vizrt system as well as the Christie wall and the digital archive solution are fully integrated to produce file-based HD content.
"We added 30 HD ENG Sony cameras to build the capabilities of the newsroom. In addition to that, we have introduced two Shotoku specialised jibs (one pedestal and one crane) to track the virtual graphics and to give life to the hologram. We are the first to deploy these hologram immersive graphics system in the Middle East," explains Afzal Lakdawala, Head of Technology Planning and Projects, DMI.
"We have chosen each of these solutions with the utmost care. Viz Weather was purchased to create top-quality weather reports while Vizrt's Video Wall ER solution enables distributed processing of graphic and video content across multiple Viz Engines to create a high-resolution video wall. The final on-air product includes a Viz Virtual Studio for immersive graphics, touchscreen presentations and overlay graphics while the Viz Ticker displays real-time updates from global financial and news feeds. All of this is rendered in real-time by multiple Viz engines and Vizrt's real-time 3D compositing system. We also have an increased number of ingest channels, which means there are no delays to getting crucial news into the system."
Again, DMI has deployed the Avid Interplay system, which allows for a more improved system management.
"Users can locate and manage content more efficiently with Avid Interplay. With all of the content available online, the speed of moving content between locations is greatly improved and no additional ingest is required. Content can simply be moved across the network. The Avid system is also connected with the digital archive, which means we can archive the media on the digital format on LTO5 drives rather than storing them on analogue tapes," explains Lakdawala.
In addition to this, the availability of greater storage capacity enables DMI to hold more content online in HD quality.
Key kit
News Centre
• 19 Sony HDC-2400 HD camera chains
• Two Sony MVS 7000X 3G vision mixers installed for each production control room (PCR)
• Sony MVS 300 in the studio
• Evertz EQX series 3G/HD video router
• Evertz VIPX (Modular Multi-Image Display System)
• Evertz MAGNUM unified control system
• Snell IQ 3G/HD/SD modular for distribution, DMUX and MUX
• ClearCom talkback system integrated over IP (internet protocol) through different remote locations (DMC to Maktoum Head office)
• Vista 5 (STUDER D21m) frame for the audio control room (ACR)
Key kit
Transmission
• Harmonic Omneon playout servers
• Pebble Beach Systems' automation
• Snell 850 router
• Vizrt on-air CG graphics
• Evertz presentation mixer, multi viewer system, magnum control system
• Oracle digital archive
• Front Porch Digital archive management
• Evertz and Snell glue
• Tektronix Series Wave Form Monitors
Abdul Hakim M. Jomaa, Broadcast Systems Senior Engineer at DMI, explains: "Previously, both the galleries in the News Centre could handle only SD production plus the archives were on tapes. Now, after the upgrade, both the galleries produce HD outputs and have been fully integrated with a digital archive so that the turnaround time for news production is much faster and also offers the journalist low-res proxy files to browse through the footage from their desktops. A number of journalists can access the same footage simultaneously which again saves time for news production."
Lighting was a significant part of the upgrade. The studios and the News Centre are equipped with a total of 23 mini hoists from Italian manufacturer DeSisti. These motorised solutions are controlled via a Smart Panel HDC from the DMX console through a preset system that offers maximum flexibility to the users and the operators, who can change the settings through a wireless remote control.
Every hoist includes a DIM and non-DIM circuit that is on par with international standards and includes a DMX facility, should LED fixtures or intelligent lights be used.
An ETC Sensor Dimmer has been installed at the News Centre with the new technology of modules Sensor 3 Thrupower that allows the user to swap between a dimming module and switching module in case they are using an LED light. Sensor 3's integrated design ensures fewer parts and, therefore, fewer failures. Its plug-in modularity also allows for greater configurability, customisation and easy maintenance.
The News Centre's control room is also equipped with an ETC ION console with a touch screen and a remote processing unit as a backup unit.
"We have a combination of DeSisti 1KW, 2 KW, ETC Source 4 Profile with variable zoom range as well as LED flood units 1 x 1 from Litepanels. All of these help ensure the proper illumination of the set as well as the people on stage."
More than 1.5km of LED Strip from Coemar Italy are used in this newsroom to allow for various combinations and permutations.
Other key kit in the newsroom include the EQX series 3G/HD video router, the VIPX modular multi-image display system and the MAGNUM unified control system from Evertz; a ClearCom talkback system integrated over IP (Internet protocol) and connecting the different facilities of DMI across the city as well as the Studer Vista 5 for the audio control room (ACR).
Transmission
In 2012, DMI initiated the upgrade of its transmission facility with the aim of creating a centralised playout environment that would be completely file-based, support 3G, and transmit Dolby Digital Plus audio.
A dedicated transmission room was built for the purpose and was overseen by Mike Hancock, Maintenance Chief Engineer. The civil works involved designing and building a room to be installed with the broadcast infrastructure.
"We had small transmission rooms that worked like islands for various channels. The upgrade of the facility required us to make one transmission room that could house the consolidated transmission under one umbrella. The DMI building is an old structure spread out over a large area. We had to build a structure in the gap between the two buildings as that was the only space where our new transmission room could be based. We were restricted by the existing building but it turned out fine in the end. It took us a year to complete this room. The old transmission rooms are currently being refurbished for other purposes," explains Hancock.
The workflow is completely centralised and file-based right from the ingest to transmission and then, the archive. The project has been live since early this year and DMI's TV channels are now being played out from the new TX chain including the newly launched Dubai TV HD channel.
Key parts of the workflow include a centralised storage and playout server from Harmonic (Omneon), automation from Pebble Beach Systems, On Air CG from Vizrt, a digital archive library from Oracle and an archive management solution from Front Porch Digital.
Omar Alzoubi, Senior Manager of Engineering Systems at DMI says that by creating "an end-to-end file-based solution, DMI has not only been able to streamline the production workflow but also achieve the long-term objective of reducing costs associated with tape, VTR purchases, maintenance and repair."
Content is first ingested into the Harmonic Omneon Spectrum servers, which encodes incoming video into standard XDCAM HD422 50-Mbps format and wraps it in a low-latency MXF OP1a wrapper to facilitate the low-latency transfer of a growing clip from Spectrum to the Omneon MediaGrid system. During ingest, the incoming material is also transcoded by IPV to a lower bit-rate and resolution for browsing. The browse copies are immediately available for viewing.
The Omneon MediaGrid acts as a hub containing many folders through which the files are moved by the PBS Anchor Media movers for various operations.
Other crucial aspects of the workflow are automated video quality check and a quality management solution by Cerify. The Omneon MediaGrid is connected to the archive solution by Front Porch Digital DIVArchive and a StorageTek SL8500 tape archive.
"The workflow has been designed to use DMI's house format and avoid any transcoding, which complicates the workflow and introduces losses and delays in the process. The tapeless workflow has proved reliable in handling large volumes of material that the broadcaster handles on a daily basis," adds Alzoubi.
The multiple channels and the multi-format baseband transmission chains are designed to work on simulcast mode, if needed.
Presently, the end-to-end solution spans content acquisition, production, post-production, archiving and transmission playout.
"The transmission chain as well as the entire infrastructure is designed to the highest standard with flexibility to offer HD and SD outputs, simultaneously. Besides, the design of the transmission facility is so flexible that it enables us to choose the transmission format be it 3G, HD or SD," claims Alzoubi.
Basil Al Shehi, Transmission Manager seconds that.
"The new system is more efficient & more secure. We were using old servers, which used to crash often. Since we had three kinds of servers, we couldn't move people around to work on all of them. Now, with the unified server and automation, everyone is trained to handle most aspects of the job. This has ensured optimal use of our system and our manpower."
Lakdawala reiterates that the entire chain of transmission equipment was chosen to match 3G/HD/SD standards including the main router (Snell 850), standby router and multi-viewer system (Evertz EQX), the transmission mixer (Evertz EMC series), Evertz and Snell glue equipment, Omneon servers (HD/SD) and audio equipment.
"The complete infrastructure for the project as well as the cables and the patch panels have been designed and built to HD/3G specifications," he explains.
The entire monitoring equipment of the transmission chain operates on 3G/HD standard signals.
Other key kit include Orban's automatic loudness controller to address loudness issues and Tektronix's test and measurement solutions.
The project also provides a comprehensive SNMP-based signal monitoring system. The VistaLINK PRO enables element management and network monitoring system, to ensure error-free on-air transmission.
Abdulwahed bin Hafez, Deputy CTO and Senior Manager of transmission operations at DMI is pleased with the outcome.
"With this file-based workflow, DMI is now able to achieve faster turnaround time including digital delivery for various digital platforms. Once ingested, the material is archived automatically, thereby avoiding the need for future ingest of the material. Transmission storage is connected with the production storage so as mentioned before, the production, transmission and archive are all interconnected."
No doubt, a significant chunk of the migration at DMI is over but there is still a lot of work left to be done, the team says.
Tenders have already been issued for the upgrade of one studio to HD, another two studios to 3G/HD and a file-based workflow for the Creative Department to support DMI's 4K production.
Some of the projects that DMI intends to undertake in 2014 are a new HD OB van, a new HD SNG van, and the expansion and upgrade of its post-production system.