Dubai Channels Network has unveiled a fully revamped IP-based radio facility for its two channels broadcasting from Dubai. The state-of-the-art facility was handed over to the state broadcaster in December 2015. Vibhuti Arora brings you the details  Dubai Channels Network (DCN), part of Dubai Media Inc., has revamped its radio channels – Dubai Radio (93.9MHz) […]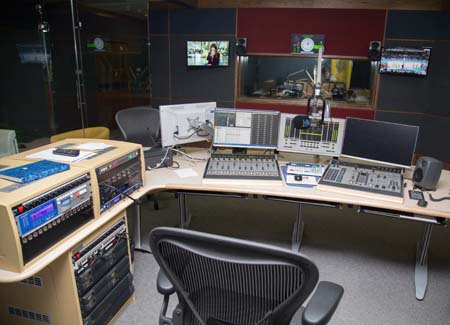 Dubai Channels Network has unveiled a fully revamped IP-based radio facility for its two channels broadcasting from Dubai. The state-of-the-art facility was handed over to the state broadcaster in December 2015. Vibhuti Arora brings you the details 
Dubai Channels Network (DCN), part of Dubai Media Inc., has revamped its radio channels – Dubai Radio (93.9MHz) and Noor Dubai Radio (93.0MHz) – to a fully integrated, network-based IP radio facility. The project involved a complete new studio set-up that fulfilled a number of objectives for the broadcaster and gave it additional capability and scalability.
Saleh Lootah, Head of TV & Radio Engineering at DCN, says the revamp was carried out as part of the broadcaster's larger objective to renew and modernise its entire infrastructure. The existing radio facilities at DCN were quite old and comprised a mix of analogue and AES equipment, and connections which had been built in stages and weren't integrated. Some of the old equipment had been discontinued by manufacturers and lacked service support and spare parts.
"It was a necessity to upgrade as the old system relied on intensive engineering support for both technical and operational matters. We had the option to have a regular FM upgrade or choose IP and we opted for the latter because of the flexibility it offers. Groundwork on the project began in 2014. Phase 1 of the project was delivered to us a couple of months ago and we are now working on the second phase, which involves integration with digital platforms and social media," he explains.
The project
DCN required an integrated system where studios could be switched between radio stations and were ready to carry out OB injects. The idea was to reduce engineering intervention to a minimum and enable operational staff to route from external sources including SDI TV feeds. In addition, the production facilities were to be upgraded and integrated into the system and a separate news studio was to be included adjacent to the radio newsroom.
Additional objectives were to enhance the stand-by audio arrangements in case of equipment or studio failures, add the base for a future expansion and provide a more comprehensive fault alarm system. Livewire AoIP seemed like the most suitable way to provide a robust and cost-effective solution.
Apart from Livewire equipment, the new set-up boasts equipment from Telos Alliance companies including Telos, Omnia, Axia and 25 Seven.
Christopher Hall, Senior Sound Engineer, Technology – TV and Radio at DCN, gives an overview of the studio project that involved building a complete new studio set-up.
"The key was to build a scalable system that offered us enhanced capabilities. There are four on-air studios available in two pairs for the two channels. These are equipped with Axia Fusion consoles," explains Hall.
The news studio boasts similar audio consoles and the production facilities have been upgraded to include Pro-Tools 12 with Avid HD Omni and Artist and are interfaced into the Livewire system via Livewire nodes. External feeds from sources such as TV and radio OBs are available on the Livewire system. TV feeds are taken via Axia SDI nodes and radio OB's via Telos Z/IP codecs. The associated video from SDI feeds and satellite receivers is distributed to studios by an RF system.
Axia Fusion replaced the existing analogue/AES on-air consoles. Axia iQ replaced the edit room audio consoles. Avid Artist Control and Mix replaced the existing production consoles. Telos Z/IP codecs replaced the previous ISDN contribution system for OB links.
Any individual studio can go on-air to any service as a self-operation arrangement. Alternatively, the studios can be paired to provide a control room studio arrangement. The studio director or on-air talent can switch arrangements without engineering intervention and intelligent software monitoring and control of what is in progress minimises errors.
The radio receiver feeds and corridor display screens as well as the internal studio display screens automatically follow the selected radio channel. The individual headphone feeds are also automatically switched dependent on studio routing connections selected. This is all possible via the PathfinderPro router control system, which also generates the alarm SMSs and alarm signals in some engineering areas in radio and TV.
The telephone system was upgraded so phone lines could come into the facility to a single interface point. These are connected to Telos VX engines and the audio (including backfeeds) is available directly on the Livewire network.
The operational interfaces for the phone system are implemented via a touchscreen system running Broadcast Bionics software. An Adder Infinity KVM system is installed to keep PCs and workstations out of live areas and to increase operational flexibility. Additionally, the edit rooms are equipped with Axia iQ consoles which interface into the Livewire network.
Glocom Dubai carried out the overall systems integration for this project. AVC Group, the regional distributors for Telos were involved in pre-planning and installation and configuration of the systems right from the start. AVC's Director of Engineering, Igor Zukina provided on-site support during the course of the project. MediaCast provided with the latest version of Avid Pro tools and Lund Halsey provided the furniture.
Afzal Lakdawala, Head of Technology Planning and Projects at DCN, says that as with any revamp in a live environment, it was critical for the team to carry out the upgrades while the channels were on-air, without interrupting broadcast.
"Effectively it was a complete new build, right from civil works to the network and even the desks and acoustics have been renewed, along with the equipment. In the previous set-up, studios were dedicated to transmission channels and incoming connections such as radio OBs and TV SDI feeds were required to be routed or patched up manually by the engineering staff, which involved a lot of effort and time. Now the radio OB provision has also been improved greatly, thanks to the Telos Z/IP codecs that are easier to set-up and use on-site compared to the previous OB links.
As for the studio, the operational staff can route the feeds as necessary and the system generates the associated mixed minus feeds automatically.
"Glensound HD voice systems that allow reporters in the field to provide higher quality reports using a 3G phone system, have also been added," says Lakdawala.
The new system is fully integrated and has many built-in redundancy features, many of which are automatically implemented when required, and the appropriate indication signals forwarded to the engineering staff as well as being displayed on monitors in engineering areas. Operationally the efficiency has improved as well," adds Lakdawala.
Commenting on the revamped workflow at the facility, Omar Alzoubi, Senior Manager, Engineering Systems at DCN, says that a more intuitive system allows the radio team to concentrate fully on the programme requirements. The system is based on Audio Over IP technology in which hundreds of channels can be carried in a single CAT 6 cable without compression, using the AES 67 standard for deployment of signals across Ethernet network for the entire system. The system is very flexible, and the studios operation and its related control and data can be swapped between the radio channels.
The main components of the system are from Telos Alliance Company. Livewire is completely AES67-compliant and future proof and hence is open for more equipment choices to enable equipment from a variety of manufacturers to exchange audio streams.
Axia provided audio consoles for the main on-air studios. The common telephone system for the entire facility is based on Telos VX and Broadcast Bionics Software.
"For times when more complex shows are on-air and require a director and production staff, then the workflow is seamless, with the various requirements being operationally linked to be integrated and easily accessible. The communication is much improved via the integrated Axia Intercom system. A single operator can now control and monitor two radio channels simultaneously. All necessary sources can be routed by the operational staff using the on-air consoles and many more additional external sources than previously are available," says Alzoubi.
He adds that production interfacing has also been enhanced with file transfer via a Dropbox system and workflow in general has become more efficient for DCN.
"Our news delivery has also improved, as the news studio is adjacent to the newsroom and is equipped with the necessary resources to go live into any on-air studio or to record bulletins for the radio channels. The programme staff can now directly access previously transmitted material using the Sonifex NetLog system on their PCs."
To provide the necessary low-delay, high-reliability audio over switched Ethernet Livewire+ is used. This provides 48kHz/24-bit PCM encoding.
The next phase
The majority of requirements for DCN's radio upgrade were taken care of in Phase 1. However, the automation system still needs to be upgraded, which will be done in Phase 2, now underway. In Phase 1 the automation workstations were integrated in to Livewire using Axia AES Nodes for on-air workstations and Audio Science Livewire cards for other workstations. It was intentionally arranged that the automation would be upgraded in a follow-on phase, in order to allow smoother and stable migration to a complete new system.
Some data migration was involved in Phase 1, but Hall says the majority of this requirement will come when the automation system is upgraded.
For the first phase, it was primarily production material that was migrated across. Old and new production and edit areas were operated in parallel while all the existing material was backed up to external storage media. Only relevant material was transferred to the new network storage arrangement.
"This had the advantage of being able to have a spring clean of recorded material, which will still be available for future transfer across the remainder of previous material," concludes Hall.
Systems Integration
Ali Baig, Senior Manager – Solutions & Operations at GloCom, gives an overview of GloCom's role and how the company helped the end user achieve its vision.
"GloCom provided end-to-end systems integration to DCN, right from preparing system documents, drawings, solution description and engineering management, as well as project management. We also provided network architecture for the AoIP Livewire Network. This included project management and coordination with various suppliers on design, procurement and implementation of the system.
"We worked on four main on-air areas for Noor Dubai and Dubai FM. There are three recording studios which can also be used as on-air studios, two production rooms and one production studio for music or drama, which can be connected to the on-air studios.
"DCN decided to go with GloCom after a thorough technical and commercial evaluation process. The new system provides immense flexibility to the customer by making all audio sources available at any place, any time throughout the networked facility. By having overall Pathfinder routing control system on the audio over IP network, every workflow action has been simplified by the press of a button. It spans splitting the on- air studios and joining the on-air studios, emergency routing workflow actions, complex GPIO functionalities and control actions.
"All the audio codec and traditional audio equipment analogue and AES in/outs are coupled via xNodes to LiveWire AoIP routing backbone. The complete AoIP equipment and third-party equipment integration was performed through the Pathfinder routing control software, which provides the complete IP audio routing matrix capability on audio over an IP studio environment.
"Migration to a new system in a live environment is always challenging and requires effective planning and coordination between design, engineering and operations teams. As this project involved several radio studios, it allowed us to migrate in a step-by-step manner ensuring zero down time. In doing so, we received full support from the DCN team.
"However, the complete migration from the traditional audio chain to the Livewire audio over IP setup did pose a challenge. Since it requires more system level cooperation and ubiquitous requirement of AoIP xNodes, the set-up makes AoIP system orchestration difficult to achieve. This, howeve, was overcome thanks to our systems integration experience and expertise from AVC, which supplied Axia AoIP equipment. The AVC personnel were on hand throughout.
"The project also involved migration of data from DCN's existing Dalet playout system. We were required to migrate all playout machines, workstations and servers to the new network switch. We used NetApp storage, which allowed us to store data related to production cuts, playout cuts, edited cuts and so on.
"Once the migration of audio equipment was complete, we began data migration with the DCN IT team by transferring all the machines, workstations and servers to the new network switch."