The UAE's Arabian Radio Network has added new digital streams to complement its terrestrial offerings as an extension of its FM channels on mobile apps. In an exclusive interview with network head honchos Mahmoud Rasheed and Steve Smith, Vibhuti Arora finds out more about the back-end services that went into the creation of these digital […]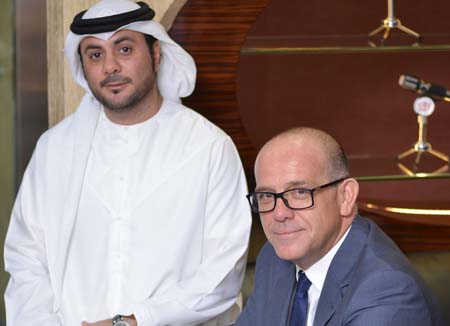 The UAE's Arabian Radio Network has added new digital streams to complement its terrestrial offerings as an extension of its FM channels on mobile apps. In an exclusive interview with network head honchos Mahmoud Rasheed and Steve Smith, Vibhuti Arora finds out more about the back-end services that went into the creation of these digital arms and how digital content is poised to expand the network's capabilities
Early last month, Arabian Radio Network (ARN) launched seven new digital radio brands. The Dubai-based radio station already operates nine channels on its terrestrial platform, and the new channels were launched as digital-only offerings. Complementing the output from its existing terrestrial services, the new brands offer content based on mood and are accessible via smartphone apps, including on iPhone and Android.
The station plans to add three to four more digital brands by the end of this year, according to Mahmoud Rasheed, General Manager of ARN, who says that the digital streams will widen the listeners' choice of music.
"The format of our stations does not allow us to play many genres of music because of time and commercial constraints, hence the new streams to cater to market demand. Our listeners want more, and by means of our digital offerings, we are giving them more choice to experience new music genres. These can be accessed on apps as well as online. Within our terrestrial offerings, we have limited scope to offer other music genres beyond the regular ones."
The digital stations are non-interactive and play out in real time but they allow listeners to purchase the listed music through iTunes or Google Play.
Chief Operating Officer of the now 16-station network Steve Smith adds that the new brands are broadening the listener ecosystem.
"Radio listening is often mood-based, and these new digital brands allow us to build audience loyalty and complement the terrestrial stations. With the mobile phone being at the centre of our world, we want to ensure that we are embracing the latest technology as we continue to lead the media market in the UAE," he says.
Smith also says that quality-wise, digital content quality is much better.
"We have used top-notch algorithms in the market to offer sound even better than CD quality."
Rasheed and Smith point out that music is the focus of the new offerings. Keeping listener choice in mind, the brands have been designed to achieve clear-cut commercial goals.
"While our terrestrial brands are at the forefront, these digital streams give our advertisers more options. One major advantage of digital assets is the ability to get real-time data about who's listening, the listeners' choices and their preferences, as these have huge monetisation potential," adds Smith.
The content managers running these brands come from within the ARN set-up.
"We have a great set of people, and we think these platforms will give them an opportunity to showcase their talent. We have RJs playing out in real time and the channel packaging for these digital streams, as we have for the terrestrial ones," says Smith.
Although FM is still strong in the UAE market, with considerable listenership during the drive, digital is the way forward to keep in step with global trends, according to the ARN head honchos. In the UAE, there is 252% penetration on mobile phones, out of which 90% is on smartphones, thereby giving digital content a wider audience base.
"Going digital is the way forward, as it opens endless possibilities for not only creating engaging content but also creating engaging ways to monetise that content. We will be releasing a programmatic tool into the market, and ARN will be serving programmatic audio in the future. The digital database will be used for target advertising in the future to deliver different audio commercials based on the listener profile. You hear commercials that are most relevant to you," notes Smith.
Building the back-end
The digital streams were created with the idea of offering the most in-demand genres of music for listeners, available on all major online as well as mobile platforms, using the latest technology. Listeners experience crystal-clear HD audio quality of the music genre of their choice, playing non-stop on their preferred online/mobile platform. The digital output is claimed to sound better than most FM broadcast stations.
At the core of all this, the back-end infrastructure was to run smoothly and be able to accommodate expansions or additions in the future. Murad Jahangir, Director, Information Technology at ARN, who has been overseeing the project, says that the digital streams play out from virtual machines.
"In a conventional FM radio setup, we have workstations and servers built on hardware. For the digital streams, we created an efficient back-end workflow based on virtualisation and created new software-only slots to enable one system to do multiple operations. Within the internal workflow, people can connect and schedule music from anywhere in the world. A private cloud has been built within the company that operates on ramped up, high-efficiency HP servers."
The radio network began its digital initiative early on in 2010 when it first launched apps for its FM stations.
"The digital installation then was designed and customised for FM stations," explains Jahangir, adding that the new installation caters better to online and mobile platforms.
"We have ensured that the two systems talk to each other, so integrating any libraries or policies, whenever required, is not an issue," he points out.
The systems are highly scalable and expandable to meet ARN's future requirements. Each new digital station can easily fit in the carefully thought-out and planned design, using the virtualised infrastructure. Moreover, the existing digital stations' database growth can be easily accommodated.
Jahangir explains that the station has used solutions from brands already deployed on the FM side, such as RCS radio automation, Zetta and an Omnia processing platform.
"It was a mix of various solutions, customised to ARN's requirements. We built our own virtual cloud, created a full digital web radio playout workflow chain, using products from leading radio vendors to support us in delivering this project."
Brands such as RCS, VMWare, VAC, HP/Dell and Microsoft are part of this virtual infrastructure.
The cloud consists of a pool of fully fault-tolerant virtualised systems capable of handling heavy network traffic and database queries, audio encoding and processing engines, all within a single virtualised environment. The infrastructure is built to support one-to-many virtualised systems to manage a number of virtual machines, which supports current and future requirements.
The workflow consists of ingesting, building and maintaining libraries, editing, creating metadata, defining music programming policies, voice tracking, packaging, scheduling, enhancing audio output through complexed audio processing and finally playing out in all commonly supported formats.
Zetta integrates with the station's music scheduler GSelector, RCS News and traffic system Aquira. As part of the full digital radio suite, the solution supports full archiving for later use.
High performance-built HP and Dell servers with high processing power are the backbone of the virtual system. These are supplemented with high-performance Windows and Mac client stations, fully meshed high-end SAN storage from HP and dedicated Cisco gigabit switching. All of these run on dedicated high bandwidth internet connections.
"Ensuring robust connectivity was the first step in virtualisation and broadening our digital reach," Jahangir comments.
The fully virtualised back-end architecture simplifies the end user experience and the digital streams are easily accessible from anywhere. The station uses streaming format – AAC/MP3 – and extended formats to support most mobile platforms.
Commenting on the metadata requirements of the project, Jahangir says: "Initially, we migrated a lot of content from our existing libraries, built over many years. New content is added on a regular basis also. Rich metadata format offering the current song and artist information, with album art and the last 10 played songs information, are also included. We ensured that these are readable by all mobile or online streaming players."
Considerable testing was done to make sure all the technical elements fall in place to support this build.
On the challenges of virtualised solutions, Jahangir says: "After the back-end was built, tested and ready, then there was the challenge of making the internal programming teams understand the virtual environment in the beginning, as they were used to a certain workflow in the FM environment, with physical machines, edit booths, mixing consoles, on-air studios and so on."
Rasheed adds that to counter such challenges and in order for the teams to get accustomed to the new systems, an extensive internal training for staff was carried out by both technical and programming teams, to make sure that the teams handling the new stations were well equipped to work in a virtual environment.
Built on a technically advanced, powerful, scalable and fully redundant platform, this set-up allows access to each station from anywhere in the world, for on-air talent for voice-tracking shows, programming to manage their libraries and playlists and the technical teams for full administration.
Elaborating on the programming, Smith says that great content works on any platform.
"For us, FM is as strong as ever. We will, however, continue to innovate and offer more relevant content to our listeners. We buy content globally, and also design and develop our own in-house original formats.
"Going forward, we will use our existing talent pool and hire new mindsets. In fact, all of our presenters don't even have to be locally present, as technology gives them tools to operate remotely and this widens our scope. All of these give a boost to our digital assets that are growing stronger and creating more opportunities for us and our partners," concludes Smith.