Senior market executives and analysts from various facets of the media industry share their insights with BroadcastPro ME.
ALSO READ: COVID-19: Its impact on the media world – Part I
Does the coronavirus pandemic paint a completely bleak economic picture or have new strategies and business models emerged from the situation? How have media companies benefitted from or been impacted by the lockdown, and how have industry leaders responded to it?
Constantinos Papavassilopoulos
Associate Director\Media, Consumer at OMDIA
The crisis associated with the coronavirus outbreak will have a profound impact on our lives, our economies and our societies even after it dies down. Within the TV & Online Video business, it might appear that TV (FTA & pay) will benefit from the lockdown.
The reality is different. The postponement or cancellation of all major sports programming will deliver a heavy blow to pay-TV as the whole edifice of pay in many countries is constructed (not exclusively but primarily) on the back of premium sports rights. BeIN Media Group in the MENA region, Multichoice in Sub-Saharan Africa and Sky in the UK are easily recognisable examples of this reality. But it will not be just sports broadcasters who will suffer; entertainment operators will bear the burden too. If the astute financial crisis of 2008-09 can teach us anything, it is that pay-TV business revenues had taken a plunge in most of the affected countries. During this time, consumers will be reluctant to upscale their investment in entertainment, giving priority to the fulfilment of more basic needs.
The data we have from the first weeks of the lockdown all indicate a substantial growth in TV and online video consumption. In China, the average daily number of cable TV and IPTV viewers nationwide increased by 23.5% from December 2019 to mid-March 2020, with total viewing time rising by 41.7%. In the US, pay TV operators such as AT&T TV and DIRECTV have experienced live viewing to be up 15% and free VOD up nearly 25% comparing the third week of March with the same week in February. VoD services have steadily increased their viewing time shares on televisions over the past four weeks. Similar trends are emerging from some major West-European markets like Spain, Italy and France. News and information programming is heavily on the rise, while other content genres experiencing an upsurge are: kids content, family and general entertainment, as well as TV series and films. Consumption in online video (OTT) platforms is booming (both AVoD & SVoD) as well as video traffic over broadband networks (fixed & mobile), although a part of the traffic growth is attributed to educational and e-learning platforms and in business videoconferencing.
Pay-TV operators have implemented a wide range of tactical moves, which OMDIA has started tracking since the outbreak of the pandemic and here's a list of them:
• Offering extra entertainment content for free to sports-package or premium package subscribers.
• Giving financial incentives such as credit in dollars or local currencies to subscribers for purchasing films on the pay-TV operator's TVoD platform.
• Offering content from high-tier (premium) packages to medium-tier subscribers.
• Offering discounts or giving one or two months of subscription for free.
• Launching flexible tariffs such as monthly passes.
• Creating tailor-made packages with kids and family content.
• Offering new clients the option to subscribe to your OTT service instead of satellite or cable, due to the inability of technical personnel to access households for installing equipment.
• Bundling one service with other premium services or offering a bundle (3-play, 4-play) at discounted prices to retain or attract new subscribers.
David Clark
CTO, Sky News Arabia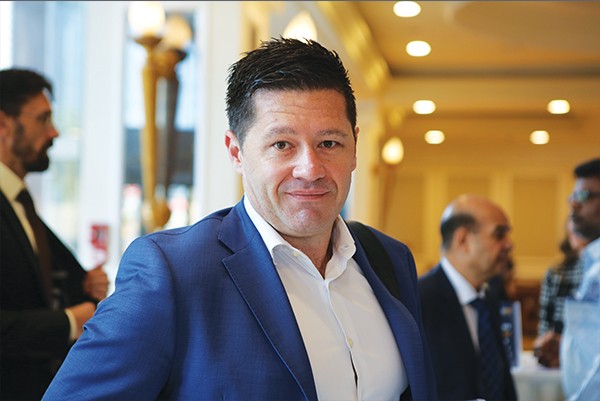 As professionals in the media field, we have a fundamental and powerful responsibility to deliver the right information to inform people and save lives. Early indicators show that our viewers are interested in COVID-19 specific programmes as they look for credible, timely and accurate news resources. Among the virus-related programming we've launched in the last period is an interactive Facebook Live Show that allows people to ask questions and hear from our guest experts. Innovation in how we engage with our viewers and deliver the news across all platforms has been key to increasing engagement.
Furthermore, as a leading news organisation, we were well equipped to deal with the requirements for remote working. Over the past few years, we have invested heavily in cutting-edge technology and mobile journalism training. This gave us an advantage in dealing with these unprecedented circumstances brought on by the COVID-19 pandemic and made it relatively easier for us to adapt to remote working.
We had been fortunate enough to be trialling several products to enable our bureaus to further contribute without massively increasing our infrastructure footprint.
In the weeks leading up to the lockdown, we were trialling many cloud-edit solutions and ultimately decided to go into a full POC with Blackbird. This workflow enabled our teams to cut live feeds remotely for repackaging and increase our digital content output and we have so far seen a significant increase in our digital content. The growth of Sky News Arabia on digital and social engagement has been substantial. We had also been trialling HP RGS (remote graphics software). While our initial trials of RGS were to utilise the technology to continue using our on-premise infrastructure and workflow for editing, we also identified another useful way of utilising the software to allow our creative teams to work remotely. HP RGS allowed the team to work remotely, while our VIZRT infrastructure and license remained on-premise.
Sky News Arabia also utilises several cutting-edge Video over IP technologies including LiveU, Djero and TVU and we have been actively working between technology and editorial teams to increase our utilisation of IP news gathering versus satellite. The main objective was for ease of use and deployment; however, as we actively worked with the software, it also allowed us to react quickly with live talent and live locations during these times of lockdown. As a result, in the weeks after lockdown, Sky News Arabia doubled its contribution over IP and significantly increased the use of Skype and Zoom to connect to live talent in the region and across the globe.
Our number one priority has always been the health and safety of our employees and we have put business continuity plans in place that safeguard the well-being of our people and allow us to continue bringing credible, timely and accurate news to our audiences worldwide across all platforms. Our technical teams responded incredibly well and supported our business continuity efforts to keep our staff safe and our organisation running effectively. We reduced our on-site presence in Abu Dhabi, and both technical teams and the wider Sky News Arabia community adapted very quickly. This response was to both the demands of remote work as well as a reduced on-site operational and editorial presence. The teams have all done an incredible job and have demonstrated their commitment to Sky News Arabia and its audience, their ability to cope and adapt well and demonstrated just how adaptable news production is.
Moon Baz
Strategic Partner Manager for Media Publishers in MENA, Facebook
During these unprecedented times, Facebook is helping people stay connected to their family and friends and find new ways to take part in unique experiences. Live, in particular, is enabling content creators to support one another and share important moments in real time. Since its development, we have seen over 8.5bn broadcasts on Facebook to date. In light of the current pandemic, we're seeing a significant increase in both Instagram Live and Facebook Live usage.
With cancelled shows and social distancing, artists, public figures, broadcasters and publishers are connecting with their communities on Facebook. People are also finding creative ways to connect – from virtual concerts to live museum tours, cooking demonstrations, live zoo safaris, and fitness sessions.
Facebook Live is being used to celebrate and commemorate key moments in peoples' lives. Couples are using it to exchange vows, while families are using it to celebrate graduation ceremonies and other milestones. Spiritual broadcasts have experienced a significant increase, with many local churches and mosques using Live to connect with their religious communities remotely. The week of April 6 was the biggest week for live broadcasts from spiritual pages since the launch of Facebook Live, and the number of people tuning into these spiritual live broadcasts increased by more than 3.5x since the same time in March. The number of people in EMEA tuning into these spiritual live broadcasts increased by more than 2x (i.e. doubled) since the same time in March.
As we approach the holy month of Ramadan, we are also starting to see that people have turned to Live as a way to come together for iftars and suhoors with their loved ones.
We've also seen uplifting videos, like live concerts featuring A-list artists from across the MENA region hosted by Rotana Music, as well as educational content by Layalina (7awi) and MTV Lebanon. The viral trend, brought on by the #TogetherAtHome hashtag, has so far generated over 6,000 videos and 16m interactions on Facebook's platforms.
Over the course of the coming weeks, we will also see the release of new video content through our partnerships with publishers and content creators for Ramadan. This includes the development of over 3,000 videos, with 850 videos exclusive to Facebook as part of #RamadanTogetherApart. Among others, 7awi will be launching seven original shows on Facebook Watch across their lifestyle pages including Layalina, Sa2eh and Alqiyady. Following their on-demand premieres on Shoof, four new Shoof drama episodes will be aired on Facebook as part of their Ramadan programming. We'll also see exclusive behind-the-scenes interviews and after shows aired on Facebook Watch by Charisma Group as part of Entertainment Tonight Bil Arabi televised Ramadan content, alongside clips and highlights from original broadcasts.