With extensive research and work in digital signage since 2012, LG is attempting a more ambitious move into the broadcast space with its new display portfolio. Sunny Bhaskar Bangera, Regional Manager – B2B, LG Information Display Team, offers some insights.
After developing consumer goods for so long, what brings LG to the world of broadcast?
It's true that LG Electronics has really led the consumer electronics and home appliances industry for a number of years, but we have also been at the forefront of the digital signage industry since 2012. Under our Information Display division, we have strengthened our position in providing the most innovative products in the marketplace. Our digital signage solutions are designed with a focus on a deep understanding of industries and customer convenience. Integrated solutions ranging from content management and service to maintenance are delivered under our Information Display portfolio. In this manner, our technology offers an end-to-end service. LG has built a strong global network through manufacturing plants and sales branches located in 128 nations, alongside R&D facilities in around 200 countries and service networks.
As part of our Information Display offering, we also cater towards the broadcast industry, owing to our expertise in digital signage. This is a market which we see as a key target, both in terms of providing the right visual solutions for broadcasters and also recognising the business potential. The global television broadcasting market is expected to achieve a compound annual growth rate (CAGR) of 7.9% when comparing 2021 with the previous year. Over the next few years, this trend will continue with a 6% CAGR by 2025, illustrating vast potential within the broadcast segment.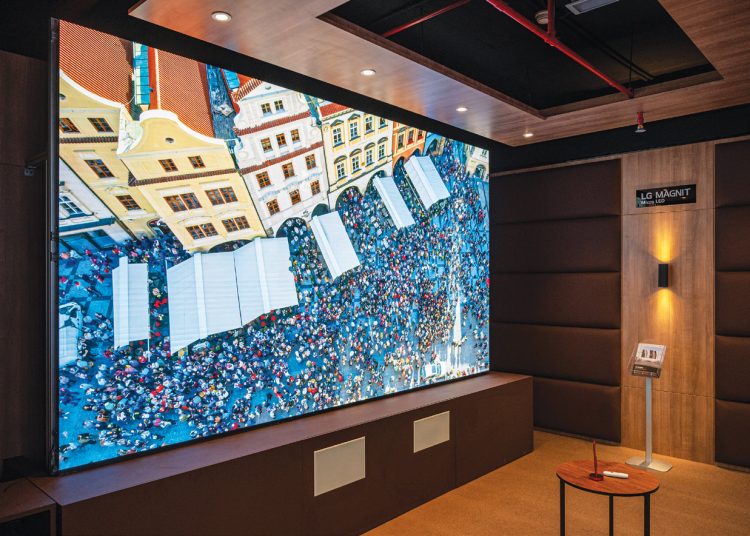 Which products would you like to highlight for the broadcast industry?
Our latest unveiling is the LG UltraFine Display OLED Pro, a state-of-the-art 65-inch professional monitor designed to meet a number of broadcast use cases and workflows related to content production, postproduction and distribution. The new edition (model 65EP5G) builds upon the capabilities of LG's OLED displays, recognised by a Technology and Engineering Emmy award.
Advanced calibration functionality enables the display to achieve better picture quality for enhanced viewer immersion and productivity, enabled by LG's proprietary software (SuperSign for White Balance). The control panel provides shortcuts to frequently used functions and profiles, featuring different monitor settings and picture quality options – making editing, colour grading and programming seamless.
Within the LG Information Display range, we also have a number of Micro LED and Mini LED studio backdrops, delivering industry-leading colour, contrast and clarity. With a lot of these features, our studio backdrops can help to create more impactful viewing within broadcast environments, where retaining viewer attention through infographics and video content is key.
What are some of the unique features of your video wall? Why do you think it rivals existing video walls in the market?
The new LG MAGNIT is the first Micro LED display launched by LG. Given our experience, we have ensured that it delivers superior picture quality and clarity, made possible by our Micro LED chips. In terms of competitive advantage, by removing a package surrounding RGB LED chips and applying LG's own Full Black Coating technology, the LG MAGNIT is able to deliver much deeper black than the conventional package LED signage. This not only enhances colour vividness but also makes the details which were previously hidden in the shadows much clearer, providing audiences with a greater sense of depth and realism.
"Our studio backdrops can help to create more impactful viewing within broadcast environments, where retaining viewer attention is key" – Sunny Bhaskar Bangera, Regional Manager – B2B, LG Information Display Team
Our Alpha 7 Intelligent Processor, which is adopted from LG's TV technology, uses deep learning and artificial intelligence to recognise and analyse the original content, optimising the clarity and sharpness accordingly. Owing to the structure of the LG MAGNIT, it is also able to minimise colour distortion and offers a wider viewing angle. In practical terms, this means that the original colour can be appreciated even from side viewing angles – for broadcasters, this empowers the use of multiple cameras and viewpoints without the worry of any disruption.
Crucial to the broadcast industry in particular is the Block Assembly Design, which enables the building of a screen to the required size. The LG MAGNIT also comes with wireless broadband transmission technology and a cable-less design for simple installation, so that the display blends in with and complements its surroundings.
If you're looking to build a display over 1,280 × 720 resolution in size, owners can also make use of an intuitive remote control experience, accessing settings more easily without the need for connecting to a PC. In news channel and talk show environments, for example, this offers a seamless experience to the presenter as they flick through content and data sets.
How are your broadcast operations in the Middle East structured?
We recently restructured our business to help us focus more on offering a bespoke, client-centric approach. We have a young and dynamic team leader who oversees product development. Jin Yongjang is General Manager for Information Display at LG Electronics Gulf, Karim Zaki is Sales Director and an expert in the field of visual display technologies, while I take care of our Studio (corporate) industry vertical for the region.
What is LG's vision for its broadcast division?
Our ultimate goal is to help the broadcast industry make use of more advanced, practical and immersive display technologies. Now more than ever, broadcasters are looking for new ways to streamline, be more efficient and also represent their content in more captivating ways – these are areas in which we believe we can deliver. Our advantage comes down to having clear industry knowledge and expertise, alongside providing a portfolio of information displays which keep colour accuracy and convenience at their core. As the broadcast industry continues to evolve, we are here and ready to support individual business challenges, needs and ambitions.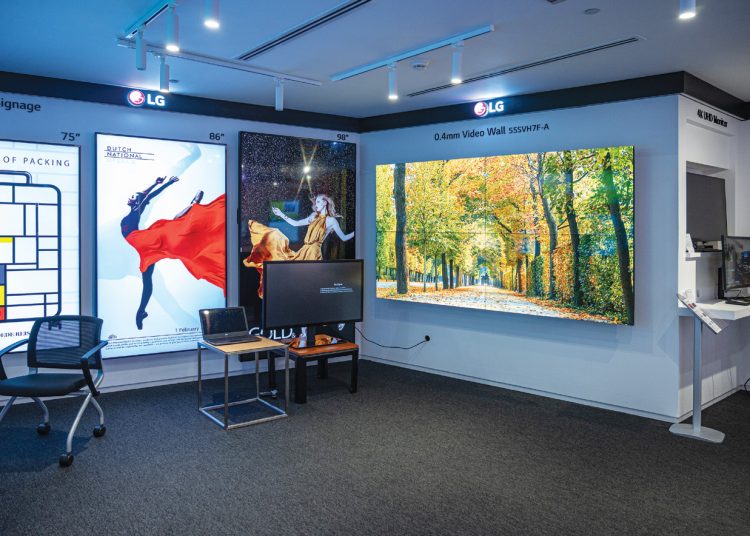 What do you hope to achieve in the MENA region?
Our goals in the MENA region, and in fact globally as well, centre on two main criteria: customer focus and having an innovative product line-up. In terms of customer focus, we are looking at how we can potentially add value to a business. We have to ask ourselves whether we truly understand the challenges a business is facing, or the direction it wishes to head in. Only in doing so can we approach customers or have an open dialogue, in full confidence that we are aligned – so this is our foremost priority. Every decision-maker wants to know what makes your solutions unique, so it is our job to continue conducting research and be knowledgeable of industry trends and communicate value.
For our product portfolio, the focus is on being a true business partner with advanced technologies and end-to-end services. We are committed to designing new form factors and experiences, leveraging our capabilities in OLED, LED and IPS display technology to deliver on the promise of more captivating visual experiences. Globally, we have worked with a number of high-profile clients across areas such as hospitality, retail, transportation and broadcast. Our mission locally is to continue partnering with local organisations to help improve their business operations and value to end customers or users of a particular service. In the broadcast industry, this means ensuring that our solutions are not only unique, but also industry-leading and seek to enhance the overall experience for both broadcasters themselves and also end viewers of content.