Viacom18 and IndiaCast are expanding in the MENA region with the launch of a new channel, Rishtey Asia. Anuj Gandhi, Group CEO of Indiacast, talks about the channel The newly launched Indian TV channel Rishtey Asia is entertainment network Viacom 18's latest offering to viewers in the MENA region. The channel stands out for its repurposed […]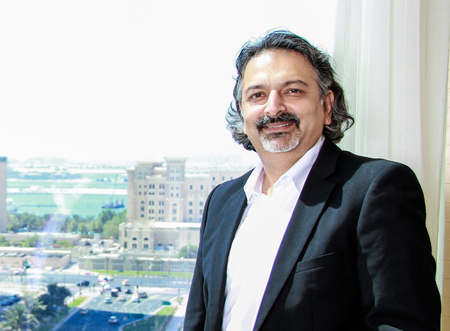 Viacom18 and IndiaCast are expanding in the MENA region with the launch of a new channel, Rishtey Asia. Anuj Gandhi, Group CEO of Indiacast, talks about the channel
The newly launched Indian TV channel Rishtey Asia is entertainment network Viacom 18's latest offering to viewers in the MENA region. The channel stands out for its repurposed Turkish and Arabic content in addition to Indian dramas.
Indian dramas and entertainment programmes have a wide viewership in the region not just among the Indian diaspora but also among the Arabic-speaking population. Repurposed and dubbed Indian content has been traditionally carried on Arabic-language channels. However, not many channels offer Arabic content dubbed in Indian languages and repurposed for an Indian audience, and this is what differentiates Rishtey Asia from a plethora of Indian channels already playing out in the region.
Rishtey Asia has a rather different approach and hopes to offer content never seen before by the subcontinent audience residing in the MENA region, says Anuj Gandhi, Group CEO of IndiaCast, the company behind Rishtey Asia.
The channel has already acquired a flagship Turkish drama series Ask-i-Memnu to present it to the South Asian audience in their language of choice.
Turkish dramas have a universal appeal, similar to the dramas produced in India, according to Gandhi.
"These dramas have high production value, themes, high-pitched emotions and social issues, which the South Asian audiences can easily relate to and love watching. Ask-i-Memnu is one of the biggest Turkish drama series and will be shown for the first time in Hindi. This will resonate with local audiences."
While the channel has been launched in various territories across the world, Gandhi sees the MENA as the biggest market for Rishtey Asia, both from an audience and revenue point of view. The channel offers content from various parts of the globe, with special focus on the MENA region.
"Even though we were one of the last entrants in the South Asian television space in the region, our existing channels have quickly climbed up the charts and have emerged as leaders in their respective genres.
With Rishtey Asia, we are very optimistic that our differentiated content will be appreciated by the audiences, as we have handpicked each content genre and show keeping the MENA viewer's sentiment and expectations in mind," he adds.
Moving forward, Gandhi says that the MENA will be an integral part of localised content, promotional campaigns, contests, events and digital engagement from Rishtey Asia.
"We are closely watching the content space in the MENA region and feel there is a lot of potential to customise some of the content being produced here for South Asian audiences," he adds.
Commenting on the highlights of the channel, he says: "We have carefully put together content across various genres, ranging from drama, lifestyle and kids to youth and blockbuster Hindi movies. The highlights of the channel would be some of the popular drama series from Turkey, Pakistan and India. Apart from content produced by our parent company Viacom18, we have also acquired content from some of the biggest production houses and broadcasters in India and abroad, to bring together a wide variety of entertainment to cater to the needs of an evolving audience."
The content team also plans to locally produce shows catering to local interests and aspirations of its South Asian viewers with the support of its partners based here. These will indicatively be around lifestyle, fashion, food, social/community and youth.
"The premise of Rishtey Asia is to offer the best available content to our audiences, and we will be repurposing content via customised editing/dubbing to match the expectations of local audiences," he explains.
International content will be customised to the needs of Middle East viewers by dubbing them in Hindi and other Indian languages. The content for the channel will be repurposed in India with most of the dubbing work done in studios in Mumbai.
The new channel's content research and planning teams are based in Mumbai, and its regional sales and marketing teams operate internationally across Dubai, Singapore, London and New Jersey.
Rishtey Asia is an encrypted MPEG4, DVBS2 SD channel available on Intelsat20 (wide beam) that covers the Middle East, APAC and Africa. The channel will be uplinked from Encompass Singapore into the Intelsat 20 satellite.
While the channel is available on some of the biggest linear and OTT platforms in the Middle East, it caters to the Indian diaspora across the globe with Mauritius Telecom in Africa, Digital System of Nepal Pvt Ltd in Nepal, and Scan International Company Ltd in Thailand. In Australia and New Zealand, Rishtey Asia is available on Vision Asia (NZ) Limited, Yupp TV USA INC and Lebara Media Sevices Limited.
Uplinked from the international uplink centre Encompass Singapore, the channel is beamed into the MENA region from Intelsat20 satellite.
"Rishtey Asia is now being beamed to households across more than 35 countries in the region, including UAE, Kenya, Tanzania, Uganda, Mauritius, Singapore, Australia and New Zealand.
"Over time, we will look to develop revenue streams across subscription and advertising sales, which will keep evolving as per local market dynamics," Gandhi points out.
IndiaCast aggregates and distributes more than 40 channels spanning genres including entertainment and news.
Internationally, IndiaCast has a portfolio of 10 channels, such as Colors, MTV India International, Rishtey, News 18 India, 5 Colors regional services and ETV Telegu, that are viewed in more than 80 countries as linear services. With a content library of 15,000 hours across genres, the group also syndicates content in over 100 countries in 20+ languages such as Russian, Serbian, Bosnian, Albanian, Macedonian, Croatian, Azeri, Kazakh, Swahili and English.
The Rishety Asia team comprises more than 50 people, which includes programming, marketing, distribution, advertising sales and back-end support staff.
"Just like the shows on the channel, we have handpicked some of the best talent in the media industry to make sure that Rishtey continues to be an innovative product that is always in tune with the expectations of viewers and trade partners," clarifies Gandhi.