We ended an action-packed 2016 with a fantastic roundtable thatrnraised some pertinent questions with key tech leaders in the region onrnwhat technologies they consider transformational to their business.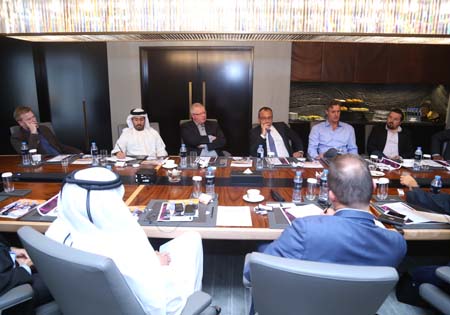 We ended an action-packed 2016 with a fantastic roundtable that
raised some pertinent questions with key tech leaders in the region on what technologies they consider transformational to their business. Vijaya Cherian sums up the discussion
This roundtable, which was hosted in conjunction with Avid Middle East, brought together a number of high-profile decision-makers from both the traditional and OTT platforms to examine the transformative technologies that we are seeing in the industry; the impact of these technologies on businesses today and tomorrow; the changes in the economics of the media landscape; the impact of remote collaboration, remote workflows and centralised assets; the attractiveness of new hosted models; how to make the businesses more scalable and flexible; and finally, their predictions for the future.
Joining us for the roundtable were Giles Wright, CTO of TV.ae; Flavien Volken, Chief Product Officer of Icflix; Richard Bentley, Network Lead Specialist – Media Operations, AJMN; Robert Sveb, Director of Global Technology Services at AJMN; Saleh Lootah, Head of TV & Radio Engineering, DMI; Nick Barratt, Senior Manager – Broadcast, MBC Group; Suresh Kumar, Director of Technology, Sky News Arabia; Hamad Abdelrazaq, Head of Technology, LIVE HD; Afzal Lakdawala, Head of Technology Projects and Planning, DMI; Omar Alzoubi, Senior Manager – Engineering Systems, DMI; Peter Van Dam, Director of Technology of LIVE HD; Paul Thompson, Director of Strategic Solutions at Avid Technology and Goksel Topbas, Regional Cloud and Enterprise Solution Sales Director at Microsoft Gulf. Hicham Ismail, Solutions Architect at Avid Technology, moderated the discussion.
The discussion kicked off with Ismail asking the first question of the day: "Which technologies do you consider transformational to your business?"
This elicited a number of different responses from each of the attendees based on the nature of their businesses.
Giles Wright of TV.ae, an Abu Dhabi based OTT service that has the backing of the state broadcaster, commented that payment systems are top priority for the OTT service.
"Payment is always on the top of our mind. I am always on the lookout for new payment systems like NFC Google Wallet, Apple Pay etc., because while we do have a lot of free-to-air content, the Arabian Gulf League is behind the pay wall."
Richard Bentley from Al Jazeera commented that as somebody who represents the journalists, the video editors, media managers, distribution technologies and so on, he would welcome "technologies that allow the end user to do all their jobs in one easy user interface".
"They need to be able to do everything at the same time, whether it is script writing, editing videos, publishing to the web or sending out playout services, and a lot of the technology providers are now giving these light-weight end user solutions that, at the moment, for me are the main transformative technologies that we are seeing."
Robert Sveb added that with Al Jazeera being in the live TV business, it is all about "speed, quality and reliability to get the news from the field to the screen".
"What will transform this business is primarily the overall introduction of IP technology in live production; we are already IP based in post but live production is a challenge," he commented.
Peter Van Dam said that he hoped the cloud and its related technologies "will give us a solid solution that is cheaper, more reliable, secure and takes away a lot of CAPEX", adding that he hopes this will be achieved in the next two to three years.
Hamad Abdelrazaq from LIVE pointed out that his main concern is remote production, a concern that was echoed by the DMI team.
"We are looking at remote production very seriously because of the logistics involved in live production and going on-site with huge OB trucks, when the same can be achieved with remote production. This would bring huge CAPEX savings. Technologies in this area would transform our business substantially."
Saleh Lootah seconded that, also pointing out that he was closely evaluating technologies that enabled business continuity, "whether it is building a private cloud or being in a public cloud".
"We are also looking at the ease of expansion that will be delivered with IP. This will be good for the broadcast environment," he said, adding that DMI is moving slowly in this direction until they are convinced the "market has matured and there is more collaboration between vendors".
Nick Barratt of MBC pointed out that for him, the biggest changes in transformation are "moving away from hardware and closer to software, and having it all in a more consolidated application that allows us to do everything and work more quickly".
"We will then, no longer, be restricted as we were in the past. The opening up of connectivity to all of our customers and our actual users as well, and enabling that two-way conversation be they in-house staff or end users is invaluable to what we do."
Sky News Arabia's Suresh Kumar commented that for him, SDI to IP, HDR and 4K seem to be technologies leading the way. He also added that all organisations are considering infrastructural changes and workflow modifications, taking into consideration the way in which consumers are consuming content. It all depends on the target audience and the type of content managed.
DMI's Omar Alzoubi seconded this, adding that the moves to IP and 4K are significant.
"The next big move, in addition to IP and 4K, is improvements in the viewing experience and the quality of the picture. The aim is to deliver a picture to the viewers that is as close as possible to the natural world, not only by having more pixels but also through High Frame Rate (HFR), Wide Colour Gamut and High Dynamic Range (HDR). This will help overcome the limitations from the current Standard Dynamic Range by increasing the range of colours, brightness and contrast. We are continuously evaluating new trends through demos and research to align our roadmap," Alzoubi added.
Lakdawala said: "We are constantly monitoring the transformative technologies like SDI to IP migration, higher resolutions like 4K, HDR and beyond and cloud-based offerings for storage."
Volken of Icflix commented that augmented reality and immersive experiences will hold more weight in the future.
"We want something where we have an immersive movie experience and this is what we hope to have although I don't know how we will achieve this transition. There is one reason, however, why 4K will become more interesting. Now, if you want to have an immersive headset, your content is mostly in 2K and, therefore, pixelated. Even 4K just about gives you a good experience. It is 8K that will give you a good immersive vision and will become the reason to sell 8K to customers," he pointed out.
He added that after VP9 and HEVC, the next new codec to watch out for is the AV1, which will "be the proper way of giving this media to the end user".
"AV1 is the next codec because it is interoperable and open, it is optimised for the web and is scalable to any modern device at any bandwidth. The quality of the compression is much better than the existing codecs and there are no licensing fees either," he commented.
Goksel Topbas, Director for Cloud and Enterprise Business, Microsoft, who was part of Microsoft's initial engineering team in the US, commented that cloud will indeed transform people's businesses on various fronts.
"Cloud is a very short word, but what it carries behind it is massive in terms of capacity, innovation and the huge capabilities it can provide. It was not possible to have this before. We did virtualisation and we had applications, but we never had the ability until now to have hundreds of thousands of servers connected to each other with the massive ability to analyse data and come up with predictions about the future of your business that could help you make on-the-spot decisions. Cloud gives us huge capabilities to burst and pay as you go immediately removing the cost from CAPEX to OPEX. Now, we have private clouds and public clouds.
"Microsoft works with more than 2000 partners in the region including government agencies across the GCC and they see the power of adopting the cloud. It is important that we move into the cloud because if you haven't yet moved into it, market conditions, its potential and the solutions it provides will eventually compel you to move into it. It could be a seamless hybrid cloud, where you maintain your confidential assets in a private cloud while using other services from a public environment."
Alzoubi commented here that "pay as you go does not work sometimes, as one may need 24/7 services in which case, one has to pay all the time and this does not guarantee a cost-effective solution".
Summing up the discussion on transformative technologies, Avid's Paul Thompson commented that "it's clear that content volumes are only going to increase and production rates will continue to accelerate".
"The number of platforms, channels and consumption methods continue to grow, and the consumers have ever more choice on how they consume that content. The question is how can businesses evolve to satisfy these demands with budgets that are not keeping pace with the content explosion and, at the same time, embrace new technologies.
"I would say the transformation aspect is how a combination of technology deployment models together with a variety of commercial deployment models such as OPEX, CAPEX and subscription can help the industry create more high-quality content and efficiently get it to consumers as easily and as quickly as possible."
The discussion then moved to the cloud, with Ismail asking state broadcasters such as ADMC and DMI to comment on their cloud plans.
Van Dam responded by stating that at a previous roundtable a year-and-a-half ago, he had declared that the state broadcaster would never consider public cloud because of the legal restrictions.
However, with a recent cloud initiative that ADMC undertook in conjunction with local telco operator du, Van Dam commented that a proof-of-concept they undertook in the public cloud kept in mind their security, technical and legal concerns, thereby making it easier for top management to warm up to the idea.
"We showed them how, in a business continuity phase, we may need to move some elements into the cloud. Unlike in the past, where we always built to expand and scale, now we have to think differently. Five years ago, if we had 14 channels, I would prepare for 20. But in the future, we may need only eight and then the rest may be on a whole different medium and platform or differently streamed. Also, the ability to expand only when you want something and then to shut it down is more important today and the possibilities with cloud are big with this. We need to partner with a telco to reduce the price substantially," he added.
Al Jazeera then stepped in to speak about how cloud is improving its business.
"One of the biggest challenges we have is creating the content once and delivering it to different platforms simultaneously. One of the biggest headaches broadcasters face is pushing HD or even the proxy content around the globe, and allowing remote users to access that content in a proxy flavour and delivering high resolution at the same time. The ability to access high-res video content, the rich text content and the metadata held within those in a lightweight simplified way is important, because end users are not engineers. The experience for the end user must be so easy and graceful on the outside while a solid powerhouse drives the technology on the backend. I believe a cloud-based solution will enable us to do that moving forward," commented Bentley.
Sveb added that news production varies hugely from other content because of the longevity of drama series and films.
"As the saying goes, there is nothing older in the world than yesterday's news. If you broadcast news that is worthwhile today only tomorrow, it has zero value. The economy of long tail does not exist in news, unfortunately, so for us, cloud solutions are not as useful to store content. What's important is the speed within the production cycle.
"Acquire news, cook it and get it out … that is important. We acquire ten times more material than we actually eventually publish. Most of this content is very sensitive during the production cycle. Once it is published, you don't need to archive most of it. So cloud has tremendous value in the production cycle, but because of the sensitivity of content, I think media organisations find using public cloud challenging although it would be best for speed and reliability."
Lakdawala questioned if archiving news in a public cloud environment would not be more operationally efficient and economical.
Sveb pointed out that not all news is archived.
Some attendees seemed taken aback by this given that we have always been told that one never has an idea when old material will be useful.
Sveb clarified that archivists use a certain methodology within news and work with footages that they anticipate can be reused in the future.
Bentley clarified this further by adding that much of the news content used by the media comes from agencies whose "licensing rules dictate how long you can archive that content and how long you can keep it on your servers".
"Deletion policies are in place for that content based on the metadata in the storage, but also, at Al Jazeera, we produce our own programmes and many broadcasters have their programming departments. Content from outside often comes in different codecs, wrappers, resolutions and frame rates and do not necessarily meet our standards. We shoot a lot of material ourselves and this, we keep. We archive it, annotate it, reuse and repurpose it for reruns, re-edits, distribution and the like. The social media teams, the web teams, the online teams and those who put together award ceremonies and submit news items or programme commissions also need to access all of that content at the same time. It is a much larger ecosystem that we are all dealing with as broadcasters, with news workflows at the heart, multiple custom workflows needing to be employed, all contributing to each channel's output," he added.
Barratt agreed that archived material could have huge relevance 15 to 20 years later and "may be key to some event".
"Being able to scale this in a completely virtualised infrastructure and being able to apply analytics and enabling automated metadata capture allows you to deep archive at a low cost," he said.
Bentley went further, adding that image and voice recognition, as well as the ability to tag the location of a story based on GPS information inside the content, become truly important.
Barratt seconded this by saying that even if existing recognition software may not be as sophisticated now, technology will catch up at some point in the future and one may be able to go back to the content to add additional layers of metadata to enrich it further.
"Metadata will enable us to connect us with content in our deep archives, and this can only bring us closer to a lot of gems we don't have any idea we own," he said.
Ismail once again raised the discussion on centralised assets and remote collaboration between internal departments, graphics departments and production departments.
Bentley responded that everything depends on how much collaboration one has in one's environment and also, what technology is involved.
"If you look at Al Jazeera's workflows between Washington DC and the main offices in Doha, one of the challenges we face is that the US has a different frame rate and power usage and in transferring those assets back and forth, we have to transcode them. Then again, it is a case of being able to centralise those assets and have them viewable by all users, whether by programmers or the news teams. In the past, we have been shipping tapes, or doing baseband deliveries all over the world, or requests are made by email systems.
"Many of us still have huge legacies of tape archives with thousands of digibeta tapes that are still being ingested into a central repository and this is a big challenge. And then, of course, there is the question of who can access that content and whether they have permissions and rights to use it. The ability to flag that metadata with the rights information, sensitivity and the ability to reuse it is really very important to us. More and more of our end users work remotely in the field or while travelling to work and so the ability to give them access to that content becomes more important.
"In particular, the security policies and the risks involved in that become more important. We need to ensure that in securing assets, we don't hinder the production work. We need to look at those security threats more openly and honestly get the buy-in of the end users to understand that their actions in remote places could have a potential impact on security as well."
Ismail then turned to the OTT specialists to query whether their media is kept in a centralised location, and whether they make it available on a regional basis.
Wright answered that TV.ae's origin point is Amazon Web Services (AWS) and its CDN network is plugged into that, but he also pointed out that he does not have to deal with any of the issues that large media organisations like AJMN do.
"We have ingested quite a bit of ADM content. We have a large team sitting behind the wall in a number of locations; we have the social media committee, the e-management and customer relationship team in Amman, Jordan and another team in Egypt doing a bit of tech, and most of the team in Abu Dhabi."
Volken seconded that, adding that they follow a similar formula with the ingest team taking the media from the hard drive or undertaking ingestion at the Icflix office.
"After ingesting the content, 27 odd servers do the encoding, as Icflix supports 26 different formats. Once it is done, we are storing them in different locations."
He added that Icflix is now exploring another new model of using proxies instead of CDNs.
"CDNs will always be there, but setting up proxies as close as possible to the final provider instead of a pure CDN-based solution is much more interesting for both the customer as well as the provider. For example, a proxy can be hosted by an operator such as a telco or an internet provider, then we redirect the customers to this proxy instead of a remote CDN, which is a much better deal for the client. On the provider side, he spares paying extra bandwidth as his customers will be downloading from his hosted proxy instead of a possible remote CDN. Morocco was the first country where we deployed this configuration," he commented.
Ismail brought the topic back to telco operators and remote production, and the possible role they could play.
Abdelrazaq pointed out that LIVE tried to do a POC with the telco operators in remote productions although it was not fully remote. However, he pointed out that the telco was not entirely useful in this process.
"What we are looking for is to see that the two stadiums that are near to each other in Abu Dhabi are capable of full remote production. We are trying to implement a new technology for remote production. Technology, however, is not mature enough to have all the connectivity in one place and have all the cameras and the content delivery coming from somewhere else. My opinion is that technology has quite a long way to go, plus the telco operator needs to cooperate with us to move forward on remote productions."
Van Dam added that they have some remote productions with four to five cameras but the connectivity and the cooperation need to be there.
"It's not enough for the infrastructure to be there. The various departments within the telco need to come together to make it possible," he pointed out.
Suresh Kumar said at this point that the challenge is really with the last mile connectivity in most of these places. Everyone agreed that it all comes down to cost and connectivity.
Van Dam pointed out that if the push comes from other areas that are not typically broadcast, perhaps this will happen. He gave the example of a requirement for remote production at one of the palaces in the country.
"These are some of the first venues for us where we can do remote production, because they won't have the space for two or three OB trucks, and perhaps don't want that sort of encroachment on their privacy. So I hope that the push will come from another angle, and then we can move on."
Ismail questioned at this point whether the technology is ready today and whether sports venues are covered with 4K. Van Dam commented that a discussion on 4K is limited to some areas when 53% of the region still watches TV on a 4:3 tube. Kumar added to those figures, stating that a whopping 80% of the channels available in the the MENA region are still on SD.
"In the UAE, around 50% may have IPTV connectivity, but in other places it is still dependent on satellite distribution," he stated.
Alzoubi added at this juncture that DMI is testing and evaluating a few systems in order to achieve full remote production for general purposes using telco connectivity.
"Our goal is also to use a codec with a latency as close as possible to zero. Furthermore, we are looking at smart solutions to utilise the bandwidth by dynamically allocating the high bandwidth for sources that are selected on air, while the rest are for viewing with very low bandwidth," he said.
However, Abdelrazaq pointed out that this situation will not work for sports.
This led Ismail to throw the floor open for a discussion on virtualisation and how the economics of the business work.
Barratt pointed out that virtualisation changes how people experience content.
"For the end user, it should be irrelevant that he is watching his content on different devices from different places. The user experience should be the same. The key is that the end user should not be massively affected by the underlying technology."
Van Dam pointed out that making wise choices in terms of infrastructure and solutions will help keep costs down.
"We carried a massive amount of copper cable for the Formula One, and one day, somebody came with a fibre solution and we reduced the cost price of shipping massively because of fibre. Of course, the investment in the beginning was a little bit high, but we recovered that in one season and a half. Now I see the next stage, where previously 25 people used to come. Now, only around four come and the rest are working remotely.
"The amount of savings with new technologies and remote productions is coming, and it will improve for the people because the viewers will get more. If I see now, we do around four or five football games a day. In the evening, we have a sports show and all the editing is done on the field because there is no green field. This is the reason why a fibre network will give an advantage that the viewer will not see," Van Dam pointed out, adding that if he had a cloud solution with enough bandwidth and connectivity, he could centralise with everyone in geographically different locations.
"The same with editing. If you want a specific editor in Dubai, you don't need to bring him from Abu Dhabi. He can just download it and work from his office."
The discussion then turned to big data and what it meant to each of the attendees.
"Is anyone using analytics based on social media, YouTube programmes and OTT platforms?" Ismail queried.
Volken pointed out that Icflix uses big data in quite a minimal fashion to find out the behaviour of the person on the web site and across the platform and what programmes he likes, so as to make more sophisticated recommendations.
Lakdawala pointed out that the analytics on social and digital media have been far more accurate and have enabled the marketing and programming team to know which content generates more eyeballs, so they can work around that content.
Thompson queried how the end user data is being used by the content creation side of the business, the speed of reaction of social media to content, which is being consumed by a lot of viewers, and how quickly the business reacts with more content on that topic.
Lakdawala pointed out that this "depends on budget… they may repeat good content if they can't acquire more of the same."
Barratt said there is great power in big data if used well, and these insights can be used for a VOD linear stream and curated content.
"To then be able to give people the options of how they pay for content and being able to look at the metadata or commercials have worked based on data and profiles. You could get extremely specific information, but I see us getting to a point where they actually help you to commission content and then, regardless of whether it is 20,000 or 20 million people watching it, it doesn't matter."
Ismail pointed out that the usage of analytics can be enriched when you link shows to people's favourite shipping activity, which is connected via ads.
"Then, we may have a more complete ecosystem of how to make use of analytics," he pointed out.
Volken said that for good analytics, you must have a good design that seamlessly takes people from one part of the web site to the other and enables them to make good recommendations.
Barratt added that big data must go one step further to make recommendations that the viewer was not aware he would enjoy watching.
"For instance, I might not know I like Russian films. Taking this data which is not necessarily related, and trying to build a profile of you so we can make suggestions that may not be on your radar, is what makes big data exciting," he pointed out.
The conversation briefly touched upon AI and its myriad benefits, before people debated what the second screen was being used for.
Volken said that the multi-device experience is most important to young people. Lakdawala queried if people were actually watching second screen content or catching up with linear content on the second screen because it was free of ads and available at their convenience.
Ismail moved towards concluding the discussion with a final question on which technology each attendee would be looking at deploying or adopting in 2017.
Volken pointed out that like Netflix's Falcor and Facebook's GraphQL, Icflix's new version will have elements to manage the increasingly complex data requirements of modern web/mobile apps.
Lootah said he is looking forward to greater collaboration between broadcasters and telcos to address many of the connectivity issues today.
Lakdawala said that IP transformation will lead us to the future.
Alzoubi reiterated that IP will be the enabler and will pave the way for software-defined networks, multiplatform delivery, cloud, virtualisation, 4K and beyond.
Barratt said he hopes to move to a data centre model next year and Abdelrazaq said he is really excited that a client had requested VR for one of their OB vans.
Van Dam said he has his task cut out for him, which is advocating how the cloud can be useful for his company.
Robert Sveb said that some very sophisticated data AJMN collected recently shows that linear is growing and mainstream media is beginning to regain ratings, despite the surge of content online.
"It seems to indicate that when people are flooded with so much content from several sources, they prefer to come to linear services for professional, high-quality production," he pointed out.
Bentley seconded this, adding that he definitely hopes to see a simpler interface for end users that gives them access to all services from one window.
Wright said his 2017 mantra is to go for dynamic ad stitching, where they can strip the ads from the linear content and add theirs for OTT streaming.
Kumar said he is looking at better bonding and coding technologies to improve journalism in the field.
In conclusion, while each organisation has specific needs, cloud and virtualisation are definitely coming. The need to apply big data to better analyse and profile users will enable media organisations to offer more palatable content to their viewers.