Social media, OTT and multi-platform screening are some of the key trends to watch in 2014. Fuelled by a steep increase in consumption of data and entertainment on mobile devices, consumers now seek reliable and seamless services on the go; and the industry is responding with a proliferation of cutting-edge solutions such as social TV […]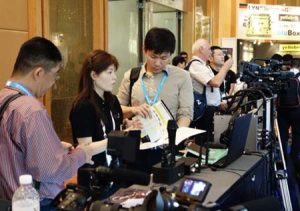 Social media, OTT and multi-platform screening are some of the key trends to watch in 2014. Fuelled by a steep increase in consumption of data and entertainment on mobile devices, consumers now seek reliable and seamless services on the go; and the industry is responding with a proliferation of cutting-edge solutions such as social TV and second/multi screens that help them stay connected in an evolving digital world.
BroadcastAsia2014: Covering all facets of the broadcasting value-chain
The application of these technologies will be intertwined throughout the BroadcastAsia2014 exhibition and conferences from 17 to 20 June at the Marina Bay Sands Singapore. Visitors will not only get to experience the convergence of technologies, they will also get to unlock new business pathways with access to networking with major global industry players.
They will be able to observe how broadcasters, pay-TV operators and online video and content service providers are working together to connect the audience through the latest technologies. Technologies such as 4K/UHD, OTT, multi-screen and multi-platform streaming enhance the viewer experience in ways not possible before. For instance, broadcasters using 4K cameras can now provide higher quality images to viewers.
Key highlights of teh show include: 4K, multiplatform and MAM, professional audio technology, and cinematography / film / production zone.
Calvin Koh, Assistant Project Director, Singapore Exhibition Services said: "With the broadcasting industry facing challenges from emerging technologies, BroadcastAsia will gather the industry to discuss these opportunities and issues, as well as showcase the infinite business potential the new technologies can bring, especially in the Asian region. Highlighting 4K, second/multi screens and OTT, among other prevalent trends, is an example of how we continue to introduce new elements into the event and move the industry forward."
"The broadcasting industry is in an exciting state of flux at this time, especially with the addition of the second screen experience. Instead of seeing OTT and other Internet technologies as the competition, broadcasters have the opportunity to see these as enabling them to reach a higher level of play, through an intimate connection with their target audiences," commented Olivier Heurteaux, Senior Vice President, APAC, EVS.
EVS will be exhibiting at BroadcastAsia2014, as well as presenting a casestudy on sportscasting at the BroadcastAsia2014 International Conference.
Aside from EVS, exhibitors who have confirmed their participation and will be showcasing the latest technologies in DVB-T2, file-based management systems, multi-platform streaming and nextgen broadcasting include Coship, Dalet, Dayang, DB Broadcast, Elber, Envivio, Gospell, Imagine Communications and GatesAir, NEC, Orad, Pace, Pilat Media, Playbox, Quantel, Ross Video, Screen Systems, Skyworth, Telestream, Thomson Networks, Toshiba, VIZRT, Wasp3D and Wohler.
Joel Lamdani, President Asia Pacific, Orad Hi Tec Systems Ltd. said: "By 2016 the Asia Pacific region is forecasted to become the single largest market for 4K TV, accounting for 42 per cent of total world 4K households. The Asia Pacific Region, being a hub of consumer electronics producers  mainly in Japan, Korea, China and Taiwan are pushing to market new 4K TV as replacements for old HD ones. Films are already being shot in 4K and sports events are now testing 4K productions with the Brazil 2014 World Cup being a big trigger."
"Content companies from Terrestrial, Pay TV and Streaming IP companies are also gearing up for the distribution of this 4K content and Orad is in the forefront of this technology. Orad's already is the market leader in providing leading TV stations in the Asia Pacific with it 4K technology for large video displays providing them with true 4K and 8K video & graphics technologies for their large display walls. At the same time Orad is also positioned to provide its leading 4K virtual studio, real time graphics system and video servers all in true 4K supporting 1080p," he added.
At BroadcastAsia2014, Orad will be showing its 4K video & graphics display system.
Intuitive conversations on the right business models
Comprising visionary keynotes and specialised industry sessions, the BroadcastAsia2014 conferences are a knowledge transfer hub and networking platform for attendees to debate and discuss critical upcoming trends such as disruptive technologies in the broadcast and digital media market landscapes, industry risk factors and models for success that will enable companies to ride these trends and remain profitable.
BroadcastAsia2014 International Conference will delve deep into OTT as well as the role of social media in the future of TV, whilst the Creative Content Production Conference 2014 will focus on content creation and distribution, and the technical aspects of 4K. An insightful series of conference tracks will cover the latest disruptive technologies that enable companies to increase eyeballs, with specialised tracks on Asian audiences and strategies for success in Asia. Experts from EVS, Media Prima Digital, MediaCorp, Nielsen and Sony will present case studies and share their thought-provoking ideas at the conferences.
Noting that OTT services are gaining greater traction in the US and Europe, Lam Swee Kim, Group General Manager of Media Prima Digital thinks that Asian operators and broadcasters need to provide OTT services to reach not only a wider target audience, but also for sustainability because content consumption is now expected to be multiscreen. Recognising that there are challenges such as getting the 'buy-in' of management to adopt an OTT strategy and setting up a robust OTT platform that is able to cater to the broadcaster's needs, Kim believes that having good content will work anywhere – be it the traditional broadcast or OTT platforms.
"OTT is driving business growth in the Asian broadcasting industry and with new players emerging from different areas across the region, it is an extremely crucial time for us to learn from one another and unanimously develop OTT video services. BroadcastAsia will educate visitors and participating businesses alike, while providing the ideal opportunity for us to draw focus to our target audience, plan our investment options and prepare for the challenges that expanding the OTT market may bring," says Ms. Lam Swee Kim, Group General Manager, Media Prima Digital.
Kim will be presenting a case study at the conference on 'How OTT is driving business growth in broadcasting' on 17 June, Day One of the BroadcastAsia2014 International Conference.