Fox Networks Group (FNG) has announced the launch of three new channels exclusively on eLife at a press conference in Dubai today.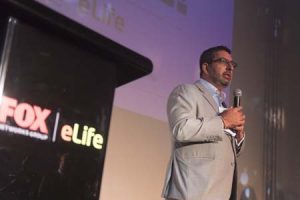 Fox Networks Group (FNG) has announced the launch of three new channels exclusively on eLife at a press conference in Dubai today. Fox Rewayat, Fox Life and Fox Crime offer specially curated global content and locally produced content for Middle East audiences.
Speaking at the press conference, Sanjay Raina, General Manager and Senior Vice-President of FNG said: "The Middle East continues to be very important to FNG. With today's announcement, we are proud to offer 15 channels of pure entertainment, the largest and most diverse portfolio on Pay TV across the region.
"The addition of three channels reflects our growing investment and commitment, with our partners eLife, to deliver the best and most diverse programming to our audiences. With this valuable partnership, we continue to identify, innovate and develop sharply defined entertainment products that fill a need in the market. With the three new channels we are presenting today, which introduce new genres in curated global content as well as exciting local productions, our viewers on eLife will be spoilt for choice," he added.
Commenting on the partnership Humaid Sahoo, CEO of Evision added: "Today's partnership with FNG showcases our commitment in delivering the best in entertainment from local and global content providers, creators and partners. This ensures that Etisalat's eLife audiences access some of the most sought after TV programmes from across the globe.  With the addition of three new exclusive channels to our platform, we are creating a unique offering to our viewers, enhancing their entertainment experiences and allowing them to discover and watch their favorite drama, life and crime programs on channels dedicated to these genres."
FOX Rewayat delivers curated dramas from across the globe, fully dubbed in Arabic, all on one channel.  As FNG's ?rst ever Arabic channel, Fox Rewayat will deliver block-buster dramas from Latin America, Europe and Asia as well as hit series from the Middle East – all on HDTV.
FOX Life is being launched with content curated for local audiences featuring a selection of unscripted programming from cooking and travel to home renovations, with shows headlined by globally recognised celebrities such as Jamie Oliver and Nigella Lawson.
In another first, Fox LIFE will air its first local production, a brand new show with strong and engaging narratives created specifically for viewers in the Middle East and executed to global standards.
The Open Road, an unscripted travel documentary will bring the tastes, sounds and vistas of various countries through the eyes of two women living in the UAE as they embark on their motorbikes and show us the hidden gems of the region up close and personal.
FOX Crime will be the Middle East's first entertainment channel dedicated to the crime and investigation genre, featuring a breadth of content from fiction, to nonfiction series and movies and top-rated series and award-winning films with a bold, entertainment dimension, including the Bridge and Cape Town.