EVS will be presenting the latest technologies for the Creative Live and Connected Live production processes to visitors at BroadcastAsia 2017.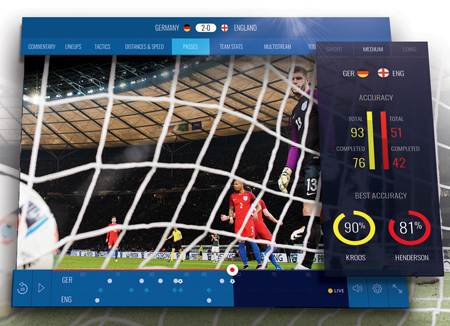 EVS will be presenting the latest technologies for the creative live and connected live production processes to visitors at BroadcastAsia 2017. The EVS stand will be divided into four demonstration areas which include video switching, broadcast centers and newsrooms, video refereeing and the latest in live production tools.
Within the demo stations, visitors can get their hands on EVS' latest live production solutions. These include the DYVI live video switcher which uses a software-defined architecture to let multiple users configure their productions at the touch of a button and the XT4K, EVS' dedicated UHD live production server which give operators the flexibility to use the server within either IP- or SDI-connected production workflows.
Also on display will be IPDirector, EVS' content management system which includes new functionality so operators can quickly publish created highlights and replays to social media platforms. Alongside this, stand 6H1-04 will feature the Ingest Funnel application that lets content owners quickly ingest and conform media in multiple formats from a number of sources and IPWeb, the remote browsing tool which allows the browsing of content from anywhere, no matter where the source content is stored.
EVS will also have an IP4Live workflow demonstration on its stand, letting users see how adopting the latest IP-enabled workflows and infrastructures is the first step in a strategic approach to full IP adoption.
EVS' Xeebra, the software-defined version of video assistant referee (VAR) system, will be shown at the booth. This latest version of the VAR enables the fast and efficient review of multiple camera angles at once in a software-based environment. With an easy to deploy configuration Xeebra can be utilised for broadcast analysis, officiating review, medical monitoring and even coaching.
The Xeebra tool was most recently purchased by Auckland-based OB specialist OSB who took a fleet of systems which will be rolled out for use as VARs and for medical review throughout all international rugby competition in New Zealand.
BroadcastAsia 2017 is the 22nd edition of the international digital multimedia and entertainment technology exhibition and conference and the leading event in the Asia Pacific region.