While the entertainment industry is abuzz with how streaming services have altered the viewing experience forever, these players remain newcomers in the e-commerce space. Pure e-commerce players have been taking the same challenges that streamers are now addressing for years, and there's plenty we can learn from them – as we discovered at a recent MENA OTT panel discussion hosted by BroadcastPro ME. Keith Fernandez sums up the discussion.
While streaming has proliferated in the MENA region, it has a fair distance to cover if it is to become the default mainstream option. While the SVOD market grew by 36% in 2020 and is forecast to reach 45.6m regional subscribers by 2026, traditional pay-TV looks set to retain its majority over the short to medium term, according to market research firm Dataxis. OTT and SVOD revenues are only likely to overtake DTH and IPTV services in 2024, crossing $1.9bn across the region. Additionally, as competition rises over the next few years, OTT players will need to contend with several challenges, including improving reach, enhancing monetisation and fostering sustainable growth.
"The media industry has been going through a transformation in recent years. All players, whether local or global, are forging ahead with their streaming services direct-to-consumer (D2C). The challenges they are facing are no different from the challenges that pure e-commerce players are addressing on a daily basis. Yet e-commerce players are way ahead of the game [compared to] streamers when it comes to addressing the specific challenges of this region," media and telecom expert Bachir Boumediene said at a recent MENA OTT conference hosted by BroadcastPro ME.
He chaired a panel of entrepreneurs from across the e-commerce sector to share actionable strategies of benefit to OTT players. Mehdi Oudghiri, co-founder and co-CEO of eyewear omnichannel platform Eyewa and former co-Managing Director of grocery delivery company FoodPanda, was joined by Hosam Arab – founder and CEO of buy-now-pay-later fintech Tabby and founder of online retailer Namshi – and Mohammad Fattal, founder and CEO of the Alfan Group, a digital network of influencers and content creators.
Here are some of the major takeaways.
Reinvent the customer journey with trust at its core
Digital-native industries such as OTT are fortunate to be able to track the customer journey from start to finish. But delighting those customers and retaining them with a smooth experience that keeps them coming back is a different proposition.
Eyewa first determines what customers value and works backwards to make their journey frictionless, Oudghiri said. "Early on when we started, trust was the main issue, particularly since no one knew what Eyewa was. So we created policies and offered services that allowed customers to feel comfortable."
Cash on delivery was a significant early attraction for customers. Following the Covid-19 outbreak, the company went one step further, launching a 30-day return policy with no questions asked. "At a strategic level, the way we think about it is, we need to be customer-centric as an organisation."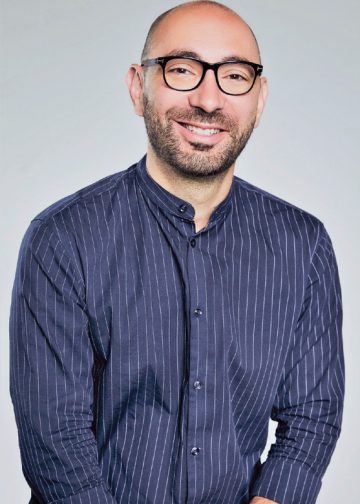 Eyewa walks the walk in two ways. Trust and fairness are two of its central values, and they inform every business decision, including those made by frontline staff interacting with customers. "We don't question our customers, we accept their claims are right," Oudghiri said. Similarly, when it comes to fairness, the company proactively offers customers any ongoing deals and discounts even if they are unaware of them, because it's the fair thing to do.
The second strategy is to allow employees high levels of autonomy in decision-making, with a view to improving customer satisfaction. "Throughout the organisation, we push our team members to go out of the way to delight the customer. So if a customer comes in, that employee who interacts with him has the ability to make a decision to make sure that they have a great customer experience."
A broadcast operator might communicate trust by accepting a customer's right to modify or even refund packages at any time, as well as by empowering helpline staff to incentivise unhappy consumers with freebies.
Fattal calls this focusing on happiness. Alfan works to please its creators in different ways: by finding and generating revenue from additional platforms, or through PR exercises that improve brand value. Although there may be no immediate pay-off, customer satisfaction leads to long-term relationships.
Focus on a seamless customer experience
Trust can also improve the customer experience, Arab said, speaking of his experience with Namshi. "How do you remove friction completely from the customer's journey and ensure it is seamless and convenient? The reason you're working to delight the customer is not just because you want to be a nice guy. You're doing it because that creates long-term business sustainability."
Arab offered an example of this strategy at work in the retail returns process. Customers can face more friction online than offline, because there are many steps involved, from requesting and arranging returns to waiting for refunds before making new purchases. "We brought that down to a single-click exchange rather than a return, where a customer can request a return and immediately request a new size or a different product while doing that return, so the driver comes in with that new product and takes the old product away."
One way broadcasters can minimise mistakes, delays and setbacks for customers is by improving administrative functionality within the app and offering a similar single-click approach to subscriptions and add-ons. WhatsApp interactions can similarly reduce friction around phone calls.
Prepare for the omnichannel customer environment
Streaming players can draw a lesson from the way retailers are building omnichannel commerce environments. The business effects of the pandemic initially destroyed brick-and-mortar retailers, but their departure has led to more accessible rents for start-ups and independent brands. At the same time, vaccine roll-outs and increased adaptability to a Covid-as-usual scenario are seeing customers throng spaces that offer a physical experience – whether these are malls or events such as Expo 2020 Dubai, which has attracted 8m visitors in three months.
"It's really about ensuring that it is not one-size-fits-all. We don't just collect data for the sake of having it, but to ensure that every customer has a very, very personalised journey from the time of acquisition to post-acquisition" – Hosam Arab, founder and CEO, Tabby
But customers now expect an omnichannel experience. Retail brands must be able to deliver the same levels of convenience and personalisation in stores as they do online, and the journey between both must be seamless.
"We have had much easier access to great locations in some of the malls both in the UAE and Saudi Arabia. That has allowed us to start scaling our retail footprint a lot faster," Oudghiri said.
Eyewa attempts to stand out from traditional retailers by bringing its online approach to the brick-andmortar world. "We look at our store the same way we look at our online platform. We map every single aspect of the customer's journey in the shop – where they stop, and what visual merchandising they look at. We collect all that data and try to optimise in-store conversion rates in the same way we do online. At a basic level, that means that if a customer comes in to the store to make a purchase, that information is going to be stored and he can make his next purchase online much more easily. The key is to deliver a true, seamless omnichannel experience where the customer wants it. The journey doesn't stop in the store or online."
Some streaming services already do this, allowing customers to pick up where they left off on a different device. Here too, consumers expect brands to interact with them across different devices and networks, including wide-format TVs, web and mobile apps, and social media channels. "For streamers to maintain that kind of same look and feel and experience from a customer journey perspective is really important and a challenge that is still being addressed today," Boumediene said.
Head off competition with strategic and early action
Arab and his team are taking that strategy one step further, by building customer trust while delighting in challenging legacy players in the banking sector and staying true to its own brand identity. In line with its positioning as a better, more convenient alternative to credit cards and traditional banking, Tabby actively works to resolve pain points associated with account applications by simplifying the list of documents required and reducing waiting times.
"We said, let's ensure we are providing as seamless a journey for the consumer as possible. Now, obviously, that comes at the expense of risk. The reason banks have a complex process is because they want to minimise the risk to the extreme. For them, it's at the expense of a good customer experience. We turn that completely on its head and assume a higher risk by requiring fewer details from our customers to ensure we provide the most convenient payment method online," Arab said.
The fintech company looks at a consumer's behavioural data instead of relying on credit data alone. It considers how often the consumer is buying, the age of their online profiles, and other metrics that paint a complete picture of an individual rather than reducing them to a set of numbers, as Arab put it. While such a composite may not be as accurate as one created by a bank, Tabby believes most consumers have good intentions.
"There is an outlier that is looking to outsmart you and defraud you. Do we build our business around that cohort? Or do we build a business around the majority of our customers, who generally have good intentions and just want a convenient experience? Do we solve for that bigger cohort and work to control those with bad intentions over time?"
For broadcasters, the takeaway is in understanding how to prevent churn and improving ROI on acquired customers. Opportunities could lie in providing more payment flexibility to end customers and providing periods of grace, for example, or in more immersive and localised content.
Leverage technology to deliver personalised content
The future lies in hyper customisation, pointing to developments in the US, said Oudghiri. Eyewa is working to ensure it collects collect data at every touch point, to personalise the journey to the customer's past behaviour.
"If you think about AI, hyper customisation is one of the keys to higher e-commerce conversion," he explained. "So that the customer sees products that are adapted to his needs, and it's a lot easier for him to find what he wants and complete his journey as quickly as possible."
At Tabby, data helps tweak the discovery journey. The company tracks customer behaviour across a wide range of retailers, so that over time it can show them similar types of products relevant to their experience. "It's really about ensuring that it is not one-size-fits-all. We don't just collect data for the sake of having it, but to ensure that every customer has a very, very personalised journey from the time of acquisition to post-acquisition," Arab said.
"If you think about AI, hyper customisation is one of the keys to higher e-commerce conversion" – Mehdi Oudghiri, co-founder and co-CEO, Eyewa
Alfan's Fattal pointed out how customisation has paid off for social media platforms, where the echo chamber is well documented. "The reason TikTok is blowing up again is because they customise the content towards what you consume. And the same with other social platforms. Streaming platforms have already begun to do that."
With broadcast already experiencing a revolution in widespread OTT availability and evolving consumer needs, technology has changed how content is produced and delivered. It can also be leveraged to personalise the customer experience. As Boumediene pointed out, a recommendation engine built using artificial intelligence (AI) and machine learning (ML) can help OTT players up their game and deliver better as businesses.
Expand your storyline beyond your product universe
The ubiquity of mobile devices has led to a multi-layered environment where consumers interact with two or more screens at once. Like so much else, this trend has been accelerated by the pandemic. Around 67% of respondents use mobiles while watching television, Global Web Index data shows.
For broadcasters, Boumediene advised using a content-seeding strategy to build a storyline that expands the universe of each streaming app. Tapping into social media networks augments brand identity in new and different ways that may not be possible within the OTT app.
Piggybacking on current trends can deliver big returns, Fattal added. He offered the example of TikTok star Addison Rae. Although she only joined the network in 2019, her rapid success on the platform saw her sign deals with Spotify and Netflix the following year. The success of her Netflix debut, He's All That, led to a multi-picture deal.
Fattal said that while Rae's first Netflix show was criticised, in part because of her inexperience as an actor, the data vindicated the decision. "When you look at the data, a lot of fans loved the content and wanted more … so we ended up seeing more of her shows being requested. Jumping on trends and responding to current movements or messages quickly is doing very well."
Pivot to lifestyle
Positioning your company as a lifestyle brand goes a long way to generating organic growth, Fattal said. The focus here is to associate the brand with an aspirational image and identity, rather than merely marketing its strengths and benefits. He offered the example of 'Netflix and chill', the viral catchphrase that inadvertently ended up boosting the OTT player's appeal among its target demographic. It has since been embraced by the brand, most recently in a line of Chilleez merchandise.
While still largely a guerrilla marketing tactic, it can also pay off in other areas, such as with influencers. "If you're able to kind of play in with your story of what lifestyle you are trying to target and consider how you can associate yourself with that lifestyle, you'll become an easy part of the narrative for creators and influencers. Once you become a lifestyle brand, things are going to be super simple, super amplified, and that organic growth for you comes right away." The world's broadcast players have long been inspired by Netflix – but there's clearly a lot more to learn.