The KhalifaSat observation satellite is EIAST's third satellite, following the DubaiSat-1 and DubaiSat-2 respectively launched in 2009 and 2013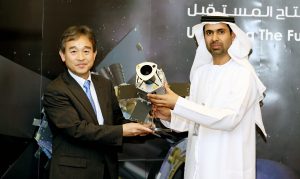 Mitsubishi Heavy Industries, Ltd. (MHI) has received an order from the Emirates Institution for Advanced Science and Technology (EIAST) for launch services, for the KhalifaSat observation satellite. The KhalifaSat satellite will be launched in Japanese fiscal year 2017 (from late 2017 to early 2018) on MHI's H-IIA launch vehicle together with GOSAT-2, a satellite tasked with observation of greenhouse gases, which Ministry of Environment, the Japan Aerospace Exploration Agency's (JAXA) and National Institute of Environmental Studies are jointly developing.
The KhalifaSat observation satellite is EIAST's third satellite, following the DubaiSat-1 and DubaiSat-2 respectively launched in 2009 and 2013. Significantly, however, the new satellite marks EIAST's first satellite wholly developed by Emirati engineers in the UAE, leveraging the experience accumulated from the two earlier launches. The importance attached to the national project to develop and launch a domestic satellite is reflected in its name, Khalifa being the name of the UAE President.
Commenting on the Khalifasat-related order, Director General H.E. Yousuf Al Shaibani said: "EIAST is looking forward to this collaboration with MHI. After evaluating MHI's launch service in terms of H-IIA launch vehicle performance, as well as the group's technical and operational expertise and its past successful launches, we are confident that they are the ones to entrust with the launch of KhalifaSat, which is a landmark project for EIAST and the UAE in general. MHI has proven to be very competitive in overall commercial terms and has a very good reputation in the global space technology community. Our 100% Emirati team of engineers are currently at work at EIAST's specially designed satellite manufacturing facilities on the final stages of KhalifaSat in preparation for its launch planed from late 2017 to early 2018."
"We believe that the success rate, schedule assurance of MHI launch services, and the traditional Japanese traits of meticulous response and sincere attentiveness were highly evaluated by EIAST. The good relationship between EIAST and JAXA also helped MHI win the order," said Naohiko Abe, Vice President and Senior General Manager of the Space Systems in MHI's Integrated Defense & Space Systems business domain. "Proceeding to full-scale coordination and preparation for the launch, we will take every measure and fully utilize our resources to meet the expectation of EIAST." Abe also expressed his gratitude to the related Japanese ministries, governmental offices and agencies, saying "We also appreciate the understanding and support of everyone who helped enable the launch of KhalifaSat together with GOSAT-2."