Harvey Glen puts the latest Xeen lenses though their paces Xeen recently launched its 24mm, 50mm and 85mm PL mount cine lenses. I was one of the lucky cinematographers selected to give them a test. Rokinon/Samyang has already made quite a splash in the DSLR filming world with its high quality and affordable glass. My […]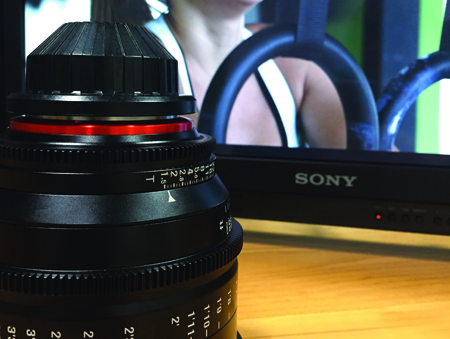 Harvey Glen puts the latest Xeen lenses though their paces
Xeen recently launched its 24mm, 50mm and 85mm PL mount cine lenses. I was one of the lucky cinematographers selected to give them a test.
Rokinon/Samyang has already made quite a splash in the DSLR filming world with its high quality and affordable glass. My initial observation of the Xeen lenses was their build quality. The casing is metal yet very lightweight.
The widest stop is T1.5, which is an impressive fast stop, very helpful in low-light situations and, of course, to achieve everyone's favourite, a shallow depth of field. The 24mm has close focus of 10", 2" closer than the (considerably) more expensive Zeiss Ultra Prime 24mm, again impressive engineering.
When pulling focus, the physical lens barrel is smooth and easy to precisely find a start and stop position.
The Xeen lenses didn't noticeably barrel/change frame size when pulling focus, which I think is remarkable! A sure sign of a cheaper lens is barrelling. The bocca is very clean, no odd weird shapes when defocused.
The fall-off is beautiful; they are sharp, but feel very natural. All the front elements are an identical size, 114mm, which is incredibly helpful and time-efficient when using a clip-on matte box.
So overall, I am incredibly impressed with these Xeen PL mount primes. Early this year, I almost spent $90k on a second-hand set of Ultra Primes. Now, after testing the new Xeens, and knowing that they will only be about $2,500 per lens, I am glad I didn't.
The lenses were supplied by UAE retailer, Bidarian General Trading. The footage was shot on price-comparable camera CION AJA in 4K 25 and 50fps, and was cut and graded at Optix Digital Dubai. The footage can be viewed at https://vimeo.com/135966345.
I also tested these lenses on the RED EPIC. The 24mm, 50mm and 85mm cover the 6K full frame sensor, which is truly amazing!
These Xeen lenses are a game-changer. Xeen has brought an affordable high-quality lens to the PL mount market at a budget price. With cameras like the AJA CION, there is certainly a need for high-quality glass at an affordable price.
For me, these lenses blow the Zeiss CP2 out of the water in every respect!
They are for the DSLR filmmaker who has moved on and is sourcing more quality, but still within a budget.
This is the answer!