BroadcastPro ME asks industry professionals to share their vision of how they foresee AR changing the face of broadcasting in various scenarios and how their own respective solutions can enhance the viewing experience.
Gideon Ferber
Director of Virtual Solutions at Ross Video
In our experience, AR can create value in every market segment, and we're seeing growth in its use across a number of production applications. AR is an extremely useful tool when it comes to telling stories that relate to data – the ability to visualise data graphically is always helpful and AR can really help deliver the message and tell a better story, regardless of whether it relates to news, sports, elections or any other application.
AR does tend to be used most widely in sports and news, but we've also seen a large growth in entertainment and esports – a production environment that thrives on statistics and data. Interestingly, we've also seen a rise in demand from corporate customers during the pandemic – companies still need to communicate with internal and external audiences and the prevalence of online presentations and 'webinar fatigue' means they're looking for more creative and compelling ways to do so.
AR is a tried-and-tested technology, so there are very few technical issues to worry about. We have seen some issues with AR in stadiums when extreme zoom lenses are being used – the accuracy of calibration in these cases is absolutely crucial to the success of the production – but generally speaking, integrating AR into a studio or live venue is a relatively straightforward exercise. Simply start by adding a tracking device to an existing camera, then add a graphics engine that can handle the tracking data, and you are pretty much ready to go.
With UX and Voyager from Ross, for example, customers can start with a single camera and scale up to a multi-camera, MOS-based, fully automated production. Our aim with AR is to be as 'least disruptive' as possible with the customer's workflow and make sure that we offer solutions that fit with their way of working rather than trying to turn everything on its head!
In terms of a vision for AR, I think we'll see increasing use of volumetric capture and 3D scanning, enabling us to put more realistic 3D characters on screen and have them move more dynamically. That is something we've already seen in some sports and esports broadcasts, and I think there's plenty more to come in future.
The idea of talent and guests interacting with scans of sports stars and game characters is quite an intriguing one! Another trend that is only going to grow is the industry's use of Epic Games' Unreal engine. Our Voyager graphics rendering solution is based on Unreal, and it is the dominant platform when it comes to VS (virtual studios) and AR. Epic has some big plans for the platform in the future and has dramatically improved the kind of results we have been able to produce for our customers, so it will be exciting to see how the functionality of the game continues to develop.
AR is an excellent tool to assist with storytelling. While I can't predict where the users of the tool will take it, it continues to open up new levels of realism and graphic designers continue to challenge the boundaries of what it can do. The key word here, in my view, is 'engagement' – content creators want to produce more compelling content and keep audiences engaged. Live production is a competitive market and AR offers genuine differentiation – it's a proven technology that is easy to implement and helps deliver better storytelling.
Lev Antonovich
Motion Path
We see AR as the future of broadcast graphics and we feel that it will be used more and more in all types of broadcasts prominently, be it elections graphics, news graphics and of course sports. We have already seen amazing applications for weather, such as by the weather network and we feel there is much more to come. We also see high-profile music concerts using AR more and more to create immersive viewing experiences for viewers who will be watching from home and we are seeing ourselves moving towards this sphere of AR more and more.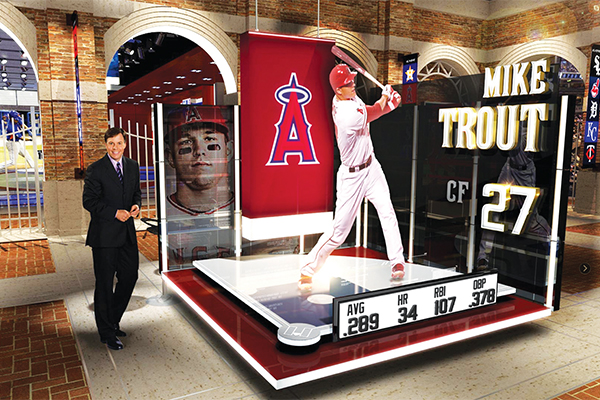 We brought some new elements to sports in light of Covid-19 with AR. As all sports fans know, watching sports is more than just watching a game being played. It is also about the atmosphere created by fans in the stadium which conveys electricity and excitement for the viewer. Sadly, this feeling has been lost in most sports because of the current pandemic but we are actively working on helping leagues and broadcasters get that sensation back to their viewers by offering them solutions which enable broadcasters to feature AR fans in the stands, complete with team colours, flags and motion that conveys emotion as well as authentic, viewer-driven sound and atmosphere. Our solution can easily be integrated into the workflow of any sports broadcaster, regardless of their platform and we are starting to see more and more interest in this innovative approach from clients.
In our experience, a major barrier for a lot of broadcasters not familiar with AR is the fear of the unknown.
A lot of broadcasters do not feel confident in venturing into AR because of the lack of knowledge and uncertainty regarding what it takes and what the process looks like in terms of time and cost.
Fortunately, there are many competent creative and technology companies out there that can guide them through this. Motion Path is actively working to increase knowledge in this field and give broadcasters the peace of mind to take that step towards AR.
As the technology for AR develops, and with the pandemic and lockdowns, we see broadcasters moving towards AR with the goal of providing viewers at home a more immersive experience that can satisfy their need for emotional and awe-inspiring visual experiences they would usually get from live sports, concerts and events. AR done right can go a long way in helping to connect to the viewer on a deeper and more emotional level than traditional broadcasts.