The workshops will cover a diverse array of subjects, spanning camera operation, lens selection, lighting techniques, grip essentials, colour grading, digital exposure, and much more.
Advanced Media, a major distributor of video, photo, broadcast, and cinema equipment, has announced CINE workshops in Saudi Arabia and the UAE in October 2023.
In UAE, Advanced Media, in partnership with Prague Film School, will be hosting CINESchool, a specialised series of workshops and seminars tailored for aspiring filmmakers pursuing degrees.
Scheduled from October 11 to 13, 2023, CINESchool will take place at Advanced Media's showroom and training facilities, running from 11:00 to 17:00 daily. Registration is free and open to all film students across the UAE.
Prague Film School (PFS) is known for its hands-on curriculum, involving students in numerous productions showcased at top film festivals. The school's approach blends European art-house and American independent cinema, attracting diverse talent. CINESchool, the first-of-its-kind in the region, aims to be a memorable learning experience for film students across the UAE.
CINESchool represents a collaborative effort aimed at enhancing the educational experience for film students, providing them with valuable insights and practical skills beyond what they typically acquire through academic programmes. Over the course of three days, students will participate in workshops, seminars, and screenings led by instructors from Prague Film School.
The event will feature the expertise of Professor Gary Griffin and Thomas Krivy, current instructors at Prague Film School, along with Raam Reddy, an accomplished filmmaker and Prague Film School alumnus who received recognition at the Locarno International Film Festival.
Professor Gary Griffin, a renowned cinematographer and director, holds an MFA from Prague's FAMU Film Academy. He has taught at various institutions, including the University of Johannesburg, Prague Film School, and Hunter College. Currently, he serves as an Artist in Residence at the American University in Washington, DC.
Thomas Krivy, another esteemed instructor, gained experience as a camera assistant in Berlin and Babelsberg Studios before completing the regular camera course (MA) at Prague's FAMU Film Academy. His extensive work spans narrative feature films, commercials, documentaries, and music videos. Since 2014 he's been working at the Prague International Film School as a camera instructor.
Raam Reddy, a notable Indian film director, writer, and photographer, made his directorial debut with the critically acclaimed Kannada film Thithi, which premiered at the 68th Locarno International Film Festival where it won the Golden Leopard in the "Filmmakers of the Present" category as well as "the First Feature award".
CINESchool's interactive workshops will cover a wide range of topics, including camera operation, lens selection, lighting, grip techniques, colour grading, exposure in the digital realm, and more. Informative seminars will empower students to navigate all aspects of filmmaking, from finding their artistic voice to budgeting, shooting, and mastering the intricacies of post-production.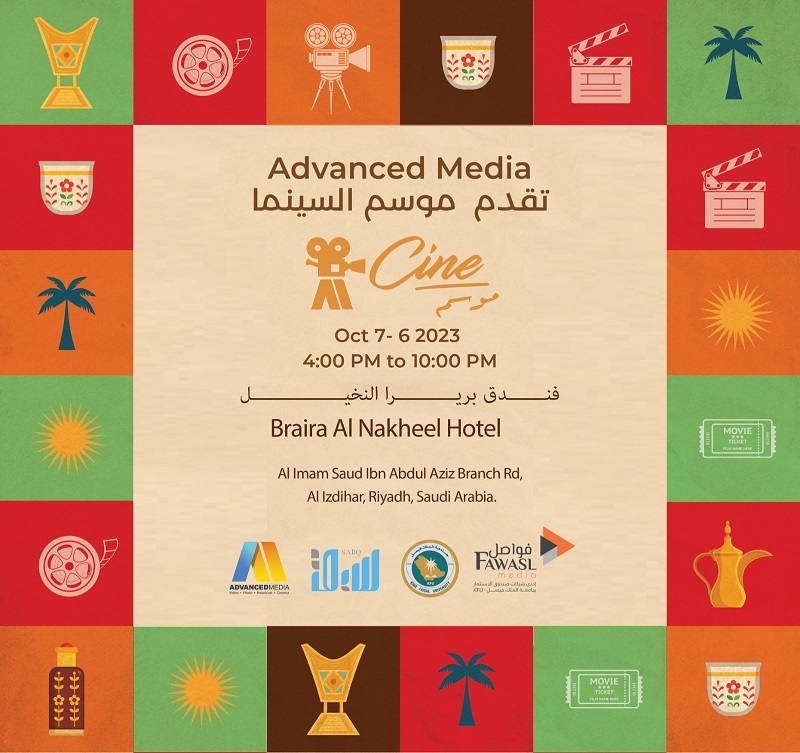 This year, Advanced Media will also be launching the Arabic edition of CINE in Riyadh, KSA. Titled CINESeason, this immersive two-day event is scheduled for October 6 and 7, 2023. It has been designed to offer aspiring filmmakers, content creators, and enthusiasts a comprehensive educational experience encompassing various facets of cinematic filmmaking. Attendees will also have the opportunity to engage with industry experts, discussing the latest technologies, trends, and solutions in digital cinema, broadcast, and video, ahead of the fourth edition of the Riyadh Season.
The workshops at CINESeason will span a wide spectrum of subjects, including but not limited to video acquisition, lighting techniques for film and TV drama, workflow, post-production processes, and the nuances of optics for shooting in high-resolution formats. These workshops aim to provide interactive and hands-on learning experiences, utilising a range of equipment from renowned brands such as RED, Sony Professional Solutions, Zeiss, Angenieux, Astera Light, DJI, and Cooke, among others.
Distinguished cinematographer Fouad Aoun, with over a decade of experience in lighting design, camera operation, and acoustics, will lead two workshops: "Video Acquisition for Cinema" and "Understanding Your Optics: Shooting in 8K and Beyond." Mostafa Salah, boasting a decade of media and editing expertise, will instruct the "Workflow and Post" workshop. Lastly, the renowned Egyptian Director of Photography, Ayman Abou el Makarem, will conduct the "Lighting for Film & TV Drama" workshop. This workshop will delve into key aspects such as creating cinematic visuals, enhancing storytelling, and staying versatile and adaptable in the field.