TV production company Celebro Media has chosen a complete playout solution from PlayBox Technology to power a new channel for a major Middle East broadcaster.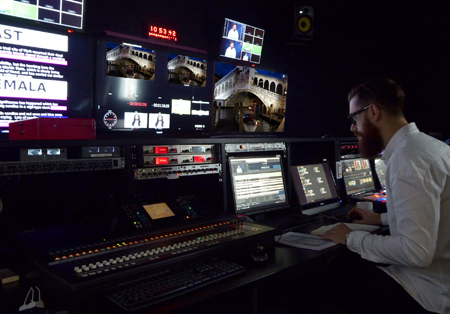 TV production company Celebro Media has chosen a complete playout solution from PlayBox Technology to power a new channel for a major Middle East broadcaster. The system comprises AirBox Neo, TitleBox Neo and SafeBox Neo and was recently installed at the company's London studios.
"Celebro Media provides a wide range of television-related services to broadcasters around the world from our studios in London and Moscow," commented Chief Executive Wesley Dodd.
"We specialise in news and factual television and have helped clients launch entire television channels, develop new programmes, and recruit and train the production teams to deliver them. Here in London we operate five studios supporting many different channels and uplinking to external playout service-providers.
"We will be operating a complete service including playout for this latest channel, which is scheduled to go live in May. Keeping the entire activity in-house has many advantages including the ability to achieve very high efficiency.
"The new channel will start with quite a high proportion of pre-recorded content coming out of the AirBox Neo. More live content will be added when the channel is fully geared. The PlayBox Technology system will be used to control channel branding and presentation, playout of locally archived programmes and interstitials, commercials, opt-outs to live news, the weather, everything. The idea is to have as much of the process as possible automated.
"We have a huge amount of content and have been rehearsing over the past few weeks to make sure everything is operational. We now have 24 hour schedule running and all is working well.
"Celebro Media has an excellent reputation for its dedication to quality," added Don Ash, President, PlayBox Technology.
"We are very pleased that Celebro has chosen the Neo product series as the core of its expansion into direct broadcast playout. An incidental advantage of AirBox Neo is that it occupies a relatively small amount of space, just three rack units, allowing easy expansion. We also offer the option of running two fully independent television channels from a single server."
Supporting UHD, HD and SD playout, AirBox Neo is designed for 24/7 unattended operation and can also be operated manually, including the ability to handle live-to-air throughput. Parallel outputs enable the running of two or more SDI or IP streaming SD/HD feeds simultaneously. Changes to the playlist can be made during an on-air session. Clips in the playlist, except the one which is currently playing, can be trimmed, edited or repositioned. Playback order can be performed seamlessly without stopping the current playout session. Live productions are facilitated by a live show clipboard which allows insertion and/or execution of various events or live streams.
TitleBox Neo provides a wide range of interactive on-air graphics and titling capabilities which can be manipulated live. The feature set includes horizontal crawling text, vertically rolling credits and messages, still and animated logo graphics, analogue and digital clocks, banner slideshows and chat text with automated horizontal or vertical scrolling. Among the additional creative facilities are pre-constructed graphic components, video resizing (from live source or file), window-style display and website content ingest.