Grass Valley and Miranda were brought together under the Belden brand to create a unified broadcast platform under the purple Grass Valley logo. Said Bacho, Senior Vice President EMEA at Grass Valley, spoke to BroadcastPro ME about the company's MENA strategy How have things changed for Grass Valley since it was bought over by Belden […]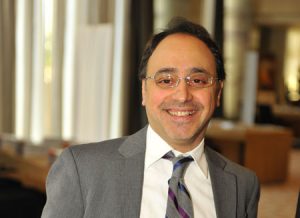 Grass Valley and Miranda were brought together under the Belden brand to create a unified broadcast platform under the purple Grass Valley logo. Said Bacho, Senior Vice President EMEA at Grass Valley, spoke to BroadcastPro ME about the company's MENA strategy
How have things changed for Grass Valley since it was bought over by Belden and merged with Miranda?
With the acquisition of Grass Valley and previously, Miranda, the broadcast part of Belden's business has now become quite substantial.
Belden is a stable company financially. It spent more than USD 800m to acquire Grass Valley and Miranda.
After the merger, we immediately announced our new sales structure worldwide. The company will now be operating in five regions. The Middle East will be managed from Dubai while we also have a small office in Istanbul.
What are your expectations for the region?
The Middle East is a big region for us and we expect it to grow further this year. We have retained the team members from both Miranda and Grass Valley, and we plan to expand the team further. Our immediate goal, therefore, is to have a bigger office space to accommodate the combined teams and also to hire new people.
We have decided not to cut down our staff as it is important for customers that the teams stay. Belden's office in Dubai Internet City has about 10 people while the combined strength of Miranda and Grass Valley is about 15, so we are
talking about a team of 25 or more, which we eventually plan to bring together in one office.
How will this merger impact your regional business and who will head the local team?
If you look worldwide, we are one of the largest manufacturers with the widest product portfolio today.
We definitely want to enhance our capabilities in the region and will continue to invest in the Middle East.
Hassan Ghoul and Hany Bartella are key members of our regional team.
Hassan will lead the Middle East operations for the combined business. Hany will take on a new strategic role focusing on strategic accounts across the Middle East as well as globally. For example, he will be responsible for accounts operating across the region, such as Al Jazeera, which has offices and facilities across the world.
We will strenghten our sales team by hiring more sales managers, presales staff, field support engineers, administration staff and marketing personnel. We have not yet consolidated the teams but have more vacancies to fill.
What changes can we expect in the combined product portfolio? Which products are you going to retain?
In this merger, there has been total transparency and swift implementations. Merging the teams, announcing the product strategy and our go-forward plan — we did that very quickly.
We are trying to combine the best of both worlds and are in the process of chalking out a new platform migration pathway for our customers.
We will retain the Grass Valley cameras, switchers and servers. We also plan to retain our editing platform EDIUS.
Miranda is renowned for its channel-in-a-box, glue, switchers, which will stay.
Grass Valley Trinix NXT digital video routing switcher and GeckoFlex converter modules will be phased out, gradually. We will provide at least five years of support going forward. These will eventually be replaced by Nvision routers and Densité modular platforms.
We have already announced that on our channel-in-a-box side, iTX and K2 will come under one platform, a year and a half from now.
What happens with the dealers? Are you planning to restructure your sales and channels staff?
Both Miranda and Grass Valley have specific regional dealers. Just like we have created a strategic account function, we have also created a channel function to operate between Middle East and Africa. The channels team is responsible for the integration of both the brands.
We have announced that all decisions on the channels will be made by July 1, 2014. We are strongly represented in each country, and the channel structure will vary from country to country, with specific focus on each.
We have many SI and dealers on both sides but no decision has been made on who will continue and who won't. There is flexibility, it will not be an exclusive distribution tie-up and we need to study this for each country in the region.
We have been telling our dealers and partners that performance is the key. This is the time to show us your commitment as we decide on our partners.
There was news that 400-600 people will be losing their jobs in the merger. Will there be layoffs in this case?
Whenever any acquisition or merger happens, synergies need to be achieved to ensure we have the right scale and internal structure, which enables us to move to the next level.
We are aiming to become a $1bn company on the broadcast side. We are building a structure to allow our customers to be future ready. As mentioned, we are looking to hire more in the region. We will also add more resources in Central Europe and Russia, which are part of my remit.
What kind of challenges do you forsee for the two brands coming together?
The challenge now is to ensure that we cross-train our teams on both the purple and green sides. We have conducted full day training sessions of the purple team to green and vice versa in the UK and will carry that forward to other regions as well.
Going forward, all of our customers will deal with only one person. For any project be it production studio, OB van or MCR, with the old GV or Miranda products, the customers will be dealing with one sales manager.
Our customers and partners have already been told who their contact persons are.
We had a quick and thorough implementation of the plan in this merger. The process was very transparent.
I have been through acquisitions before but this one was managed very well and I must add here that it was a smooth transition for both the brands.
For Belden, it is a strategic acquisition, and the company has a long-term objective in building a strong broadcast platform.
What are your future plans? Where is the new Grass Valley headed now?
Having been in the broadcast business for decades, we have a built a strong legacy. Innovation these days is more software-centric so we need to strike the right balance in the company, between R&D focus on software and hardware.
We want to build the right network of direct sales and resellers, which are both equally important.
Presently, our broadcast segment accounts for more than $500m, which we plan to take up to $1bn in the near future.